Zoey Deutch Won't Show You Her Art
The 21-year-old star of Everybody Wants Some has a secret painting habit.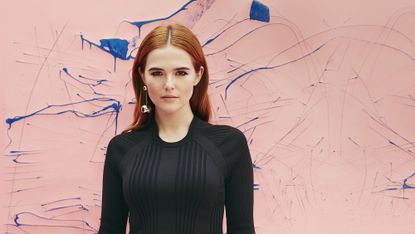 (Image credit: Guy Lowndes)
As Beverly in Richard Linklater's new film Everybody Wants Some—billed as the spiritual sequel to Dazed and Confused—Zoey Deutch embodies the drama-club-dream-girl ideal. Here, the 21-year-old talks her (mostly hidden) passion for painting, Da Vinci-induced disappointment, and how her character's artistic inclinations are rooted in real life.
Back to the Future: "Everyone Wants Some takes place in the first few days of college in Texas in 1980. I watched a lot of '80s movies to prepare—but don't we all, anyway? It centers on a college baseball player falling for this girl who's the ultimate juxtaposition against those jock-y guys. She's very artistic."
For Her Eyes Only: "If I keep my art to myself, it holds the mystery. Today, our lives are so publicly displayed on social media. Whether that's actually a real version or a heightened, überhappy version, strangers have knowledge that's deeper than maybe they should."
Family Ties: "My grandma is an artist. And an amazing, rule-breaking woman. She's such a force of nature—she acts way younger than most 20-year-olds I know—and an inspiration. She'll be like, 'Painting is your path!' And I'll be like, 'What are you talking about, you crazy woman?!'"
Sorry, Da Vinci: "My favorite artists are Gustav Klimt and Salvador Dalí. Dalí has this weird fucking sense of humor. And, obviously, there's just something about Van Gogh—Starry Night blows you away. I didn't feel that way about Mona Lisa."
Paint by Numbers: "My work is abstract. I'm pretty frickin' terrible at drawing anything that exists in our actual world. Like, if I were to quickly draw a dog or a tree, it would turn out way worse than if a 2-year-old had done it."
Follow her on Instagram @zoeydeutch.
This article appears in the April issue of Marie Claire, on newsstands now.
Celebrity news, beauty, fashion advice, and fascinating features, delivered straight to your inbox!