Rihanna Announces Her Pregnancy at the Super Bowl
Surprise!!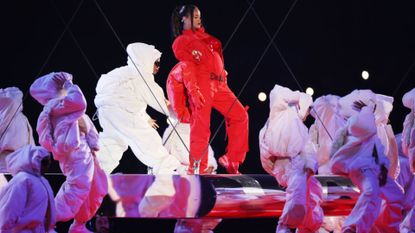 (Image credit: Getty)
In the hours before her performance at the Super Bowl LVII in Glendale, Arizona, Rihanna hinted to CBS anchor Nate Burleson that she would have a "surprise guest" joining her. That surprise guest turned out to be her second child (!!!), with Rihanna taking to the stage visibly pregnant in a fire-engine red outfit, including a red bandeau top and a red boiler suit over a long-sleeved red vest. People confirmed the news with Rihanna's team just minutes after Rihanna's performance ended, with People noting that she was the first pregnant woman to ever perform at the iconic halftime show.
Being pregnant didn't deter Rihanna from giving the performance of a lifetime: The singer performed hits including "Umbrella," "Diamonds," "Run This Town," and "Bitch Better Have My Money" alongside dozens of backing dancers dressed in puffy white sweatsuits.
Rihanna became a mom for the first time in May, welcoming her son with boyfriend A$AP Rocky.
Speaking to Apple News prior to the Super Bowl, she said, "When you become a mom, there's something that just happens where you feel like you can take on the world. You can do anything, and the Super Bowl is one of the biggest stages in the world. So, as scary as that was... there's something exhilarating about the challenge of it all, and it's important for me to do this this year." (Was that a hint??)