'Spare' Was Released on January 10. On January 11, King Charles Evicted Prince Harry and Meghan Markle from Frogmore Cottage
Coincidence? We think not.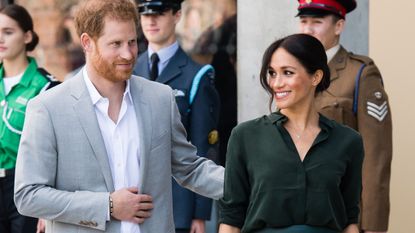 (Image credit: Getty)
The War of the Windsors? It was certainly shots fired after the January 10 release of Prince Harry's memoir, Spare—and the retaliatory shot apparently came just 24 hours later, with King Charles serving his younger son and daughter-in-law Meghan Markle with eviction papers, demanding they move out of their U.K. home, Frogmore Cottage. As Marie Claire reported today, Charles' vitriol over the book wasn't even just about how he was portrayed in the book—he was mostly enraged about the treatment his wife, Camilla, received.
The battle had been brewing for a long time, with Harry and Meghan's eponymous Netflix docuseries—released in December—potentially adding fuel to the fire, one that exploded after Charles was briefed on the contents of Harry's tell-all. The Daily Mail reports that proceedings to kick Harry and Meghan out of Frogmore in favor of (of all people) Charles' disgraced younger brother Prince Andrew were started the day after the book's release—but that the decision was "extremely painful" for the King. (For the record, Andrew doesn't want to move to Frogmore any more than, apparently, Harry and Meghan want to vacate it; he wants to stay put in his home, Royal Lodge, where he's lived for 20 years.)
"It was felt that it would be like ripping off a Band-Aid," a source says, discussing the decision to start the eviction process. "Painful, but once it's done, it's done."
The Daily Mail reports that Charles "is particularly keen to sort many of the nagging issues remaining around Harry, Meghan, and Andrew before his Coronation, which have been allowed to 'drag on' for far too long." (The King's Coronation is in two months' time, on May 6.)
Apparently, Harry and Meghan were originally asked to leave when their lease came up for renewal next month, but have been allowed to extend their least past the Coronation, begging the question, do the Sussexes intend to attend the ceremony and stay there while in country? (This is rhetorical—no one, probably not even Harry and Meghan themselves, know the answer yet.)
Notably, a Sussex spokesperson did go on the record this week to confirm the couple had been "requested to vacate their residence at Frogmore Cottage," which The Daily Mail calls "a sign of their shock and anger at the move." The outlet also reports that a "flurry of letters" has been exchanged between the Sussex team and the Palace in the past few weeks, and the "stunned" couple are already moving furniture to their home in California, including an ottoman and a chaise longue. The Daily Mail adds that Harry and Meghan find the eviction "cruel."
The five-bedroom Frogmore Cottage in Windsor was given to Harry and Meghan in 2018 by Her late Majesty, but, amidst extensive renovations, the couple only lived there for six months before moving to Canada and, later, the U.S. The Sussexes kept the residence so they would "always have a place to call home in the United Kingdom," even as they remained abroad. The initial plan was to return often and use Frogmore as their U.K. home base, but strained relationships in the past three years have seen the couple visit sparingly. After the Sussexes left the U.K., they rented the home to Harry's cousin Princess Eugenie and her husband, Jack Brooksbank; the Brooksbanks have since left Frogmore to relocate to Portugal.
"It all feels very final and like a cruel punishment," an insider tells reporter Omid Scobie, long known to have close ties with Harry and Meghan. "It's like [the family] want to cut them out of the picture for good. Harry and Meghan have until early summer to vacate. Initially they were given just weeks, but now they have at least until after the Coronation." Scobie also cited at least two members of the royal family—presumably Eugenie and her older sister, Princess Beatrice—as being "appalled."
As news of the eviction broke, Harry and Meghan were spotted looking happy and out for a date night in California. But, despite outward carefree appearances, this eviction is a big deal: "This surely spells the end of Harry and Meghan's time in the U.K.," an insider says. "Andrew is resisting the idea of moving into Frogmore Cottage after he was offered it last week. But it shows Harry and Meghan are powerless to stop the eviction."
The "Book of Royal Drama" has now reached War and Peace levels, and growing...
Contributing Royal Editor
Rachel Burchfield is a writer whose primary interests are fashion and beauty, society and culture, and, most especially, the British Royal Family. In addition to serving as the royal editor at Marie Claire, she has worked with publications like Vogue, Vanity Fair, ELLE, Harper's Bazaar, and more. She cohosts Podcast Royal, a show that provides candid commentary on the biggest royal family headlines and offers segments on fashion, beauty, health and wellness, and lifestyle.