Meghan Markle Reportedly Feels Excluded from Coronation Plans, Is Upset the Palace is Only Fighting for Prince Harry to Attend
"Rejection is one of Meghan's greatest insecurities."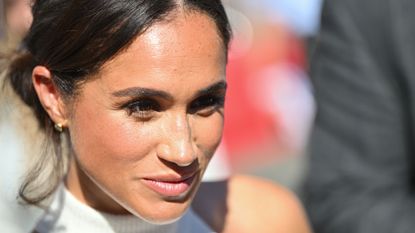 (Image credit: Getty)
On the heels of the release of Prince Harry's memoir, Spare, last month, Harry has had ample airtime in the news, either by his own accord—sitting down for multiple interviews to promote the book—or through the endless chatter surrounding the contents of the tell-all. Meghan Markle, for her part, has largely been laying low, letting Harry take the limelight. But, multiple outlets report, Meghan is apparently feeling left out of King Charles' Coronation plans and feels that, while the Palace is fighting hard for Harry's attendance at the May 6 ceremony, she's left as an afterthought.
The Daily Mail reports that Meghan feels "excluded" and, the outlet writes, "she and Prince Harry may not attend as a result." The couple is said to be "weighing up" whether or not to trek across the pond for the event at Westminster Abbey in London, as friends say they are "in limbo" and considering a "million different variables" as to whether to attend or not.
Royal expert Richard Fitzwilliams says fears over security and a "seismic drop" in popularity since Spare's publication could mean Harry and Meghan might stay at home in California. (May 6 also happens to be the fourth birthday of their son, Archie, potentially further complicating matters.) And, while Harry wants to be by his father's side on "pretty much the most important day" of Charles' life, according to The Telegraph, insiders claim it's a "complicated" decision: If they don't go, they'll be accused of "snubbing" the family, but if they do go, they'll risk "being booed or labeled hypocrites."
Harry and Meghan's friends say they're not making any decisions until a formal invitation reaches their doorstep, and "they will then decide if they will go to the historic event together or if Harry would attend without Meghan," The Daily Mail reports. "It is also possible that neither makes an appearance." No matter if one or both attend, the visit will be "brief."
"They do not have any insight," a friend says. "They'll cross that bridge when they come to it."
The Daily Express reports that Meghan is "upset" as the Palace seems to be "only fighting for Harry" to attend his father's big day, and that Meghan has been feeling "overwhelmed" as of late.
"Meghan is upset and overwhelmed," royal commentator Kinsey Schofield told Fox News. "It's not that Meghan feels excluded with the planning. Meghan feels like the Palace is only fighting for Prince Harry to attend, and they don't care whether she shows up or not. And that does not sit well with her."
Schofield added that "Rejection is one of Meghan's greatest insecurities. She does not want to be booed or humiliated on a global scale, yet she understands that her brand stateside increases in value with her proximity to the royal family."
Royal author Christopher Andersen, also speaking to Fox News, said "It's increasingly beginning to look as if Harry and Meghan might well opt out of the Coronation. There are genuine security concerns, to be sure, and then there is the prospect of the Sussexes being roundly booed. Harry and Meghan are still licking their wounds over having been sidelined during the Queen's funeral. It's highly doubtful that they would be willing to face the prospect of that sort of public humiliation again, particularly on Archie's birthday."
Yet, despite multiple claims that Meghan feels excluded from the Coronation, a source described as "close to Meghan" tells The Mirror that those allegations—as well as ones surrounding Meghan feeling "embarrassed" over the contents of Spare, including anecdotes about Harry losing his virginity—are "ridiculous" and "nothing but lies."
Contributing Royal Editor
Rachel Burchfield is a writer whose primary interests are fashion and beauty, society and culture, and, most especially, the British Royal Family. In addition to serving as the royal editor at Marie Claire, she has worked with publications like Vogue, Vanity Fair, ELLE, Harper's Bazaar, and more. She cohosts Podcast Royal, a show that provides candid commentary on the biggest royal family headlines and offers segments on fashion, beauty, health and wellness, and lifestyle.