Here's What We Know So Far About Royal Biographer Omid Scobie's Latest Book, 'Endgame,' Out This Month
Expect "bombshell after bombshell."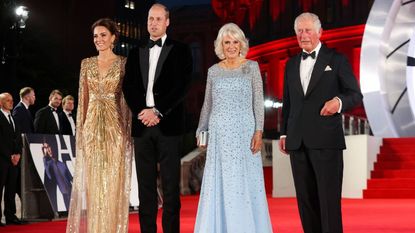 (Image credit: Getty Images)
Ahead of the release of his newest book, Endgame: Inside the Royal Family and the Monarchy's Fight for Survival—out November 28—royal biographer Omid Scobie, in advertising materials for the new book, brands King Charles as "unpopular" and Prince William as "power hungry," The Sun reports. (This is especially generating heat because Scobie's 2020 book Finding Freedom: Harry and Meghan and the Making of a Modern Royal Family, has long associated him closely with the Sussexes.)
The book also comments on Queen Camilla, writing that she is "willing to go to dangerous lengths to preserve her image." As for Prince Harry, he was "forced to start a new life" after being "betrayed by his own family."
A publishing source told The Mail on Sunday that the 416-page book contains "bombshell after bombshell," and "some are even speculating it may name the person who questioned what color Archie's skin would be." For the book, Scobie interviewed current and former Palace staff, trusted friends, and even the family members themselves, he said.
Chapter titles apparently include "Shaky Ground: The Queen is Dead, the Monarchy Faces Trouble," "The Fall of Prince Andrew: Scandal, Shame, and Silencing Jane Doe," "Race and the Royals: Institutional Bigotry and Denial," "Gloves On: Prince William, Heir to the Throne," and "Gloves Off: Prince Harry, Man on a Mission."
"I've been told this is bad, very bad," the source speaking to The Mail on Sunday said. "It is unlikely that royal aides will comment, but if there are charges of racism, they will, of course, be robustly rebutted."
Its Amazon sales pitch states that "Queen Elizabeth II's death ruptured the already-fractured foundations of the House of Windsor—and dismantled the protective shield around it." Further description of the book from its publisher, HarperCollins, reads "On September 8, 2022, the world stood still as news broke of Queen Elizabeth II's passing. Her death dismantled the protective shield around the world's most famous family and saw a long-simmering crisis of confidence in the British monarchy begin to resurface. Now, with unique insight, deep access, and exclusive revelations, journalist Omid Scobie pulls back the curtain on an institution in turmoil—exposing the chaos, family dysfunction, distrust, and draconian practices threatening its very future. This is the monarchy's endgame. Do they have what it takes to save it?"
HarperCollins has previously said that Endgame will "have the world talking," and Scobie himself has warned that it will reveal moments the royal family should be "ashamed of." Per The Mirror, it was originally scheduled to be published this past August but was pushed back three months to include details surrounding the King's Coronation last May.
Endgame hits shelves November 28.
Celebrity news, beauty, fashion advice, and fascinating features, delivered straight to your inbox!