Prince Louis' Hilarious Facial Expressions Stole the Show at the Coronation
One royal photographer says he takes after his uncle, Prince Harry.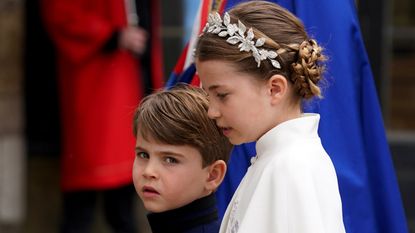 (Image credit: Getty Images)
Prince Louis has quite the personality. Princess Kate and Prince Williams' youngest child's facial expressions at King Charles' coronation added some levity to an otherwise serious occasion.
The young royal's face ranged from tired (can you blame him?) to completely unbothered.
Louis recently celebrated his fifth birthday on April 23, making him one of the youngest in the royal family to attend the coronation. The extravagant ceremony began at 11am BST and was anticipated to last two hours. However, royals and other guests were arriving all morning making it a long day for Louis.
Royal photographer Arthur Edwards has covered the family for decades and said in the past that Louis takes after his uncle, Prince Harry. "[Prince] George is like William because William was very shy," Edwards told People in an interview earlier this year, adding that "Louis is like Harry."
The resemblance is definitely there!
The royal left the ceremony for a short period of time, presumably to take a breather from the festivities. Luckily for us, these iconic photos were taken before his brief departure.
If you're currently outside the U.K., you can use a VPN like ExpressVPN—which has a 30-day free trial—to watch the coronation live on the BBC, which aired Queen Elizabeth II's coronation in 1953.
Paulina is the Weekend Editor at Cosmopolitan.com. When she isn't covering celeb and pop culture news, she can be found listening to Taylor Swift, watching a teen drama (One Tree Hill is her favorite), or perfecting her skincare routine.