Tom Brady Looked Pretty Happy with Irina Shayk Over the Weekend in L.A.
It seems those Kim Kardashian rumors were much ado about nothing.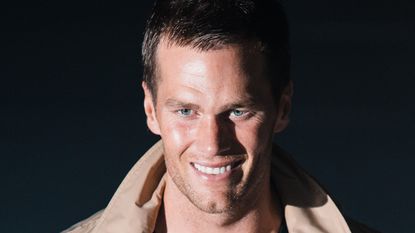 (Image credit: Getty)
Kim Kardashian, who? The rumor mill—which earlier this month was churning out Kardashian/Tom Brady dating rumors—has already moved on to another beautiful brunette: Irina Shayk, who Page Six reports was getting touchy-feely with the former quarterback after a "sleepover at his house."
Brady—who is divorced from supermodel Gisele Bündchen—"was photographed looking very flirty with another supermodel," the outlet reports. Apparently the "ever-chivalrous" Brady picked up Shayk from the Hotel Bel-Air on Friday afternoon, and they then drove to his L.A. home.
"We're told the duo didn't emerge until 9:30 a.m. the following day, when the former Tampa Bay Buccaneers quarterback dropped off his apparent sleepover buddy back at the hotel," Page Six writes. Brady then picked Shayk up again Saturday afternoon in his black Rolls-Royce and headed back to his home. "At one point, the athlete was seen affectionately caressing the Russian stunner's face while stopped at a red light," the outlet reports.
Last month, reports emerged that Shayk made "a beeline" for Brady at billionaire art dealer Joe Nahmad's wedding to Madison Headrick and "scarcely let him out of her sight throughout the weekend-long festivities."
At the wedding in Costa Smeralda, Sardinia, "she followed him around all weekend," a source told Page Six. "She was throwing herself at him."
At the time, Shayk's manager strongly denied the account, calling it "totally fictional."
But things look to have changed, per People. The outlet reports that the two have been in touch for a few weeks, and that "there is a spark," a source said. "There is an attraction."
While Brady has a famous ex, so does Shayk—she shares a six-year-old daughter with actor Bradley Cooper, who she split from in 2019 after four years together.
Celebrity news, beauty, fashion advice, and fascinating features, delivered straight to your inbox!