The First 'Chilling Adventures of Sabrina' Photos With Kiernan Shipka Are Finally Here
Things look...dark.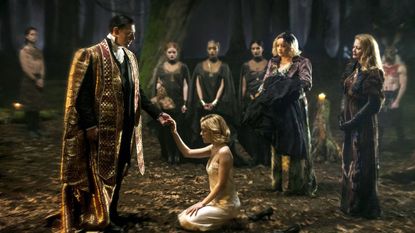 (Image credit: Diyah Pera)
This is not the Sabrina Spellman of your childhood. In newly released Netflix photos, Kiernan Shipka's Sabrina of Chilling Adventures of Sabrina (opens in new tab) is dark, edgy, and, uh, being baptized in a Gothic setting. The two stills from the upcoming series, the first season of which will hit Netflix Oct. 26, were released Monday morning.
The two photos both feature Shipka as a young Sabrina Spellman—a Sabrina more akin to a Riverdale cast member than Melissa Joan Hart's legendary character. (There was initially talk of a Riverdale-Sabrina crossover when the series was set to premiere on the CW, but the discussion petered out when Netflix bought the rights.) Still, Netflix is very much trying to do with Sabrina what the CW achieved with Riverdale—a gritty (ish), edgy (ish) reboot of beloved characters capable of attracting audiences old and new. Sabrina features many of the same producers and crew as Riverdale.
Here's Mad Men's Shipka as Sabrina. She's wearing a Little Red Riding Hood-esque red jacket and maroon satchel for a casual walk in the dark forest, and she's carrying what I assume is a broomstick. In her other hand, she's carrying a bell.
And here's Shipka being baptized formally as a witch by Richard Coyle as Father Blackwood. Here, she's wearing a golden gown and kneeling in a pile of leaves. Elsewhere in the shot, you can spot Lucy Davis as Hilda Spellman, Mirando Otto as Zelda Spellman and Abigail Cowan, Adeline Rudolph, and Tati Gabrielle as The Weird Sisters.
The ten-episode season has already gone down well enough at Netflix that a second ten-episode season has been ordered.
RELATED STORIES