10 Things You Never Knew About 'Riverdale'—Straight from Lili Reinhart
It takes 40 minutes to do her ponytail every day.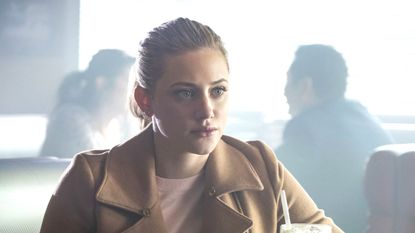 (Image credit: The CW)
Please grab a container of Jingle Jangle (we mean the Trader Joe's kind, naturally), because Riverdale's Season 2 midseason premiere is tonight. And in anticipation of "The Core Four" making their triumphant return, Lili Reinhart is sharing 10 things you never knew about her completely badass character—and the show itself—with MarieClaire.com.
1. Pillsbury graciously sent me some cookie dough in December. It's kept in the production office fridge at our studios so I don't have five rolls of cookie dough tempting me at home.
2. Erin MacKenzie (opens in new tab), our makeup department head, is a Reiki master. (It's a healing technique based on the principle that the therapist can channel energy into the patient by means of touch, to activate the natural healing processes of the patient's body and restore physical and emotional well-being.)
3. It takes a good 35-40 minutes to do my iconic ponytail every day.
4. I don't drink coffee, so I have been known to have a Coca Cola on set at 6:30 a.m. in order to wake myself up.
5. Our sound stage is right next to a train track, so we often have to cut in the middle of takes due to the sound and vibrations of the trains.
6. There are hidden Archie comics in the student lounge set.
7. I wear sweatpants to set everyday.
8. Erin, head of makeup, and I like to change Betty's makeup slightly for each episode. We started to move into deeper lip tones and purple hues of eyeshadow throughout the progression of season two.

9. We film on average about 4-6 pages of an episode each day on set.
10. Our sound stage is directly next to CW's Supergirl.
Riverdale airs Wednesday night at 9 p.m. ET on The CW.
RELATED STORIES