34 Things You Didn't Know About the Cast of 'Riverdale'
The audition process for this show was *kind of* insane.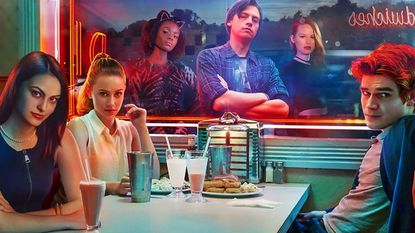 (Image credit: The CW)
Riverdale returns for Season 2 on October 11 and, honestly, we're not embarrassed to admit that we can't wait. To tide you over until the premiere, here are 34 facts every diehard fan needs to know about the cast of the gritty Archie comics reboot we never knew we needed.
1. Cole Sprouse was originally asked to audition for Archie.
He was drawn to Jughead, but also loved that the character is the show's narrator—because it means he can't die.
2. Madelaine Petsch originally auditioned to play Betty.
In 2015, she auditioned for a role on The CW's Legends of Tomorrow. The casting director David Rapaport loved her and asked her to read for a pilot he was casting. When she met with producers, they told her she was auditioning to play Betty—but only because the role of Cheryl was still top secret.
Rapaport came clean with her right away—or, as clean as he could—telling her, "You're obviously not auditioning for Betty; it's for another part that I can't tell you about yet. You look exactly like I imagine her to look, and you've got the presence."
His instincts were right and she was ultimately cast in the role.
3. Riverdale marks Camila Mendes' first-ever professional acting gig.
She just graduated from New York University's Tisch School of the Arts.
4. Lili Reinhart started acting as a kid—all while living in Cleveland.
Lili's early acting career involved a lot of travel, but landed her roles on shows like Law & Order: SVU.
"My mom would drive me from Cleveland to New York City and use my dad's hotel points for auditions," she told W magazine. "They were the most supportive parents that I could have. Without them, I wouldn't have gotten anywhere. My mom would take off work to take me to auditions, because they believed in me, which is a very big leap of faith."
4. Ashleigh Murray was *this close* to taking a break from acting before she was cast as Josie.
"I was $4,700 behind in rent. I lived in New York City, so it was a lot of money," she told Collider. "And I was just about to take a break from acting for about six months, until I could get myself back on my feet financially, and then hit the ground running. This was my last audition."

She says she was so broke before landing the role that she was washing her clothes in the sink.
5. KJ Apa ships Archie and Betty as endgame.
He calls their relationship "classic" and "iconic."
6. But Camila Mendes thinks Archie and Veronica are OTP.
"I do think Veronica's really good for Archie," she said. "I know I'm biased!"
7. Lili Reinhart and Madelaine Petsch are roommates in real life.
Madelaine calls Lili her "best friend."
She also says she can trust Lili to keep all her secrets. "We can talk about my relationships, or personal lives, or whatever, and I feel like she's always got my back."
8. KJ Apa's full name is Keneti James Fitzgerald Apa.
But he always goes by KJ, even among his friends.
9. Madelaine Petsch's name has a very interesting backstory.
Short version: Her dad wanted to name her "Street" and her mom was like NO, but let's compromise.
Long version: "My mom got to name my brother, so it was my dad who got to name me. My dad said to my mom right before she was going to have her C-section, 'How about 'Street?' I think 'Street' is the best name for our daughter.' My mom started screaming and said, 'There is no way I am naming my daughter Street!' And then she comes back after having me, looks at me, and is like, 'Okay, I understand Street. Why don't we do Lane, like lane on the road, and we'll call her Madelaine?' That's how my name came about."
10. Camila Mendes channels Blair Waldorf from Gossip Girl when she's playing Veronica.
But she bases Veronica's funnier moments on Summer from The O.C..
11. And she feels like she understood the character immediately.
Within the first five pages, to be exact.
"This role came along, and it was the perfect fit," she told Glamour. "Everything about it—I had her on the surface of who I am."
12. Ashleigh Murray is SO down for a Josie and the Pussycats spinoff.
"I would absolutely do a spinoff," Murray told The Huffington Post. "I want to bring Josie to New York. I want her to have her first big city experience."
13. Madelaine Petsch is a natural redhead.
She was born to play Cheryl Blossom.
14. KJ Apa, however, is *not* a natural redhead.
His hair is naturally dark brown, and maintaining Archie's auburn locks takes a lot of work—he has to get his roots touched up every two weeks. The process even involved some pain.
"It was really painful the first and the second time I got it done because they do my eyebrows as well," he told Vulture. "They ended up bleaching my eyebrows, and I had two holes—they burnt into my skin. I was like, 'Oh, my, we've got to sort this out.' Luckily, I haven't had that again, but yeah, it was pretty gnarly."
15. In fact, he's half-Samoan and has a traditional Samoan tattoo.
He got the ink when he was just fifteen to commemorate his dad becoming chief of his village. He says he and his sisters used to speak Samoan, but they lost it as they got older and stopped practicing.
16. So, yep, that accent is fake.
Apa is from New Zealand and his perfect American accent isn't real.
17. But the guitar playing isn't.
KJ Apa really does play guitar, and the musical aspect of the character is his favorite thing about playing him. He even locked in the role by bringing his guitar to his final audition.
18. Ed Sheeran once serenaded KJ Apa on screen.
Before his Riverdale days, KJ was on a New Zealand soap opera called Shortland Street. In one episode, Ed Sheeran guest-starred and helped KJ's character Kane figure out what to do with his life. Cole Sprouse revealed the embarrassing (but awesome) moment in an Instagram story.
19. Cole Sprouse is the most adventurous member of the cast.
Madelaine Petsch attributes it to his photography hobby—she says he loves to explore Vancouver and scout for locations to shoot.
20. No one in the cast can cook very well.
Madelaine spilled that tidbit to Glamour.
21. Lili Reinhart is a mental health care advocate.
She routinely posts about the topic on social media.
22. And she's been open about her own struggles with depression.
"It came to a point where I told my parents I wanted to see a therapist and a psychiatrist and see if there was medication I could [go on]," she told Glamour. "I was very proactive. It makes me feel stronger to be able to say that I was able to seek help when I knew that I needed it and not just suffer in silence."
She says Riverdale came into her life during the worst depression she's ever experienced.
23. Don't be offended if you meet her in real life and she's not "on."
She talked to W about how weird it is to encounter fans who feel like they know her because of the show.
"[Fans] feel entitled to touch us or ask us personal questions, which people have. You would never walk up to a stranger and hug them. You would never walk up to a stranger and ask them who are they dating," she said. "But when people come up and ask for pictures, it's like, of course. And sometimes I am in a terrible mood, but I'll still do it, and then I do feel like, 'What if that fan experience was a let down for them and I wasn't as exciting in person?' But I am not Betty Cooper. I'm always going to try to be as happy and grateful to fans, but I'm also just trying to live my life. I don't have an on switch all of the time. It's something that I am getting used to, or trying to. I don't know how anyone can get used to that."
24. Madelaine Petsch is terrified of water in real life.
So, yeah, that boat scene was tough to film.
25. KJ Apa broke his hand while filming the Season 1 finale.
Showrunner Roberto Aguirre-Sacasa ratted him out during an interview with ComicBook.com.
"In a weird way, and I told this to KJ, the second we knew that Archie was going to be punching through ice, I literally said, 'now guys, KJ is such a committed actor, he's so method, he's so in this character and passionate, you have to make sure he doesn't hurt this hand.' So when at the end of that day I got a phone call that KJ had maybe broken his hand, I was like 'Yup,'" Aguirre-Sacasa said. "He puts it all out there for the screen, that's for sure."

26. KJ Apa, Lili Reinhart, Camila Mendes, and Madelaine Petsch were all fans of Cole Sprouse's Disney show, The Suite Life of Zack and Cody.
27. Camila Mendes and Cole Sprouse went to NYU at the same time.
She remembers seeing him at parties, but he doesn't remember her. Cold, Cole. Ice cold.
28. Lorde blew KJ Apa off one time.
He shared the story with Vulture: "I don't know Lorde. I've seen her, actually, though. I've seen her in New Zealand. I walked past her in a car and I looked at her and smiled and she completely just looked away and I was really gutted."
29. But she apologized for it after she read the interview.
So there's that.
30. Lili Reinhart says she's much harsher than Betty.
"I'm least like Betty, in that Betty is the person who is friends with everyone," she explained. "I'm the kind of person if I don't like you, unfortunately you know that. Everything I'm thinking in my head goes onto my face, so you can see right through me. Even as an actor, I can't hide in real life how I feel about people. I live my life [by the rule] that if you don't want someone in your life, they don't have to be there."
31. Madelaine Petsch calls KJ Apa the on-set crush.
32. Camila Mendes is an O.C. fangirl.
"I rewatched The O.C., like, seven times!" she said. "I know that show like the back of my hand, like, 'I got this!'"

33. Madelaine Petsch is actually an Archie fangirl.
She said that she's always been a fan, and that Archie Comics even sent her a bunch of vintage Cheryl Blossom comics.
34. Cole Sprouse is also a comic fan and is in talks to write some of the Riverdale spinoff comic.
"Now there's a Riverdale universe that's gonna take off in print form now, too. Roberto [Aguirre-Sacasa, Riverdale's showrunner] has talked to me about writing a couple of those, which would be awesome. I'd love to try my hand at that," he told Vulture.
Celebrity news, beauty, fashion advice, and fascinating features, delivered straight to your inbox!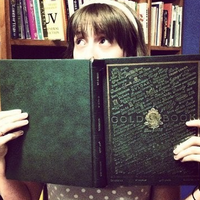 Kayleigh Roberts is a freelance writer and editor with more than 10 years of professional experience. Her byline has appeared in Marie Claire, Cosmopolitan, ELLE, Harper's Bazaar, The Atlantic, Allure, Entertainment Weekly, MTV, Bustle, Refinery29, Girls' Life Magazine, Just Jared, and Tiger Beat, among other publications. She's a graduate of the Medill School of Journalism at Northwestern University.