10 Things You Never Knew About 'Supernatural'—Straight from Alexander Calvert
Fun fact: They filmed tonight's episode in a literal mud pit.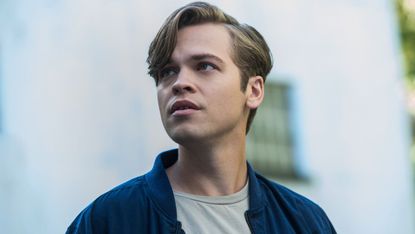 (Image credit: CW)
Alexander Calvert is making his triumphant return to Supernatural tonight as the son of Lucifer (totally casual parentage, don't worry about it), and in anticipation the star himself is sharing 10 things you never knew about his character—and the show—with MarieClaire.com.
1. All I need to do each day to help me get into character as Jack is glance down at my old man/preschool style velcro sneakers.
2. We are fortunate enough to shoot in Vancouver, British Columbia, which means we get to visit these beautiful locations throughout the province and work with our amazing crew in sun, rain, and—most recently—snow.
3. In our latest episode "Good Intentions," I'm lucky enough to work with Samantha Smith and Jim Beaver. Everything we shot for this episode was in the pouring rain, and pretty much took place in a mud pit. I felt like we were shooting the sequel to Apocalypse Now.
4. On Supernatural, Jack and the boys mostly eat from fast food burger joints since we are always on the road, but in real life I have recently become obsessed with Chef's Table.
5. One of my favorite characters as a teenager was Joe Pesci's "Tommy DeVito" in Goodfellas. So playing Jack has been fun because he is the polar opposite of that.
6. My favorite location we shot at during season 13 was the abandoned and decaying ferry in episode 9, "The Bad Place." Our director, Phil Sgriccia, was able to get an amazing one-shot sequence taken from a drone of all us running into the ferry.
7. Because of the fast pace of the show, the boys and Jack rarely have downtime to read because they are fighting demons or stabbing someone with an angel blade. Whereas, in real life, I always have a book or two in my backpack.
8. The best part of being on Supernatural has been seeing incredible community of fans that support not only the show, but each other.
9. I joked on Twitter that Jack was listening to Lil Uzi Vert's "XO Tour Llif3," but at this point I think he's more into Tame Impala.
10. My dream for Supernatural would be an episode that we could shoot in New Orleans. Having visited there, I feel the history and lore of city would match the show perfectly.
Bonus!
11. A great thing about playing Jack is his constant dedication to the things that matter most to him. Family, loyalty, and Nougat.
Supernatural airs Thursday nights at 8 p.m. ET on The CW.
RELATED STORIES
Celebrity news, beauty, fashion advice, and fascinating features, delivered straight to your inbox!