Everything We Know About 'The Crown' Season 3
When The Crown returns for season 3, a lot will be different. The Netflix drama about the lives of the British royal family will move forward with new characters and a new decade. Here's what we know so far about the show's third season.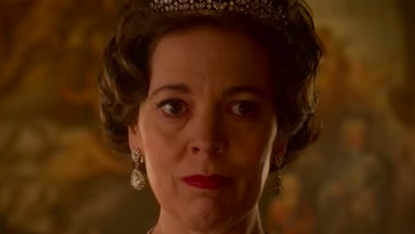 (Image credit: Netflix)
When The Crown returns for season three, a lot will be different. The Netflix drama about the lives of the British royal family will move forward with new characters and a new decade. Here's everything we know so far about the show's third season.
Release Date
Nearly a full year after the second season of the hit series, Netflix announced that season three of The Crown will be available for streaming on November 17.
A Full Trailer
It's finally here, and it absolutely does not disappoint: We have a full trailer for season 3. Olivia Colman brings a somber note to the performance, much like Claire Foy did in seasons 1 and 2, and seems to feel little more secure than when she was younger thanks to some real-world drama. But her relationship with Philip seems to have improved (hello, Tobias Menzies, who still looks hot in a blonde, balding wig), even if the one with her sister Margaret (Helena Bonham Carter) hasn't, really.
Oh, and this season is going to be Charles-heavy, thanks to his figurative twin, actor John O'Connor. We see a glimpse of Camilla Parker Bowles (Emerald Fennell) but no Diana yet. Don't worry, she's coming, but only towards the end of the season. It promises to be as crazy, if not more, than Margaret's drama with Peter Townsend.
Historical Background
The show's uncanny ability to mirror real life has been proven yet again, thanks to an early photo of Gillian Anderson as Margaret Thatcher. It has everything: The bouffant wig, the jewel-bright colors and conservative dress, the look of calm with the wheels turning in her head. Anderson looks SO similar in costume, I can barely believe it.
According to Entertainment Weekly, the real-life events that will serve as the backdrop to the royals' lives are representative of the tumultuous time in the '60s and '70s (fans will be able to relate to what's currently going on in 2019, I bet):
The notable historical subjects covered in season 3 of The Crown include the 1964 discovery that the Queen's art adviser Anthony Blunt was a Soviet spy, and Labour leader Harold Wilson's rise to prime minister that same year. The show will also detail the 1966 Aberfan disaster, when an avalanche of coal waste buried a school in Wales. "I had never heard of it, which breaks my heart slightly," [Olivia] Colman says of the event, which claimed the lives of 144 people, mostly children.
As for the intra-family issues explored, [screenwriter Peter] Morgan says the show will deal less than previous seasons have with the marriage of Elizabeth and Philip—which he believes became more settled in the '60s after the early years of turmoil. Instead, the upcoming episodes will detail the breakdown of the union between Margaret and her photographer husband, Lord "Tony" Snowdon (Ben Daniels).
The real-life inspiration will also include Prince Philip's mother, Princess Alice, who had a traumatic history and evolving relationship with her son throughout the course of their lives. We'll also see the introduction of Princess Diana, and thus far the pictures have been so accurate, it's scary:
There's a LOT here to dive into, and I can't wait.
Behind the Scenes
Also from EW, we got some behind-the-scenes details and video of the new cast members on the third season. It looks like it was a blast to shoot, and the actors enjoyed playing their iconic characters. Particularly fun to play were Princess Margaret (Helena Bonham Carter, national treasure) and Lord Tony Snowdon (Ben Daniels, whom you might recognize from House of Cards). Especially because it was an incredibly passionate relationship that led to an absolutely scandalous divorce for the royal family.
"They're such extraordinary people," Daniels said. "Completely addicted to each other. Even right up until the minute they were getting divorced, they still had a really strong physical relationship. People often said that it was like foreplay for them, having a big row. They would have these huge rows and then amazing sex."
Cast
The biggest news surrounding The Crown's third season is definitely the cast. Fans have known for a long time that the plan was to recast the roles as the characters aged, but there's been rabid speculation about who would play the parts and how they could possibly compare against the iconic Claire Foy and Matt Smith.
"After two seasons, that's it, I'm gone," Foy, who played Queen Elizabeth in the first two seasons, told Vulture in 2016. "They're getting rid of all of us. I don't [know] how they're planning on doing it, but they're such an incredible bunch of directors and producers that it's gonna be different and exciting." Now, the time has come to recast. Here are the actors taking over the main roles on The Crown:
Olivia Colman as Queen Elizabeth
Broadchurch star Olivia Colman is set to replace Claire Foy as Queen Elizabeth in season three. Netflix took to Twitter in July to release the first photo of Colman in character. Early reports are that she is amazing in the role (no surprise, since she's, you know, an Oscar winner).
Helena Bonham Carter as Princess Margaret
Helena Bonham Carter will replace Vanessa Kirby as Princess Margaret. "I'm not sure which I'm more terrified about—doing justice to the real Princess Margaret or following in the shoes of Vanessa Kirby's Princess Margaret," Bonham Carter said when she announced her role. Just days after the first photo of Colman as Queen Elizabeth was released,Netflix dropped a glimpse of Bonham Carter in character.
Tobias Menzies as Prince Philip
Early reports had Paul Bettany in discussions for the role, but he has since bowed out, and been replaced by Tobias Menzies. Menzies is famous for his roles on Outlander and Game of Thrones (in case you've been asking yourself, Wait, where do I know that guy from??), and his casting as Prince Philip is sure to have fans excited. Netflix confirmed his casting in March 2018—and he's apparently had to spend a good amount of time in the makeup chair to achieve the exact look.
But Menzies won't get any tips from Matt Smith, who played Prince Philip in the first two seasons. "I wouldn't give them any advice just like I didn't give Peter Capaldi advice [when he took over as Doctor Who]," Smith told Newsweek. "They'll find someone brilliant who'll approach it with their own thought processes and personality."
Josh O'Connor as Prince Charles
Netflix announced in late July that Josh O'Connor will be playing Prince Charles in season three. "Seasons three and four will follow some of the most turbulent events in the Prince of Wales' life and our national story and I'm excited...I'm reliably informed I have the ears for the part and will fit right in," O'Connor said of the news.
Marion Bailey as the Queen Mother
Marion Bailey is set to play Elizabeth, the Queen Mother. "We have a tough act to follow but what a gift to be playing the fascinating and greatly loved Queen Mother," she announced on Twitter.
Erin Doherty as Princess Anne
Alongside the casting announcements of Prince Charles and the Queen Mother, Netflix confirmed in July that Erin Doherty will play the role of Princess Anne. "To be a part of the crown feels both ridiculously special and surreal. There is such a rare dynamic within Princess Anne that I am incredibly grateful to be able to explore," she explained.
Emerald Fennell as Camilla Shand
On October 23, Netflix revealed that Emerald Fennell (Call the Midwife) will appear in The Crown's third season as Camilla Shand, the future Duchess of Cornwall. Fennell approached the announcement with a sense of humor, and a dig on a hairstyle:
If you're wondering why you recognize the name, Fennell was the showrunner for season 2 of Killing Eve. So get ready for her to be a household name.
Emma Corrin as Lady Diana Spencer
Emma Corrin will also be making an appearance in this season of the royal drama as a young Lady Diana Spencer. Netflix announced that the dramatic Prince Charles/Princess Diana/Camilla saga will take shape within the fourth season of The Crown.
Gillian Anderson as Margaret Thatcher
Following in the footsteps of Meryl Streep, Gillian Anderson is set to take on the role of the formidable Prime Minister, Margaret Thatcher. The 50-year-old actress' has previously appeared in huge hits like The X-Files and The Fall or, more recently, Sex Education. The Iron Lady didn't rise to power as Britain's first female PM until 1979 but, according to the Sunday Times, will appear in the third and fourth season of The Crown.
On October 15, Netflix released a new, dramatic character poster featuring Olivia Colman, Tobias Menzies, and Josh O'Connor. The tag line: "Times change. Duty endures."
A new era begins. Olivia Colman, Tobias Menzies, and Josh O'Connor star in The Crown Season 3. 17th November. pic.twitter.com/5sRApxrN9ZOctober 15, 2019
See more
Plot
Season two left off with the birth of Prince Edward in 1964. The Crown's third season will cover at least the years 1964 to 1976, according to Variety. The Sunday Times reports that the third season will take place in "the Wilson era"—meaning Harold Wilson's time as prime minister, from 1964 to 1970 and then again from 1974 to 1976. Season three will also cover Princess Margaret's divorce from the Earl of Snowdon.
"We're now writing season three," The Crown's history consultant Robert Lacey told Town & Country in Decemeber 2017. "And in season three, without giving anything away—it's on the record, it's history—we'll see the breakup of this extraordinary marriage between Margaret and Snowdon. [In the second season], you see how it starts, and what a strange character, a brilliant character Snowden was."
As for Charles and Diana, don't expect to meet the late Princess of Wales early in the season—she'll reportedly make her debut at the end of season three and play a big part in season four. Since Charles and Diana didn't meet until 1977, if reports about Diana debuting at the end of the season are true, the show will extend past the Wilson Era.
On September 20, Netflix released the first teaser trailer for the new season, which appropriately begins with Colman as Elizabeth looking at an old stamp featuring Claire Foy's portrayal of the monarch and remarking on change. Check it out below:
Filming
As of July, the third season is officially in production and is expected to premiere in 2019. Seasons three and four will be filmed back-to-back, which will hopefully make for a shorter wait for season four. "We're doing them back-to-back. I'm writing them all at the moment," showrunner Peter Morgan shared during a BAFTA Masterclass in February.
For more stories like this, including celebrity news, beauty and fashion advice, savvy political commentary, and fascinating features, sign up for the Marie Claire newsletter.
RELATED STORY