A Photo of Olivia Colman as The Queen in 'The Crown' Is Finally Here
Colman will take over for Claire Foy in season three.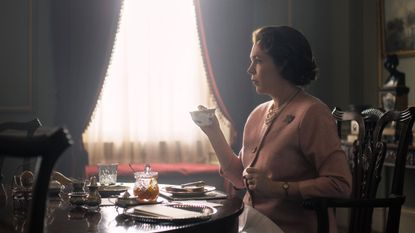 (Image credit: Netflix)
Ever since Netflix announced last October that Olivia Colman would replace Claire Foy as Queen Elizabeth II in The Crown's third season, (opens in new tab) the world has been anxiously awaiting for a sneak peek. So, prepare to clutch your pearls—Netflix has finally released the first photo of Colman in character.
The solo shot of Colman as Her Majesty (opens in new tab) is pretty damn spot-on—the matriarch sips a cup of tea while decked out in a pink jacket and her signature pearls. Netflix has yet to release photos of any other season three characters, which will include the likes of Tobias Menzies as Prince Phillip (opens in new tab), Helena Bonham Carter as Princess Margaret, and Ben Daniels as Antony Armstrong-Jones.
Although we'll miss Foy (who has snagged two SAG Awards and a Golden Globe for her role), the show's creator Peter Morgan has always planned on replacing the cast in later seasons. "What's so beautiful about Claire [Foy] is her youth," he told Variety (opens in new tab). "You can't ask someone to act middle-aged. Someone has to bring their own fatigue to it. The feelings we all have as 50-year-olds are different than the feelings we all have as 30-year-olds," he explained.
The third season—which is currently in production—is expected to premiere in 2019. The show will pick up where season two left off in 1964 and will cover the Queen's life through the early 1970s.
RELATED STORY
Ruby was the beauty editor at Cosmopolitan, where she covered beauty across print and digital. Her work has appeared on The Zoe Report, Fashionista, and StyleCaster. Follow her on Instagram.