The Story of a Guy Who Got Michelle Obama's Face Shaved Into His Head Last Night
And you thought you were her biggest fan.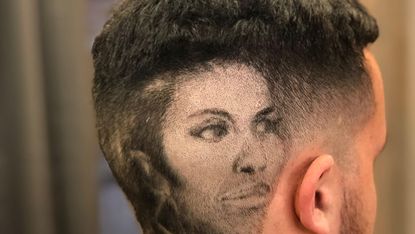 (Image credit: Nolan Beck)
Marie Claire Newsletter
Celebrity news, beauty, fashion advice, and fascinating features, delivered straight to your inbox!
Thank you for signing up to Marie Claire. You will receive a verification email shortly.
There was a problem. Please refresh the page and try again.
Nolan Beck, a visual designer and creative director in Cleveland, caught my eye last night when he Instagrammed his new haircut: his very favorite photo of Michelle Obama, "carved" into his head by LeBron James's hairstylist Nick Castellanos:
Obviously, I had to investigate. Here is Nolan's story:
"I got the idea a few months ago when friend Cassie asked if I wanted a color and cut for a photoshoot. She's a colorist, and the person giving the cut would be Nick Castellanos, who is a pretty well-known and amazing barber. He actually cuts LeBron James' hair, too. So obviously I said yes. Nick kind of improvised a cool geometric design and it ended up being very interesting and well-executed, but wasn't necessarily my personal style.

He's a really incredible artist, so I knew I wanted to do something with him again. I jokingly said I wanted to get an Obama family portrait, with Barack on one side, Michelle on the other, and Sasha and Malia in the back. He told me to choose one because each face would take several hours. So obviously it had to be Michelle. A few months later, I decided I actually wanted to do it. I reached out to Nick and he was game.
It took about three hours start to finish. For process questions I'd ask Nick. I just kinda sat there with him shaving away at the back of my head. I didn't see it until it was done, but I had a whole barbershop full of dudes behind me talking about how great it looked, so I felt good about it. I know he went in with trimmers, razors, and other things. He had a pretty extensive toolkit laid out. I felt like I was in surgery. I think it'll probably last a week or so.
I've gotten some good feedback on social media. My mom thought it was stupid. Nick originally chose a reference photo that probably looked a lot closer to Michelle, but I insisted on using my favorite photo of her. A few people have said it kinda looks like Prince, which I think is also amazing. But Nick did a super fantastic job and I'm happy with it.
Four thank-you notes to Michelle Obama, by Chimamanda Ngozi Adichie, @GloriaSteinem, @jmeacham and @iamrashidajones https://t.co/fs5cFNbMWfOctober 17, 2016
See more
I chose Michelle because she is one of the most elegant and sophisticated people in the public eye. She's strong, so smart, and hilarious, and an inspiration. With this haircut it kinda looks like she's whispering in my ear, so I joked she can just constantly remind me what's wrong with the patriarchy and tell me how to fix systemic racism. I have always loved the Obamas. Their poise and resilience are so incredibly admirable. They are the First Family that America doesn't deserve. They handle everything with grace and a sense of humor, and those are two qualities I try to emulate everyday. Ideally, Michelle Obama will see this and get my face shaved into her head. I'll send her a photo if she's interested.
I'm actually thinking about doing this once a month now with different people…. I thought it'd be funny to do Kellyanne Conway but then I'd feel like Professor Quirrell with Voldemort whispering evil nonsense into my ear, so I'll stick to positive role models. I think up next I want to do Sigourney Weaver, Sheryl Sandberg, or Cecile Richards. Or Tracee Ellis Ross!"
Thank you, Nolan! We hope Michelle sees this, too!
Celebrity news, beauty, fashion advice, and fascinating features, delivered straight to your inbox!