16 Extremely Important Observations From the Trailer for 'A Star is Born'
This movie has the production value that 'Burlesque' deserved.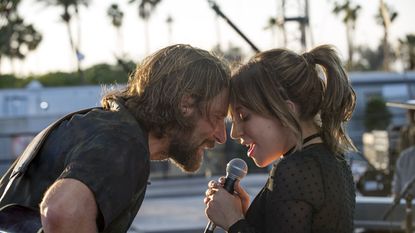 (Image credit: Warner Bros.)
Marie Claire Newsletter
Celebrity news, beauty, fashion advice, and fascinating features, delivered straight to your inbox!
Thank you for signing up to Marie Claire. You will receive a verification email shortly.
There was a problem. Please refresh the page and try again.
The trailer for the now thrice remade A Star Is Born (Judy Garland helmed one in 1954, Barbra Streisand helmed another in 1976) dropped Wednesday, this time with Lady Gaga playing the lead female role.
Expected this fall after years of production hiccups, the film follows a big-time musician (here played by Bradley Cooper) who is "at a crossroads" or "battling demons" or "someone Dave Chappelle should be worried about," as he chance-meets Lady Gaga in a club. They fall in love, he discovers she is good at singing, and then uses his platform to give her the big break she deserves. Later, someone or possibly multiple people cry, probably.
Here are a 16 observations from watching the trailer:


Bradley Cooper singing with a country twang is extremely working.
Ooooh, as is hat-wearing, probably-inebriated Bradley Cooper. Turns out, if you make it look like The Hangover-era Bradley Cooper got dragged behind a train for a few miles he will actually be at peak sexiness.
Is that ringing sound actually in the trailer, or have the years of neglecting to wear earplugs at concerts caught up to me?
Genuinely surprised to see Dave Chappelle in this.
Lady Gaga is introduced to us while on a small stage that looks like a set-piece from the 2010's incredible but maligned Christina Aguilera/Cher vehicle, Burlesque.
Gaga's skinny eyebrows are certainly a lewk.
Wait—is this just a Burlesque remake, wrapped in a Barbra Streisand remake?
They really made all the characters in this movie look incredibly norm-core. Like, I'm having trouble believing Gaga has visible pores in real-life? Because she's been famous for so long?
Hey, it's Coachella!
Genuinely relieved to hear Lady Gaga's singing voice toward the end of this trailer. Not that Bradley's wasn't good but it was really time to let a pro take over.
Yeah, this really feels like Burlesque. Like, down to the wigs.
Gaga knows that she looks good in hats, which goes a long way in explaining the cover of Joanne.
Gaga and Bradley's chemistry seems great. Very natural, a hint of neediness, a simmering horniness that can't be ignored. *Chef's kiss.*
This movie seems pretty good. Could use more Cher.
This particular version of A Star Is Born hits theaters October 5.
Celebrity news, beauty, fashion advice, and fascinating features, delivered straight to your inbox!
Cady Drell is a writer, editor, researcher and pet enthusiast from Brooklyn.