Christina Aguilera Is the Low-Key Queen of Transformations
On the eve of her new album, Liberation, let's look back at the pop star's most iconic (and under-appreciated) looks.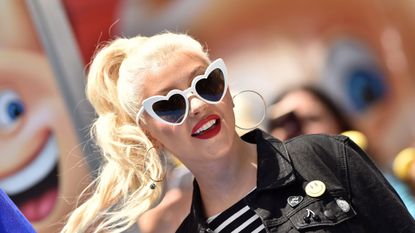 (Image credit: Axelle/Bauer-Griffin)
Marie Claire Newsletter
Celebrity news, beauty, fashion advice, and fascinating features, delivered straight to your inbox!
Thank you for signing up to Marie Claire. You will receive a verification email shortly.
There was a problem. Please refresh the page and try again.
Christina Aguilera's new album, Liberation, drops Friday, but we've been paying attention to her corresponding style transformation for months. It all started when she appeared, nearly unrecognizable, in Paper magazine back in March:
#XtinaPAPER https://t.co/XEi0Gj0TuM pic.twitter.com/J0M66uM4HrMarch 26, 2018
See more
She's so gorgeously fresh-faced—cherubic and freckly and natural; a stark contrast to the monotonous Instagram face that's become de rigueur for hitmakers these days.
But it was merely the latest style iteration for this deeply under-appreciated pop chameleon. Because really, when you think of celebrities who embody the transformative possibilities of pop, you think Madonna (with whom Christina engaged in a three-way kiss at the 2003 VMAs, by the way) and Cher (with whom she co-starred in the excellent—yes, excellent!—2010 film Burlesque) and Lady Gaga (with whom Christina had a feud but then they recorded a song together). But Christina's name is often and unfairly left off the list.
RELATED STORIES
If I'm honest with myself as an Xtina megafan, there are probably a few reasons for this omission. Though she is one of the biggest and most interesting vocal talents to ever grace pop music, she always launched just a little too late to be the Main Event. Her biggest pop rival, Britney Spears, made landfall a bit before Aguilera did ("...Baby One More Time" dropped in October 1998, while "Genie in a Bottle" came out in June 1999), and Christina never really caught up. And because of that lag, she was never ahead enough to establish a style that was both uniquely hers and interesting enough to carry her between phases. She didn't get a reputation as a chameleon because it seemed like most of her transformations were reactionary, done as a last-ditch effort to establish herself as more than just a vocal powerhouse.
But to overlook her would be a mistake. For the last 19 years, Christina Aguilera has shown she's willing to get weird with her style, completely deviate from the thing she did previously, and remold her image (and even her music) at the drop of a hat—even if it's usually a fedora.
Witness, her transformations:
1999-ish: The "Second-Biggest Female Pop Star in America" Phase
When Christina first came on the scene in 1999, she was like a slightly more scandalous version of Britney. She said, "Rub me the right way," in her first single and, yeah, we all knew it was a genie joke, but it also implied that she perhaps knew sensual human touch. Shocking! She is so small! In retrospect, she was almost quaintly wholesome. She was a Mouseketeer, she wore shawls, she sang in Spanish—all of it was kind of boring but fine!
Late 2000 to Mid-2002: A Lot Going On Here
Remember when all you had to do to get some career traction as a young pop star was imply that you'd had sex? Gross times. The early-aughts version of Christina's look was basically the visualization of this premise, which, for better or worse, differentiated her from rival Britney Spears. Take these three looks, which I call (from left to right) Cultural Appropriation Barbie, Clown Who Wants to Talk to You About the BDSM Community, and Cute Medusa:
All individually interesting lewks, which really crystallized into the ensemble she wore to the 7th Annual Blockbuster Entertainment Awards in 2001 (a phrase that, not even two decades later, is surprisingly meaningless). It's literally the most anyone has ever done and I still think about it often.
2002: The Dawning of the Age of Assless Chaps
Xtina owned a surprising array of assless chaps, which she trotted out for the "Dirrty" video in September 2002 and continued wearing throughout the promotion of her record, Stripped. The chaps made quite a splash—enough to earn their own blip on her style timeline. Frankly, I'm surprised they never caught on more. Justice for Assless Chaps!
2006: Honey, I Shrunk Mae West
I'm thrilled to be able to draw attention to this incredible era of Christina fashion. For the promotion of her 2006 album Back to Basics, she adopted this kind of old-timey vamp look (the album had a lot of swing and lounge influences), though I would argue she had nodded to it in the past because the woman loves a fedora. But in 2006, she went full Time Warp. Her voice is made for this type of music, but I'd wager she didn't see its potential until Amy Winehouse hit the scene and made it punk as hell to wear a beehive. Perhaps the fact that Amy did it so well is why this era of Christina is oft-forgotten, but it was very sexy and glam and fun, and she would try it on again a few years later during the Burlesque promo cycle, thank god.
2010: Bionic, Burlesque, and Performative Bisexuality
Burlesque deserves to be a cult film and I won't rest until it gets there. It's like if Showgirls was more celibate, or if Magic Mike was into musical theater, or if Chicago was significantly gayer and had an entire subplot about air rights. (Burlesque might actually be taught in law school land use classes, I have no idea.) Style-wise, the Christina of this time dressed not unlike her costuming in the film, a blend of Back to Basics vintage and her original, good-girl persona.
And 2010 also saw the release of her album Bionic, which I feel like I didn't notice? There was a lot going on that year, what with the Lost series finale and all. In the video for "Not Myself Tonight," she looks incredible, but a girl-on-girl kiss that's supposed to be shocking really just looks kind of cringe-y and passé. It's like, "Tina, we've seen that one before, do you have anything else?"
2011-2016: The Voice Years
Between 2011 and 2016, Christina was a coach on NBC's hit singing competition The Voice. Good for her! It was a lucrative gig that would allow her to spend time with her family and keep her off the rigorous album promotion cycle. But if that sounds boring, it's because it was—especially where fashion is concerned. But hey, I'm glad she got to have this experience, even if the outfits she wore during it could be categorized as "Sober Snooki."
2018: So Fresh, So Clean
After a few years of largely staying away from major transformation, the change-up of 2018 is especially exciting. With her Liberation look, she's really come full-circle—it's blonde, and natural, and not naive. It shows a kind of maturity that doesn't feel like it's in reaction to somebody else's career move. This is Christina being comfortable in her own skin. And I really hope this album does well for her because she's a goddess and I need her to feel good and rested so she can make Burlesque 2.
Celebrity news, beauty, fashion advice, and fascinating features, delivered straight to your inbox!
Cady Drell is a writer, editor, researcher and pet enthusiast from Brooklyn.