Meghan Markle Finds Royal Protocol "Difficult to Understand," According to Reports
Same, Meghan. Same.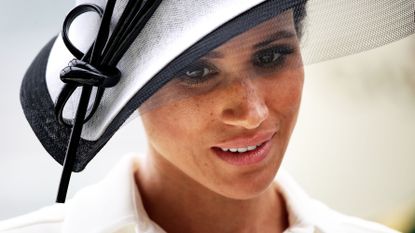 (Image credit: Getty Images)
As much as I'd like to be married to Prince Harry (or William. Hi, Will (opens in new tab)), the massive list of rules the royal family are required to follow (opens in new tab) is enough to dissuade me. And, sure, Meghan Markle (opens in new tab) looks visibly happy now that she's the Duchess of Sussex, but a source close to the family is now claiming that the new royal is having a difficult time adjusting to said rules.
The source tells People (opens in new tab) that Meghan "has found certain rules in the royal household difficult to understand, like the fact that the Queen prefers women in dresses or skirts rather than trouser suits, and is often asking Harry why things have to be done in a certain way."
They add: "I think she finds it a little frustrating at times, but this is her new life, and she has to deal with it."
What exactly are the royal family rules, you ask? They range from the weirdly specific (royal family members are prohibited from playing the beloved board game Monopoly (opens in new tab)) to the kinda, sorta twisted (they're required to travel with an all-black outfit in the case of an unexpected funeral (opens in new tab)). Translation: You can't really blame Meghan for being confused.
Suffice it to say, the new duchess does seem to be adjusting to royal life fairly smoothly. Other than a few, understandable hiccups (like maybe getting political in Ireland (opens in new tab)) she's dealt with her royal engagements like an actual boss. Cue slow clap.
RELATED STORY
Ruby was the beauty editor at Cosmopolitan, where she covered beauty across print and digital. Her work has appeared on The Zoe Report, Fashionista, and StyleCaster. Follow her on Instagram.