Demi Moore's Harvey Weinstein Joke at Bruce Willis' Roast Was All Kinds of Awful
"He came back swinging that ball gag..."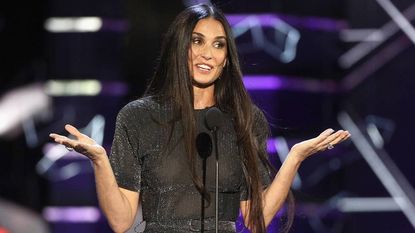 (Image credit: Comedy central)
To quote Hannah Gatsby: "Punchlines need trauma, because punchlines need tension and tension feeds trauma." She's right. But what nobody needed was Demi Moore making the trauma Harvey Weinstein caused people the punchline of her joke about ex-husband Bruce Willis, which occurred during the Comedy Central "Roast of Bruce Willis" that aired Sunday.
"I mean, we were married, let's see, almost 12 years. And that's like 84 in Bruce Willis years," Moore joked. (That was funny!) "But I was there for some special moments. Like, groundbreaking. Like, when Bruce... he got his career-breaking moment in Pulp Fiction. I mean, it was... It seemed really odd at the time, like, he's a big action star, doing a little indie film." (Still funny-ish! You almost had this, Demi!) "But Bruce went over to Harvey Weinstein's hotel, and, I don't know, he came back swinging that ball gag, and then he said, 'I got the part.'"
Bruce laughed, but not everybody on stage thought it was funny: "Kevin Pollak winced and Cybill Shepherd's jaw literally dropped," is how TMZ describes it. Pulp Fiction producer Harvey Weinstein, of course, was charged in May with two counts of predatory sexual assault (charges he denies), plus four more counts related to his treatment of women, and may well face life in prison. When Weinstein's decades of alleged misdeeds were made public last year, it triggered what's been dubbed both the "Weinstein effect" and the #MeToo movement, in which women all over the world in all kinds of industries finally felt able to come forward about being sexually harassed, maligned, and assaulted.
There can be no comparing when it comes to experiences of assault, but Harvey Weinstein is widely considered the symbol of sexual harassment and assault in the modern age. The details of his alleged crimes sparked a nationwide—for that matter, worldwide—reckoning about normalized misogyny. To joke about his now-infamous "casting couch" is not just disparaging to Weinstein's victims, but to every women who used every ounce of courage to come forward about her own experience thereafter.
So, no, a joke about Willis performing sexually for Weinstein to get a part isn't funny. But there's another layer: If you've seen Pulp Fiction, you'll vividly remember the ball gag scene—where Bruce Willis as Butch is forced to rescue Marsellus (Ving Rhames), who is being brutally raped against a pommel horse. It's a scene so visceral and hard to watch that Uma Thurman nearly turned down the part because of it: "I wasn't sure I wanted to do it, because I was worried about the Gimp stuff," she told Vanity Fair. "We had very memorable, long discussions about male rape versus female rape. No one could believe I even hesitated in any way."
The presence of the ball gag in Moore's joke is a double whammy. In Pulp Fiction, the ball gag is presented as an evocative symbol of male rape. By framing her joke around not only Weinstein but also the motif of the ball gag, Moore is mocking not only the real-life victims of Weinstein but victims of male sexual assault, who often find themselves overlooked in conversations about sexual assault.
You can watch the moment over at TMZ here.
RELATED STORIES
Celebrity news, beauty, fashion advice, and fascinating features, delivered straight to your inbox!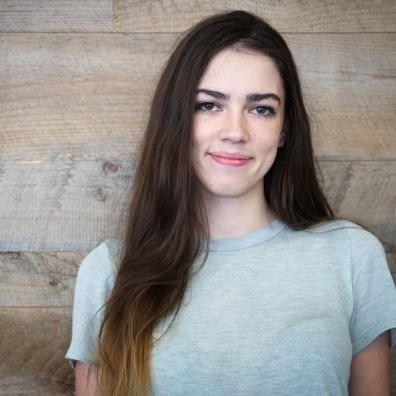 Jenny is the Digital Director at Marie Claire. Originally from London, she moved to New York in 2012 to attend the Columbia Graduate School of Journalism and never left. Prior to Marie Claire, she spent five years at Bustle building out its news and politics coverage. She loves, in order: her dog, goldfish crackers, and arguing about why umbrellas are fundamentally useless. Her first novel, EVERYONE WHO CAN FORGIVE ME IS DEAD, will be published by Minotaur Books on February 6, 2024.