#ReadWithMC Reviews 'Charlotte Walsh Likes to Win'
"Let me tell you, campaigns are HELL and this book does not sugarcoat the experience."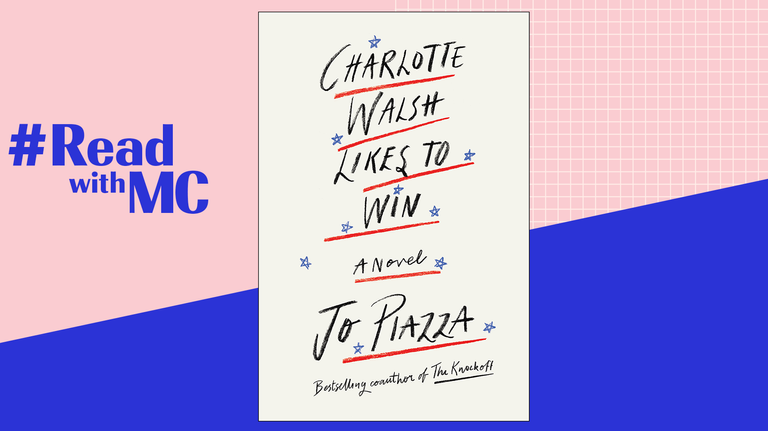 (Image credit: Design by Morgan McMullen)
For MarieClaire.com's September #ReadWithMC pick, we read devoured Jo Piazza's Charlotte Walsh Likes to Win—a timely story of political ambition, marriage, sexual politics, and what it takes for a woman to run for office today.
A major reason why we created #ReadWithMC is not only to foster a community of book lovers (while holding us all accountable to finish!), but to also curate a collection of authentic reviews and recommendations for women who find themselves wondering what to dive into next.
Here, a sampling of readers' honest thoughts about Charlotte Walsh Likes to Win.
"Just finished Charlotte Walsh Likes to Win. So good I read it in a day. It captures completely what a woman today must endure in a political campaign and today's political climate. A surprise ending that I suspected might happen as I neared the end. #ReadwithMC" -@llteach9
"IT'S SO GOOD. The ending really surprised me—I did not see that coming at all—but I liked how Jo chose to leave that final chapter. #readwithmc" -@hannahorens
"AND who would play Max in the movie version!?! Patrick Dempsey? Adam Brody in 10 years?! FEELINGS. So many FEELINGS. #readwithmc #charlottewalshlikestowin" -@sallyholmes
"I finished Charlotte Walsh Likes to Win by Jo Piazza earlier this week and it was so wonderful! The story of Charlotte Walsh's campaign for Senate is one that I think a lot of readers would find fascinating, especially with the midterm elections quickly approaching.
This book is beyond real and felt very true to my experience working on a campaign in 2012. Let me tell you, campaigns are HELL and this book does not sugarcoat the experience. At one point, Charlotte mentions that her campaign workers almost seem to take pride their absolute lack of self care—which cracked me up because its true! Who has time for things like sleeping when you have to get out the vote for your candidate?!
One of my favorite aspects of this book was the relationships between Charlotte, her mentor, Roz, and her mentee, Leila. It is so vital that women support each other and help lift each other up in professional settings. Mentorships, whether informal or through traditional programs, are a wonderful way to do that.
As a whole, this book is honest to the realities of today's politics—the challenges women face running for office, the struggle of juggling family with an all-consuming professional life, and the reality of just how ugly and polarized our political climate has become. It is hopeful and cathartic, but realistic and pragmatic.
It also had a lot of Philly references, which I obviously loved." -@hemysbookclub
"I liked reading it; I liked learning about a female candidate's race from the inside. It danced around Trump and 2016, which annoyed me—the book seemed set in a world next to ours, but not quite there. I admired the way Charlotte's daily emotional labor was described. #ReadWithMC" -@_JennyHollander
"Want to talk about the book of the moment? This is it. Woman running for senate in the 2018 midterm elections. Does it get more right now than that?
This book is fun and smart and important and doesn't take itself too seriously. I love that. It deals with big issues like sexism and gender norms without feeling preachy.
What I love more than the book is that Piazza used this book as a way to promote women (of all parties) running for office. She has a list in the back of the book for organizations that support women running (@emilys_list @sheshouldrun and more). The book serves a bigger purpose and brings these issues front and center." -@thestackspod
"I devoured Charlotte Walsh Likes to Win. It was realistic, timely, thought-provoking, smart, original, and surprising—especially that ending! @jopiazza kept me on my toes right up until the very last page. There needs to be a sequel! #ReadWithMC" -@DaniSMcNally
Missed out on our September pick? Starting October 1, we'll be reading award-winning author Vanessa Hua's inaugural book, A River of Stars. Learn more about the book and read an exclusive interview with Hua, here.