Meet the Winners of Our 2017 Image Makers Awards
AKA the stars (behind the stars) of the red carpet.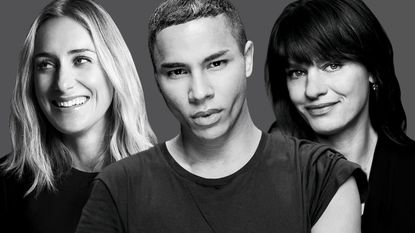 (Image credit: Design by Betsy Farrell)
They are the behind-the-scenes superstars who create red-carpet looks that ricochet across social media. They're the psychologists who soothe pre-event jitters for high-profile clients, the disrupters who mastermind the next big things in beauty and fashion, and the MacGyvers who smooth rogue hairs and repair busted zippers in the backseats of speeding cars. These, folks, are the Image Makers. On January 10, as Los Angeles was abuzz with Golden Globes fever, Marie Claire will host our second-annual Image Makers Awards, where eight remarkable artists take their rightful place in the spotlight.
---
In the beauty world, hairstylist Chris McMillan is practically as famous as his A-list clients. Known for memorable, cutting-edge 'dos, like Michelle Williams' modern crop and Miley Cyrus' platinum pixie, he's also the mane man behind Jennifer Aniston's eternally coveted locks. "When I first met Jen, she had long, curly hair and bangs," he says. "I cut off four inches, talked her into growing out her bangs, gave her long layers, and blew it out straight. That turned into The Rachel, and it became iconic."
BEAUTY INFLUENCER: "I used to watch my mom do her hair every day when I was a kid. Over the years, I saw her put it in rollers, tease it, frost it, bleach it blonde, cut it into a pixie, and grow it out like Farrah Fawcett. Mom was always changing it up—she was like Madonna before Madonna!"
HAIR PRODIGY: "I took beauty-school classes during high school, and by my senior year, I got a job working at a salon in Manhattan Beach [California]. This was 1983, and I was cutting bobs and New Wave long-on-top short cuts, weaving in blonde streaks."
CAREER EVOLUTION: "I moved to Milan when I was 22 to work on photo shoots to build my portfolio. A year and a half later, I came back to the States and started doing hair for young models like Cameron Diaz and Charlize Theron. Fast-forward to meeting a girl named Jennifer who was doing a TV pilot and needed a haircut."
MENTOR: "When I assisted Sally Hershberger, I learned how to be both precise and creative. Sally taught me methodical hairdressing: carefully sectioning the hair and cutting with a very systematic technique."
SECRET WEAPON: "I have an arsenal. I learned early on that you have to be prepared for anything. Do I have a bleached blonde wig with me at all times? Absolutely. In the trunk of my car are suitcases filled with wigs, extensions, hairpins, brushes, and products. The one styling product I can't live without, however, is hairspray, because it can do everything: create volume, texture, smoothness, and hold."
---
Olivier Rousteing, the 31-year-old artistic director of Balmain, is an indisputable fashion rock star. With more than 4 million Instagram followers, he has as much A-list clout as his #BalmainArmy of cool girls (Gigi Hadid, Jourdan Dunn, Kylie Jenner, etc.). Rousteing has come a long way in a short time, from studying fashion in Paris to a job at Roberto Cavalli to Balmain, where he was hired in 2009 and promoted to artistic director less than two years later.
GRATITUDE: "I grew up a black kid in a white family during the end of the '80s and early '90s in a conservative city [Bordeaux, France]. I didn't even think about the fact that I was adopted until I was maybe 11. I never felt different, and my parents are so great and supportive. I achieved my dreams thanks to their support and all the love."
STYLE ICON: "My grandmother, Suzel, was a strong feminist, but she always believed in glamour. I love the combination of strength and femininity. She'd wear vintage Chanel with an incredible trench coat and her red lipstick, and look so beautiful. I've always been inspired by her being so powerful and confident, which is also what I love in my friends."
FASHION EVOLUTION: "I'm part of what I would call the Click Generation, where everything has to be revolutionary every six months. You want to bring something new to the table every single day, or week, or season. It's exciting to show your creativity faster and faster."
SOCIAL BONDS: "My Instagram is a good platform to share behind-the-scenes [glimpses] of my life and the Balmain world, and my circle of friends. I believe that I have those friends because there's a lot of depth in my work and in the person I am."
MUSICAL INSPIRATION: "I try to do with my fashion what Kanye West does with his music. He's an artist expressing a strong vision that is beyond music, beyond fashion. He's not afraid to push boundaries and revolutionize the world of music."
---
Pati Dubroff knew she wanted to be a makeup artist when she was 10 years old. Now she's glam-squad royalty, with a starry list of clients such as Margot Robbie, Charlize Theron, Natalie Portman, and Naomi Watts. It's a big change from her first gig fresh out of high school, working at a Bergdorf Goodman makeup counter, which, Dubroff says, "was a great training ground for doing makeup on real women."
FLASHBACK: "I worked on MTV's House of Style with Cindy Crawford in the late '80s, and did music videos with Björk and the B-52s. I was actually Debi Mazar's assistant when she was a makeup artist back then, and we're still friends today—and so are our daughters!"
MENTORS: "I assisted François Nars, who was an incredible teacher. He taught me speed and simplicity. François could do the most beautiful face with just concealer, lip balm, and a brown pencil."
BREAKING INTO HOLLYWOOD: "I moved from New York to L.A. in 2001, and the minute I landed at LAX, I got booked on a cover shoot with [legendary photographer] Annie Leibovitz. It was a sign that I had made the right move."
FINDING INSPIRATION: "Red-carpet prep always starts with the dress. Once I have that jumping-off point, I create a mood board. For instance, when Kirsten Dunst wore a black Valentino gown for the Golden Globes last year, I used images of John Singer Sargent's painting Madame X, pictures of a stormy sky, and photos of Debbie Harry to influence the smoky, sultry eye makeup."
SECRET WEAPON: "I try to make the skin look like there's nothing on it, so I always start by putting a hydrating sheet mask, like 111Skin Bio Cellulose Facial Treatment Mask, on the face for 10 minutes. It's my secret to making an actress look fresh as a daisy even if she's just gotten off the red-eye."
---
A movie-star moment often focuses on an unforgettable fashion choice—and celebrity stylist Cristina Ehrlich certainly knows how to make the right selection. She's been responsible for many eye-catching star turns, dressing the likes of Penélope Cruz, Brie Larson, Margot Robbie, Anna Kendrick, and Gugu Mbatha-Raw. "Working with an actress is a process of fine-tuning her unique style," explains Ehrlich. "When I watch her walk the red carpet and I know she feels beautiful and confident, that's the biggest compliment I could get."
FASHION INFLUENCES: "My parents were the most beautiful, chic, fashion-y couple. They were always dressed to the nines, and I loved to dress up and raid my mom's closet. Another powerful female figure who had an impact on my fashion sense growing up was the Bionic Woman [played by Lindsay Wagner], with her fitted, ribbed turtlenecks and high-waisted bell-bottom jeans."
CAREER BEGINNINGS: "Believe it or not, my first styling job was for a Playboy video. That's where I learned the nuts and bolts of how to shop for clothing, do returns, make a budget, organize, and set up fittings. Next, I started doing commercials. I'd often have 40 people to dress, or I'd need to search costume houses for a fireman's uniform. I started at the bottom, but it taught me every component of this business."
WORDS OF WISDOM: "I've learned the hard way to always have a backup dress and shoes at the ready, and a seamstress nearby. I'll never forget when the zipper broke on a famous actress's gown on the way to the Oscars. We sewed her back into that dress in the limo!"
SECRET WEAPONS: "Clothes need to be tailored to fit the body perfectly, so a great seamstress is essential. I work with two women who know how to problem-solve any alteration in record time during a fitting. The supplies in my kit are also crucial, so I'm always ready with scissors, ribbon, silicone nipple covers...preparation is everything in this business."
---
Hair colorist Kari Hill transforms the tresses of celebrities like Shailene Woodley, Mindy Kaling, Anna Faris, and Taylor Schilling at L.A.'s Mèche Salon. As a color ambassador for L'Oréal Paris, she's also an at-home color guru who teaches women all over the country how to skillfully DIY. "Working with so many real women, not just celebrities, has opened my eyes to how empowering hair color can be," Hill says.
BEAUTY BEGINNINGS: "My mom was the manager of the cosmetics department at a Nordstrom in Washington state, where I grew up, and I worked there part-time for extra money in high school. I also did my classmates' hair for dances, proms, and senior pictures. I moved to L.A. for college, but ended up following my passion and going to beauty school."
CAREER EVOLUTION: "I started out assisting Frédéric Fekkai at his salon on Rodeo Drive, but I realized that I wanted to color hair, not cut it. I salon-hopped in L.A., working with the most talented hairstylists, like Chris McMillan and Serge Normant. When my friend, colorist Tracey Cunningham, and hairstylist Neil Weisberg opened up their salon, Mèche, I went there, and it's been home for the past four years."
MENTORS: "After 20 years in this business, I'm still finding out about new techniques from the people I work with. Tracey and I are always learning from each other, and I pick up on what young colorists are doing all the time. I could probably learn a thing or two from some teenager on YouTube who has mad hair-color skills! That's what keeps me on my toes and keeps my work fresh."
SECRET WEAPON: "Because I travel around so much doing house calls, I have to be able to think out of the box and MacGyver whatever I need. If there's not a hair clip handy, I'll section the hair with a rubber band. An old toothbrush or a Q-tip can sub for a professional highlighting brush, and lip balm works to protect the hairline from staining."
---
Hairstyling is in Mark Townsend's DNA. As a boy in Lakeland, Florida, he wallpapered his childhood bedroom with fashion magazines. Flash-forward to now: He's one of the most renowned hairstylists in the world and has worked with leading ladies like Reese Witherspoon, Jennifer Lawrence, and Penélope Cruz—not to mention his regular work with makeup artist Kate Lee on clients Elizabeth Olsen and Dakota Johnson. "When we work together as a team, I always know we're going to create something beautiful," Townsend says.
BEAUTY BEGINNINGS: "I grew up in the South in a kind of Steel Magnolias environment. Every weekend, the kitchen table turned into a beauty salon with my mom, grandmother, and my aunt. I even cut my own bangs, unsuccessfully, in the second grade. When I dropped out of college to go to cosmetology school, it was no surprise. My mother actually urged me to do it!"
CAREER EVOLUTION: "After I got my license, I went to the Oribe Salon in NYC and got a job as an assistant. It was like the gates of heaven opened up for me! I went on to assist Danilo, and then Sally Hershberger. I spent almost six years assisting, but by the time I was done, I understood the importance of collaboration between a hairstylist and a makeup artist."
MENTORS: "Danilo was an instinctual artist who could literally make a working chandelier out of hair—I watched him do it! Sally was like a surgeon. She taught me that an effortless, messy hairdo is actually a very precise cut that falls into place perfectly."
RED-CARPET WISDOM: "When you're doing hair for a big event, it has to look good from every angle. Remember when Jennifer Lawrence tripped as she walked up to accept her Oscar? That was the best thing that ever happened to me because every camera zoomed in on the back of her head, and the updo I'd done."
SECRET WEAPON: "I spray my hairpins with dry shampoo before I secure them in an updo, because the powdery starch keeps them from sliding out."
---
Kate Lee spent years honing her craft in London before moving to L.A. to work with the likes of Jessica Chastain and Keira Knightley during the hottest moments of their careers. Today, she often collaborates with hairstylist Mark Townsend to create looks for a new generation of red-carpet royalty. Plus, megastars like Anne Hathaway and Rooney Mara rely on her magic fingers—and brushes.
CAREER BEGINNINGS: "I moved to London because I got into the London College of Fashion. I learned so much and met the peers whom I would work with in the future. Alexander McQueen, Luella Bartley, and Stella McCartney were studying [in the same university system] at the time that I was. But it wasn't fashion that inspired me to become a makeup artist; it was Adam Ant, Steve Strange, and Boy George—all those post-punk, flamboyant '80s singers. I had posters of them on my bedroom wall. They were gorgeous boys and weren't afraid of lip gloss."
MENTOR: "I assisted makeup artist Val Garland as part of her team and worked with her on the collections in Paris, Milan, and New York. Val is a force of nature, a true artist, and a great teacher. She nurtured me and encouraged my creativity."
BIG BREAK: "I met Kate Winslet quite by chance through a photographer friend. She was a young, unknown actress then, and I did her makeup for his photo shoot. We hit it off straight away and ended up working together through the meteoric rise of her career."
WORDS OF WISDOM: "I've learned that you just have to keep plugging away. I assisted makeup artists and worked part-time doing makeup for Shu Uemura at a Harvey Nichols department store in London for almost six years. I didn't move to L.A. to embark on that Hollywood part of my career until I was 30."
SECRET WEAPON: "I order white velour powder puffs in bulk and always have a clean one attached to my ring finger. It keeps me from resting my hands on the skin as I work, and I use it to de-shine the face."
---
CAREER BEGINNINGS: "I worked at an Aveda Concept Salon and learned about makeup and skincare. I started teaching for the brand, and then worked on the product development team before I went out on my own to do makeup."
MENTOR: "Kerry Diamond, a former U.S. public relations executive for Lancôme, introduced me to the fashion world. She saw my potential and connected me to designers like Thakoon and Proenza Schouler, who I still work with now, 10 years later. They led me to celebrities like Chloë Sevigny. It was a ripple effect."
SECRET WEAPONS: "If it's an early call time or an actress has just gotten off a long flight, I put Tatcha's Akari Gold Massager on ice and then use it to do a mini massage that de-puffs and stimulates circulation. It makes skin look so much better, even without any makeup. Pat McGrath taught me to downsize and multitask with products, and now Honest Beauty's Magic Balm does a lot of jobs for me: I use it to smooth concealer that's starting to crease and to hydrate dry skin, and I tap it on lids and cheeks to add radiance."
ICONIC IMAGES: "One of my favorite looks for Jessica was the Catherine Deneuve–inspired '60s makeup I did for the Mechanic: Resurrection premiere. It was all about gorgeous skin and beautiful lashes. A totally different look was when I put a navy-blue Dior lipstick on Olivia Palermo for the Paris fashion shows last year. It made a huge statement, and she really owned it."
Marie Claire email subscribers get intel on fashion and beauty trends, hot-off-the-press celebrity news, and more. Sign up here.