The Bachelor, Temptation Island, Love Island, and Ex on the Beach: Which Reality Dating Competition Is Right For You?
Here's to true love...or whatever reality television wants us to think true love is!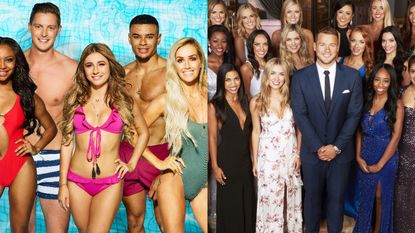 (Image credit: ITV / Getty Images)
Marie Claire Newsletter
Celebrity news, beauty, fashion advice, and fascinating features, delivered straight to your inbox!
Thank you for signing up to Marie Claire. You will receive a verification email shortly.
There was a problem. Please refresh the page and try again.
Reality television is an never-ending beast. It's kind of like the Hydra: cut off the head and two snakes grow back, and then four, and then eight, et cetera, et cetera. For every Real Housewives, we must have two Love & Hip Hops. For each 90 Day Fiancé: Happily Ever After: After The 90 Days: Before the 45 Days, there is a Say Yes to the Dress franchise. See how it works? Reality television is a flat circle, hence why our culture now has a game show in which celebrities in animal costumes serenade Jenny McCarthy. Nothing needs to make sense anymore.
But we're stepping in to help you weed through a majestic subset of this land: reality dating competition television. It can be an overwhelming world, with too many options to choose from before making a deep and long-standing commitment. I mean, it's "people" "competing" to find "love" on television, it's literally not that deep. Yet, we've found ourselves drowning in a sea of reality dating competition shows. In the month of January, we've got The Bachelor returning (with Colton Underwood as the lead) and a USA Network reboot of Temptation Island—that show from the early 2000s that everyone forgot happened. Over on MTV, Ex on the Beach just started its second season of hot people getting into unbelievable debauchery, and the U.K.'s Love Island has reached cult-level status in the U.S., thanks to its availability on Hulu.
Consider me the witch, and you Hansel and/or Gretel. Except instead of eating you, I want to get you hooked on a reality dating competition. Same difference. Here we go:
Easily the most well-known reality dating show, The Bachelor has given us so much: Chris Harrison, Bachelor in Paradise, and... uh, I can't come up with a third one. With 45 seasons over the course of nearly 19 years and 5 different series within the Bachelor franchise, the long-running series has become beloved by fans within #BachelorNation. The premise is simple: a single bachelor or bachelorette starts with a pool of roughly 25 romantic interests from whom they are expected to select a future husband or wife, with the bachelor/ette eliminating contestants over the course of the season (if they don't receive a rose, they must take a minute, say their goodbyes), ultimately resulting in a marriage proposal to or from their final pick.
The show features trips to romantic and exotic locations on par with the most romantic of romantic movies (or sometimes to The Actual Middle of Nowhere But They Paid For Promotional Consideration, depending on the season). Drama is near-constant, and the ever-present question of "who will s/he choose?" keeps people coming back week after week. Yes, the show is too long and most of the time the contestants are not there For The Right Reasons™, but it's a juggernaut, and there's a reason your mom loves it so much. Plus, before you ask: yes, two contestants have left the show together, on The Bachelor Vietnam. Crazy, right?!

Also, because the Bachelor franchise is like Lay's potato chips (you can't eat just one), once you're sucked into The Bachelor, you've got to watch The Bachelorette. And once that's over, then you've got Bachelor in Paradise. And maybe, depending on the year, Bachelor: Winter Games. (RIP, Bachelor Pad.) And then you've got four months to consume all the television you missed before The Bachelor starts again.
If you like...
Things that are new and different and refreshing
Gorgeous settings
"Reality" T.V. that can't possibly be real
People named Mark Wahlberg
Being nosy
Feeling superior to other people who are easily tempted
You'll love...
Temptation Island
We're fresh off the end of the holiday season, and everyone's kind of tired of playing White Elephant, or Yankee Swap, or whatever you call it in your household. Well, Temptation Island is essentially White Elephant: The Dating Show. In this case, four couples in a vulnerable place in their relationship agree to test their commitment's strength by traveling to Maui, Hawaii, and living with 24 single men and women who are all looking for "the one." Basically, imagine your boyfriend living in Tinder, and you've got Temptation Island. Mark L. Walberg, who hosted the original series that ran for three seasons from 2001–2003, is set to return as host on January 15 at 10 p.m. EST.
If you like...
Complicated emotions and dynamics of all types
"Normal" people amongst the Absurdly Attractive (like a pen salesman!)
Great British Baking Show, but make it trashy
Britishisms (what exactly is "dicksand"?)
Bingeing
You'll love...
Love Island
Take one bit Bachelor in Paradise, a dash of Paradise Hotel, a dab of Big Brother, a twinkle of British accents, and a whole bunch of body wax, and you've got Love Island. Hot singles move into a gorgeous villa in Mallorca under constant video surveillance, and in order to stay, must partner with another Islander (i.e. contestant); it doesn't have to be a love connection, friendship and money are also acceptable reasons to couple up. The winning pair receives £50,000. The twist? The audience at home is the one with the power to decide who stays and who goes.
Throughout the season, the contestants must "re-couple:" After being initially paired off based on first impressions, Islanders can choose to remain in their current duo or swap. It's like a sexy version of the Hunger Games, and it truly is marvelous—if not for the gorgeous visuals, but for the...uh..."personalities" casted. One girl even rejects a guy who isn't her "type" because he "isn't tan enough." Who does she want, George Hamilton?!
It's probably the most acute of the shows on this list: It accurately depicts how hard it is for black women in the dating world, and several contestants' behavior have sparked conversations about toxic masculinity, emotional abuse, and male body image.
If you like...
A narrator (pro tip: you may also want to tune into Jane the Virgin)
D-list reality celebrities
Knowing what exactly people will do for Instagram followers
Again, superiority—particularly because you just broke up with a significant other and at least they didn't do any of the things these people have
You'll love...
Ex On The Beach
Based on the U.K. series of the same name, American Ex on the Beach is one of the most...uh.. interesting (?) shows I've ever had the pleasure (?) of watching. Imagine being in a vacation house with eight reality stars who are all there looking for love, when, one by one, your exes showed up? It sounds like an nightmare, because it is. The show features contestants from the likes of The Bachelor, Bad Girls Club, The Challenge, Vanderpump Rules—basically every single show you watch in the privacy of your own room but pretend you're watching Ken Burns' The Vietnam War.

You're not so much rooting for any of these people to find love, as you are rooting for them to get a clue. At times it can feel like the show's narrator is the only source of normalcy within a group of young people with nothing to do with their time but slide in and out of people's DMs. There are so many arguments during which you'll yell "I am rooting for no one!" because these people are the types to bring an Uzi to a knife fight. You know these relationships won't work out, but you can hope these people gain some self-love and make different choices next time.

Welp, here's to true love—and the people who watch it!
For more celebrity news, beauty and fashion advice, savvy political commentary, and fascinating features, sign up for the Marie Claire newsletter.
RELATED STORY
Celebrity news, beauty, fashion advice, and fascinating features, delivered straight to your inbox!
Amanda Mitchell is a writer and podcaster with bylines at Marie Claire, OprahMag, Allure, Byrdie, Stylecaster, Bon Appetit, and more. Her work exists at the apex of beauty, pop culture, and absurdity. A human Funfetti cake, she watches too much television, and her favorite season is awards season. You can read more of her work at amandaelizabethmitchell.com or follow her on Instagram and Twitter @lochnessmanda.