Is All Rom-Com Love Based on a Lie?
It sure seems like there are a lot of secret bets...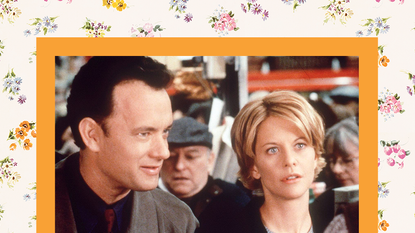 (Image credit: Getty Images)
Romantic comedies can't exist without bets. The best ones would crumble without false identities, without duping primary and secondary characters, or without stoking the flames of misunderstanding. Because ultimately, without deception or omission (and the revelation that someone is a bet, a fucking bet), the foundations of our favorite rom-coms would crumble.
Evidently, love means never having to tell the truth.
Which seemed so romantic once upon a time. Following the release of She's All That 20 years ago, many of us came away from the updated My Fair Lady with the revelation that to be tricked is code for "I love you." After all, when class president Zack Siler (Freddie Prinze Jr.) is saddled with the task of helping morph art student Laney Boggs (Rachael Leigh Cook) into prom queen as part of a...wait for it...bet he commits to his bit wholeheartedly. After being shot down on campus, he shows up at her place of employment and invites himself to a night of performance art at a local coffee house. Then, he gets on stage with his hacky sack and delivers his own form of spoken word poetry. It's terrible, yes, but it also connotes a vulnerable, more sensitive side we'd yet to see in our hero. Laney's heart begins to soften, and so did ours.
Of course, it helps that Zack isn't inherently bad (you know, like his friend Dean (Paul Walker), who personifies toxic masculinity). He's just young and confused: Zack doesn't know where he wants to go to college, he lives with a father who seems terrible, and he appears to be over the traditional high school hierarchy. And he actually listens to Laney when she talks to him about her family and her art. That, and he follows her out of a party after she's confronted by his ex and seems to show genuine remorse over bringing her there in the first place. Zack isn't completely awful is a thought we're meant to have while watching him manipulate a young woman into caring about him. At least he's better than Dean.
And, well, anyone's better than Dean. Who, for the record, reveals to Laney the truth about the bet before taking her to prom himself and trying to coerce her into sex. (Terrific!) He exists for a reason: compared to Dean, Zack seems down-right prince-like. Yes, he may have intentionally lied to Laney, but he also learned to care about her. (You know, despite her needing glasses.) And for that he was redeemed.
Perhaps shockingly (just kidding), She's All That doesn't exist in a world of its own. Where She's All That may have romanticized lies and makeovers, Never Been Kissed made makeovers seems like they're the only route to fulfillment—romantic or otherwise. In the 1999 rom-com, journalist Josie Grossie (Drew Barrymore) goes undercover as a high school student. There, she remodels herself before sparking an inappropriate relationship with her English teacher (Michael Vartan) who, it cannot be stressed enough, falls in love with a person he thinks is his student. They end up together, but not until after he quits the school and makes plans to move away out of anger and betrayal.
Which are two words that define many iconic rom-coms: In While You Were Sleeping, Lucy (Sandra Bullock) poses as the fiancée of Peter (Peter Gallagher) despite never having spoken to him and...him being in a coma. (This proves messy when she and his brother fall in love.) In 10 Things I Hate About You, Kat (Julia Stiles) is duped by Patrick (Heath Ledger), who is paid by her enemy to take her out so that said enemy can date Kat's sister. In How To Lose A Guy In 10 Days, Andie (Kate Hudson) and Ben (Matthew McConaughey) are assigned by their bosses/nemeses to convince the other that they are in love. Maid in Manhattan features a hotel housekeeper Marisa (Jennifer Lopez) who poses as a socialite in order to date a politician (Ralph Fiennes). And let us not forget You've Got Mail, in which Joe Fox (Tom Hanks) pretends not to be the man Kathleen Kelly (Meg Ryan) has been communicating with anonymously online—despite knowingly putting her out of business, standing her up at a cafe, and gaslighting her for most of the film. (Note: This is still one of my favorite movies ever made.) I could go on.
Because all rom-coms need a happy ending, many said dupers face their comeuppance and see the error of their ways before the credits roll: Lucy in While You Were Sleeping is sufficiently humiliated when she admits her feelings for Peter's brother—during what was supposed to be her wedding with Peter. (She still ends up with the brother.) In 10 Things, Patrick owns up to his wrongdoing and buys Kat a guitar (which she's wanted desperately) as an apology. She forgives him. In real life, people do lie and omit and make mistakes. But the problem exists when those acts are glorified. The problem exists when we confuse a character like Zack Siler as being misunderstood instead of manipulative. Love does mean having to say you're sorry—and it certainly means being truthful.

Which can cause a problem in a genre that requires high stakes to make it compelling. And what's more compelling than the risk of being found out? What's more compelling than hiding the truth to perpetuate a narrative that benefits only one character? What's more compelling than the impending risk of someone shout-asking whether or not they were a bet, a fucking bet?
In the rom-com universe, few other things.
The thing is, now that we're adults, we're aware of our complicity in the duplicity. We've begun to question the tropes we were fed in the nineties and 2000s. Since the golden age of romantic comedies 20 years ago, we've come to call out the norms we were expected to swallow in the past. In 2019, I doubt we'd even accept that Laney would aspire to prom queendom in the first place, and we'd voice more than a few concerns over the questionable relationship dynamic in Never Been Kissed. Plus, we know full-well there's no way any journalist (like Andie) would earn enough to live on writing a single monthly column.
And as long as we remember that these are movies, that these aren't guides to landing dream relationships, and that under no circumstances should you gamble about people, it's a universe still safe to visit.
Sometimes.
For more stories like this, including celebrity news, beauty and fashion advice, savvy political commentary, and fascinating features, sign up for the Marie Claire newsletter.
MORE ROM-COM COVERAGE, RIGHT THIS WAY
Marie Claire email subscribers get intel on fashion and beauty trends, hot-off-the-press celebrity news, and more. Sign up here.
Anne T Donahue is a writer and person originally from Cambridge, Ontario, and is the author of the essay collection, Nobody Cares.