Rom-Com BFFs Get the Spotlight: Cheryl from Miss Congeniality
Heather Burns tells us what happened to Miss Rhode Island after the credits rolled.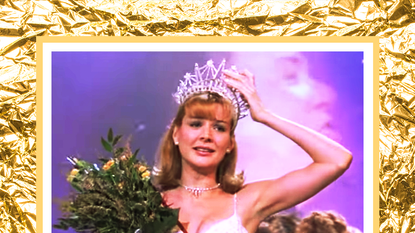 (Image credit: MovieClips.com/Getty Images)
Marie Claire Newsletter
Celebrity news, beauty, fashion advice, and fascinating features, delivered straight to your inbox!
Thank you for signing up to Marie Claire. You will receive a verification email shortly.
There was a problem. Please refresh the page and try again.
The best friend is at least the third most important person in a rom-com (we might even say that sometimes she's more important than the love interest). The protagonist's right-hand lady is many things: the voice of reason and a co-conspirator, the one moving the plot along and providing comic relief. But the characters themselves are often thinly written, without their own backstory, full arc, or—worst of all—happy ending. What a waste! So we asked the actresses who played some of the genre's most iconic best friends to write the full stories their characters never got.
Here, Heather Burns tells us what happened to Cheryl, the sweet, unsuspecting Miss Rhode Island to Sandra Bullock's Gracie Hart in Miss Congeniality.
Cheryl spends her reigning year as Miss United States traveling the country representing the pageant. She serves as Grand Marshal for many parades and does lots of public speaking for the Miss United States Scholarship Fund. She also works extensively for her local Rhode Island chapter of the ASPCA. She gets kidnapped with Stan in Las Vegas, of course, but thanks to Gracie, they both end up fine.
With the growing popularity of Burning Man and other music/art festivals, Cheryl's baton skills become very in-demand. She begins training fire dancers and other baton-based performers. She moves to the Pacific Northwest to be closer to the festival scene, but she always returns to Rhode Island for Christmas and summer vacation.
Whenever she's in Rhode Island, Cheryl makes sure to drive down to the Tri-State area to visit Gracie. They also go on a lot of girls vacations together, too; their last trip was to Sweden.
Her life is really easy going now. Cheryl misses the excitement of the pageant days, of course, but doesn't miss getting bombs put on her head. She loves her family, loves training dancers, and loves that she gets to travel so much with her work and especially with Gracie.

Since Cheryl's eye-opening experience at the Miss United States pageant, she no longer considers red underwear "the devil's panties." Red will always have a special place in her heart, but she wears many colors, including tie-dye. April 25th is still her ideal date, though. She gets a real kick out of being a meme. She always gets free coffee and cocktails on April 25th! Also, because she lives in the Pacific Northwest, she owns a ton of light jackets. Things really worked out that way.
It's there that Cheryl met and fell in love with a vegan chocolatier. They had a daughter together, Gracie-Lou, who will be attending the University of Texas on a baton scholarship in the fall. Cheryl is very proud.

MORE ROM-COM COVERAGE, RIGHT THIS WAY
Celebrity news, beauty, fashion advice, and fascinating features, delivered straight to your inbox!