Obama Made D.C. Cool. What's Going to Happen Under Trump?
POTUS doesn't just set the tone for American policy; he holds major sway over culture—especially in his adopted hometown.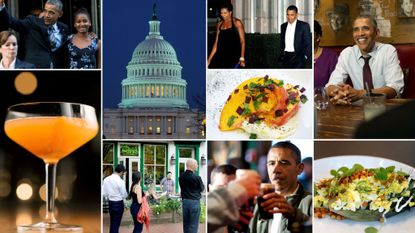 (Image credit: Design by Mia Feitel)
In the glimmering lobby of the Trump International Hotel on Washington D.C.'s Pennsylvania Avenue, five blocks from the White House where Donald Trump now resides, Donald Jr. leans on his blue velvet sofa towards Brad Parscale, digital director for the Trump campaign, seated to his left. Their backs are to the bar, above which hang four flatscreen TVs—two tuned to Fox News, one to NBC, one to an endless string of infomercials—and a massive American flag.
As an objectively terrible remix of Ed Sheeran's "Thinking Out Loud" starts to play, Don Jr.'s younger brother Eric walks in, pausing for a handshake beneath one of the six chandeliers dripping from the cathedral-style ceiling. Save for the servers, all 70 or so people in the room appear to be white. It's also a dapper crowd. The President himself might feel underdressed, what with his habit of wearing Scotch tape on his necktie.
A bartender pops a bottle of Trump champagne as a Fox News anchor speculates on Trump's next political move while two Trump progeny mingle among Trump staffers at a Trump Hotel in Trump's America. The branding is magnificent; the synergy, unnerving.
"It's literally a who's who of Trump aides," Ashley Parker, a Washington Post White House reporter, says of the usual scene at the Trump Hotel. Even before the inauguration, she predicted that "it's just so clearly going to be a hub" for Trump acolytes.
That's all well and good for the Trump cabal inside. But beyond the hotel's doors, the opposition awaits. Only 4.1 percent of the District voted for our 45th President, after all.
The Obamas were largely embraced by Washington, even getting credit for changes that were, in fact, already in the works under Bush: the rise of the restaurant scene, the construction of shiny new condos. But 44's arrival coincided with—and surely contributed to—the influx of an unprecedented number of young people into the city, who in turn shaped D.C.'s social landscape. And he brought the star power: Obama celebrated his 55th birthday with the likes of Beyoncé, Jay Z, and Kendrick Lamar; his farewell throwdown brought George and Amal Clooney, John Legend and Chrissy Teigen, and dozens of other stars to 1600 Pennsylvania Avenue.
But more than anything, the Obamas created the ephemeral sense that D.C. was a place to be—as Democratic administrations tend to do, according to restaurateur Mark Bucher, co-owner of Medium Rare. "It actually started during Bill Clinton's first term, when D.C. had a complete turnover after decades of Republican presidencies, from old-school meat-eating Republicans to teenagers and 20-somethings coming here to believe in politics," Bucher says. "It got re-energized in Obama's first term, with these 'yes we can' kids coming to town. That did make D.C. cool again."
The first family doesn't necessarily set the trends, notes Maura Judkis, a food and culture reporter for the Washington Post, but "amplifies them." Michelle Obama is a prime example: "She was so beloved here, and the city's demographics and political affiliation aligned well with her values and beliefs," Judkis says. Michelle grew vegetables in the White House garden and encouraged the slow food movement and healthier eating; restaurants with a similar ethos opened in turn. Washington women emulated her style, swapping power suits for sleeveless sheaths and SoulCycle-ing their way to the impressively-toned physique those dresses revealed. Will all that be undone now that Michelle is a private citizen? Not necessarily. "Just because Trump loves fast food and Doritos, I don't think farm-to-table restaurants are going to go out of business," says Parker. "I don't think there's going to be an influx of Hardees."
In the four months since Trump took office, his faction has yet to show signs of exerting the same influence that the Obamas did. "Even as glamorous as Ivanka is, as powerful as she is, this city still feels uneasy about the Trump administration," says Jessica Sidman, food editor at Washingtonian magazine.
So what kind of cultural impact can the Trumps have on a city that, barring those in the inner sanctum, is somewhat hostile to them? Will the new guard make its presence felt throughout the DMV (insider-speak for District-Maryland-Virginia), or will its reach be limited to the confines of the Trump International Hotel?
Even though many Washingtonians are against Trump's policies, they may still end up fawning over and emulating the man—he is, after all, the most important person in town. "D.C. is a celebrity-obsessed city, in a weird way, because there are so few," Parker says.
Bucher has already noticed changes in the restaurant world since Inauguration Day. Customers are skewing a bit older; they're ordering steak and are taking a particular interest in finer, high-priced wines. But Trump's tendency to spend just about every weekend at Mar-a-Lago has left the city's dining scene quiet—Bucher says that the week leading up to Easter was the slowest he's seen in 20 years. Khalid Pitts and Diane Gross, who were considered trailblazers when they opened Cork Wine Bar in Logan Circle in 2008, told The Washington Post recently that "business has been a little slower with the inauguration of this president." They believe, however, that the change has less to do with Trump's influence as a tastemaker and more to do with his political heft: In March the couple filed suit against the president alleging that, by operating Trump International Hotel while Commander-in-Chief, Trump is at an unfair advantage when it comes to bringing in clientele.
On the rare occasion that Trump has been in town on a Saturday night, he's eaten at the White House, possibly because it's the only place where he knows he'll get his preferred dessert treatment: Waiters at the residence reportedly know to serve Trump two scoops of ice cream while everyone around him gets just one. Still if POTUS—whose penchant for dining in his own restaurants caused his campaign to spend $219,000 on Trump food during the election—does eat out at a non-namesake location in D.C, Bucher expects residents will adjust accordingly. "Here's what happens: The president holds the most power in the city. He can wipe anyone out with a tweet or a sneeze. Everyone is going to be kissing up. Everyone wants access."
Georgetown, the cobblestoned Northwest enclave with the highest concentration of Republicans in D.C., will almost surely see its social stock rise under Trump. The neighborhood is exclusive by design: Though you can get there by bus, it has no Metro station. It was a hot spot during the W. years; neighborhood bar Smith Point was a regular hangout for Jenna and Barbara Bush and—when they were Georgetown University undergrads—Ivanka and Eric Trump.
"Then the Obamas came in and the scene shifted away from Georgetown," Parker says. "There was this sense of a nexus, right where D.C. was young and hip and changing: Logan Circle, U Street, and 14th Street."
But the near-certain resurgence of Georgetown under a Republican leader is now practically guaranteed by the fact that the D.C. Alcoholic Beverage Control Board has lifted a 27-year moratorium on new liquor licenses in Georgetown. With the booze ban out of the way, big-name restaurateurs like José Andrés (who happens to be embroiled in a legal battle with Trump) are setting up shop alongside "a lot of old-school, classic Washington restaurants that are known as being political haunts," says Judkis, like Café Milano, which "has very private dining and is very discreet about who comes to the restaurant."
In fact the New York Times has recently deemed Café Milano the place "where the powerful gather to hold court." Treasury Secretary Steven T. Mnuchin and his fiancée (moderately controversial and sometime small-budget horror movie star Louise Linton) dined there last month while Secret Service agents, clear cords curlicuing from their ears like rotary telephone wires, milled about the restaurant.
The cuisine at Café Milano is Italian, which may be as exotic as GOP palates get. "Under Republicans, the dining scene tends to skew older, Southern, and steak," Bucher says. But the past ten years saw a rise in ethnic cuisine, with young, more adventurous residents hankering for exotic flavors. "When Obama came into office, millennials flocked to H Street and Shaw, and you saw those neighborhoods really come to life," Sidman says of the more adventurous food options there. "I don't see a lot of millennials coming in with the Trump administration." Bucher agrees that "millennials are no longer driving the city"—not even older millennials like Ivanka and her husband, Jared Kushner. Both have been spotted at a few higher-end establishments like the Four Seasons, Rasika West End, Le Diplomate, and Tosca, but with extremely limited exception (she was spotted at Michelin-starred Masseria on Valentine's Day), the First Daughter rarely seems to stray east of 6th Street NW, preferring downtown, Logan Circle, and Georgetown.
People may have expected her to be more of a presence in the social scene, but "they're not out and about," Bucher says of Ivanka and Jared, who, in their official capacities as employees of the president, might just not have time. "When the Bush twins were here, they were going to clubs. Ivanka and Jared, that's not their lifestyle. They have a family with young kids. They eat out less than Michelle Obama."
When a new leader of the free world moves in, Bucher says, "his taste for food follows him." George Bush Sr. "ushered in a Tex-Mex movement" while Reagan brought "the finest French chefs" to Washington. Clinton was a fast food junky, "and I think that started the quick service in Washington," Bucher says. The onset of plastic-bowl lunches was accelerated by Clinton's passage of a bill that reduced deductions for business meals. "That cut the high-end restaurant business off at the knees."
Under Obama, grab-and-go places like Sweetgreen boomed "because they weren't opulent," Bucher explains. President Obama was so concerned with being sensitive to the economic crisis that he didn't even redecorate the Oval Office until mid-2010. In spite of their celebrity, Bucher says, "the Obamas were understated."
Trump, on the other hand, promises to revise the tax code in ways that will incentivize extravagant meals on the company dime. While his own palate is pedestrian—he likes his steak well-done with ketchup and his White House kitchen stocked with Lay's potato chips—his general thirst for extravagance, Bucher predicts, will spark a "fine dining resurgence, $100 and $200 a head, where there's a name chef working in the restaurant. I think the three-martini lunch is coming back."
Whenever Barack or Michelle dined out, an "Obama bump" in buzz and reservations was all but guaranteed to follow. (That fact may still hold: A recent date-night spotting earned the couple a standing ovation from fellow diners.) "When they went somewhere, that business bragged about it," says Sidman. "I don't think that will be the case under Trump. In fact, you might see the opposite: Restaurateurs may try to distance themselves or ignore the fact that he went somewhere." Still, experts doubt there will be any out-and-out hostility. Restaurant owners are, after all, in the hospitality business. And despite the fact that such a small number of D.C. residents voted for Trump, plenty of Americans did. "There are so many visitors who come through D.C. and many of them are Trump supporters," says Judkis. In that sense, if nothing else, a Trump visit could "bring that restaurant more business from out-of-towners."
From the president's first few months in office, though, it appears that engaging with the cultural life of Washington is not particularly important to him. Unlike Obama, "Trump is not interested in having that kind of cultural sway," Parker says. "The Obamas were very savvy. From Michelle and the clothes she wore to the places they went out…the Obamas expertly blended the high and the low. I think Trump has no interest in doing that."
The one person in the first family who could change the opinions of the nearly 700,000 residents of Trump's new city? Melania. "She's a trendsetter," says Bucher. "She's going to move the needle. I know she will." Perhaps he's right. Perhaps FLOTUS will breathe new life into the District. Of course, she'll have to actually live in the District first.
Jessica M Goldstein is a freelance writer covering all things culture. You can read her in the Washington Post, Vulture, McSweeney's Internet Tendency, and elsewhere across the internet. She would love to pet your dog.