What Gypsy Rose Blanchard's Stepmom Says Hulu's "The Act" Got Wrong
She's threatened to sue.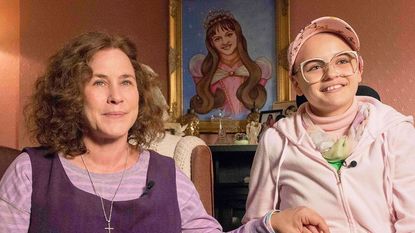 (Image credit: Hulu)
Marie Claire Newsletter
Celebrity news, beauty, fashion advice, and fascinating features, delivered straight to your inbox!
Thank you for signing up to Marie Claire. You will receive a verification email shortly.
There was a problem. Please refresh the page and try again.
Have you caught new Hulu series The Act yet? The gripping true-crime anthology series is based on the real experiences of Gypsy Rose Blanchard (played by Joey King) and her mother Dee Dee Blanchard (played by Patricia Arquette). The two had a toxic and ultimately fatal mother-daughter dynamic, which is dramatized in The Act.
Today, Gypsy's mother Dee Dee is considered to have Munchausen Syndrome by proxy. Dee Dee never told Gypsy her real age, convincing her daughter and their community that Gypsy suffered from leukemia, muscular dystrophy, and a host of other debilitating conditions. As an adolescent, Gypsy discovered the truth, and conspired with her internet boyfriend, Nicholas Godejohn, to kill Dee Dee. Gypsy is now serving a ten year sentence at the Missouri Chillicothe Correctional Center.
Since Dee Dee's murder in 2005, a handful of film adaptations and articles about the case have been released, perhaps most notably the BuzzFeed investigative piece "Dee Dee Wanted Her Daughter Sick, Gypsy Wanted Her Mom Murdered," which was written by Michelle Dean—the co-producer of The Act.
Sign up for Hulu to watch 'The Act'
Which brings us to Gypsy's stepmom Kristy, who told Vulture that she had been working on her own cinematic version of Gypsy's story, and was not sufficiently consulted for The Act.
Before The Act, there was By Proxy.
According to Vulture, Kristy Blanchard and screenwriter Franchesca Macelli had been working on their own film adaptation of Gypsy's story, called By Proxy, when Dean first interviewed Kristy. "When we first talked about [The Act], she had told me she was going to talk to the producers because she wanted us to be included," Kristy claims.
According to Kristy, Dean later went silent. Kristy and Marcelli told Vulture that it wasn't until The Act was announced in the media that they knew the show was going forward. "She called me a couple of days after the fact and said that the producers—and she didn't say who they were—did not want us to interact." (Marcelli chimed in during the Vulture interview, adding that it's a possibility Dean may have her hands tied by other producers of The Act.)
In an interview with the Springfeld News-Leader, Kristy says she hasn't been able to reach Dean. "I reached out to Michelle, but she's blocked me on everything," including Instagram and Facebook, Kristy said.
Kristy Blanchard is not happy with how Aleah Woodmansee is portrayed.
In the Vulture interview, Kristy takes specific issue with the character of Lacey, who is meant to portray Aleah Woodmansee, Gypsy's friend and neighbor. "They have got her all wrong," Kristy said.
There is a scene in The Act when Lacey is shown smoking a joint and she hands it to Gypsy. "She is the total opposite of that," Kristy told Vulture. "It hurts Aleah because she lives in Springfield, and people are going to look at her differently and she's scared that it affects her job and reputation."
The family has discussed legal action.
Gypsy Rose herself wrote in an email to Bustle that she feels it was "unfair and unprofessional" for Dean and the other producers to use her name and story without her consent and the life rights to do so. "Therefore, there will be legal action taken against the show's creators," Gypsy said.
Marcelli told Vulture that Gypsy's statement came from a place of anger and frustration. But Marcelli was quoted by the News-Leader saying, "we are looking into what our legal rights would be."
Since then, she and Kristy have told Vulture that nobody is taking legal action. "Our legal action that we would even consider isn't necessarily money-focused. It would be to maybe stop the airing of the show or get the story correct," Marcelli said.
It sounds like By Proxy is still in the works .
Kristy tells Vulture that nothing will be held back in their version of the story.
"We have agreed to tell the good, the bad, the ugly, everything," Kristy said. "We are not going to fabricate anything, and if Gypsy's truth can help save a life, then it's worth it, and she wants the truth out there. She wants her truth."
For more stories like this, including celebrity news, beauty and fashion advice, savvy political commentary, and fascinating features, sign up for the Marie Claire newsletter.
RELATED STORIES
Celebrity news, beauty, fashion advice, and fascinating features, delivered straight to your inbox!
Alexis Jones is an assistant editor at Women's Health where she writes across several verticals on WomensHealthmag.com, including life, health, sex and love, relationships and fitness, while also contributing to the print magazine. She has a master's degree in journalism from Syracuse University, lives in Brooklyn, and proudly detests avocados.