Is Lacey From 'The Act' a Real Person? Gypsy Rose Blanchard's Friend Does Exist
Lacey is the girl who kept all Gypsy Rose's secrets.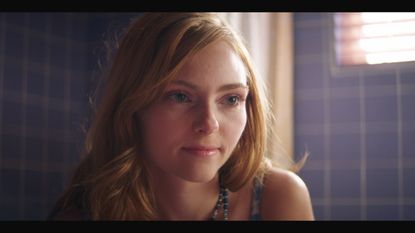 (Image credit: CZ Post/Hulu)
By now, you've probably caught at least part of The Act, Hulu's new true-crime anthology series that chronicles the life of Gypsy Rose Blanchard (Joey King), the woman currently serving time for the second degree murder of her mother, Dee Dee Blanchard (Patricia Arquette). Dee Dee, who raised Gypsy Rose to believe that she was mentally and physically disabled, is thought to have had Munchausen syndrome by proxy.
A little background: Dee Dee told Gypsy Rose and their community that Gypsy was fatally ill with leuekemia, muscular dystrophy, epilepsy, and host of other illnesses. In truth, Gypsy was perfectly healthy. When Gypsy found out, she conspired with her online boyfriend, Nicolas Godejohn, to kill her mother, and Dee Dee was found stabbed to death in her home. (Godejohn is now in prison for a first-degree murder sentence; Gypsy is serving her own sentence for second-degree murder.)
Living in Missouri with just Dee Dee, a woman who was as much a captor as she was a mother, Gypsy Rose didn't have many people she could confide in. But she did manage to find Lacey (AnnaSophia Robb) as she's called in The Act. In real life, Gypsy's friend's name is Aleah Woodmansee, and she was a neighborhood friend of Gypsy's.
According to the 2016 longform BuzzFeed article that has served as source material for multiple adaptations, Aleah Woodmansee was one of the few people, if not the only person, to know about Gypsy's internet boyfriend. Woodmansee was the first to inform investigators of Gypsy's co-conspirator when investigators searched their home following the murder. It seems that Woodmansee knew Gypsy's secrets, and gave her a safe space to tell them.
Sign up for Hulu to watch 'The Act'
The two communicated through a Facebook account Gypsy created under the alias Emma Rose. "This is my personal account my mom is still overprotective so she don't, know about this account," Gypsy wrote. Eventually Gypsy began opening up to Woodmansee, expressing a desire for romantic and sexual relationships.
Woodmansee told "20/20" in a 2018 interview that Gypsy just wanted to be a regular teen. "She would show interest in like different boys and try to ask me advice on like, you know, 'How do you approach them? How do you like kiss a boy?'" Woodmansee said.
And eventually Gypsy told her confidante about her internet boyfriend and eventual partner-in-crime, Nicolas Godejohn. Woodmansee knew all about Gypsy's plan to sneak out and meet Godejohn at a local movie theater. She also knew about their age difference. "I'm 18...Nick is 24," Gypsy wrote in October 2014.
But the relationship with Godehohn was particularly troubling for Woodmansee. "It was like some kind of magnificent fairy tale was unfolding," she said. Godejohn was the first person to come to her mind when Dee Dee Blanchard was found murdered. "Standing in front of the house half a year later with the crowd that had gathered, it occurred to Aleah that the police should know about all this," BuzzFeed wrote.
Following the murder of Dee Dee Blanchard and Gypsy's prison sentence, Woodmansee said she would still be supportive of her neighborhood friend in an interview with Ozarks First. "Obviously there's more to it than anybody ever knew and so I believe that everybody deserves some kind of support whether or not they agree with what they did," Woodmansee said.
You can stream The Act on Hulu right now.
For more stories like this, including celebrity news, beauty and fashion advice, savvy political commentary, and fascinating features, sign up for the Marie Claire newsletter.
RELATED STORIES
Celebrity news, beauty, fashion advice, and fascinating features, delivered straight to your inbox!
Alexis Jones is an assistant editor at Women's Health where she writes across several verticals on WomensHealthmag.com, including life, health, sex and love, relationships and fitness, while also contributing to the print magazine. She has a master's degree in journalism from Syracuse University, lives in Brooklyn, and proudly detests avocados.