Dr. Ruth Is the 90-Year-Old Sex Icon Who Changed the World
Ask Dr. Ruth, a new documentary about the life of the 90-year-old sex therapist brings audiences even closer to the legend.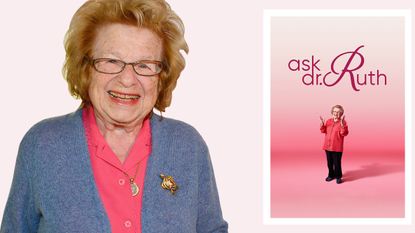 (Image credit: Getty/Hulu)
If you live in America and have ever turned on any kind of media, there's a good chance you're familiar with Dr. Ruth Westheimer: The 90-year-old sex therapist known simply as Dr. Ruth has regularly appeared on radio, talk shows, late-night TV, and bookstore shelves for nearly 40 years. She revolutionized the way that Americans think of (and talk about) sex and sexuality, with her insistence that no one is normal but everyone deserves dignity. She was an early AIDS activist, and though she insists she's apolitical, she's always maintained an openly pro-choice stance. Mostly though, she's notorious for her thick German accent, her unflappability in the face of very specific sex questions, and her teeny stature (she measures just four-foot-seven).
But there's plenty you might not know about Dr. Ruth. The new documentary, Ask Dr. Ruth—which hits theaters May 3 and Hulu June 1, and shares a name with one of her many radio shows over the years—fills in the gaps, from her childhood as a Holocaust survivor escaping Nazi Germany and living as an orphan in Switzerland, to her brief career as an Israeli sniper (seriously). With wit and optimism, Westheimer walks us through her three marriages, including the one that finally stuck, and introduces us to her children and grandchildren, who share what it was like to be raised by the woman who redefined sex. It's a beautiful portrait of a woman who's famously unafraid to talk foreplay with strangers, but who plays her personal life close to the vest.
The film is directed by Ryan White, creator 2017's horrifying Netflix documentary series The Keepers. That might seem like kind of an odd choice, given that Dr. Ruth is so charming and open, not to mention so frank about taboo subjects. But watching the film, which is at turns heartwarming and harrowing (particularly, a scene in which Westheimer goes to Yad Vashem, the world Holocaust remembrance center, to find out the fate of her parents), you can see why she allowed White entree into her life. The director finds the humanity in spite of trauma, revealing how Westheimer's experiences informed her journey to feminist pioneer—even if, in the film, she balks at the "feminist" title.
I used the documentary's theatrical debut as an opportunity to talk to the living legend. Here, she offers opinions and advice on loneliness, real connection in the social media age, and what Millennials need to do to have better sex.
On opening her life up to a documentary crew
"I decided that I will take the [crew] to Switzerland. My family and I, before my husband passed away, we went 10 years in all to that place in Switzerland in the summer. And I decided I'd go with them to Israel, where I went in 1945 when it was Palestine, where I became a sniper, where I got injured.
Now that I've seen the documentary a few times, I love it. I also love what they did with the animation. I was very worried about animation. I thought it makes me look like Pinocchio, or like Mickey Mouse. I'm very happy because, especially at the railroad station in Frankfurt, showing my mother and grandmother waving goodbye and me on the train, if you remember? I thought, That's a wonderful picture for me to talk about loneliness, which I talk about a lot these days."
On what she hopes people take away from this film
"The most important thing that I want people to know is the importance of early childhood [development]. I spent the first 10-years-and-a-half [of my life] in a loving family, [with] a mother, a grandmother, a father, a grandfather, with nothing else to do but take care of me. The early socialization of a child is crucial.

I did a study for my Master's of what happened to the children who were with me in the orphanage in Switzerland, and clearly none of them committed suicide, none of them became drug addicts or depressed—and that has to do with the early childhood of their lives having been so successful."
On her early advocacy for the LGBTQ community
"At the time when AIDS started to be on the horizon, nobody knew what it really [was], and also people did not talk about homosexuality the way they talk about today. It was very important to me to say, 'We don't have all the answers, but every person has to be respected.'"
On the questions she gets asked now versus 30 years ago
"The questions, they certainly have evolved. I don't get so many questions about difficulties of women having an orgasm or men prematurely ejaculating. Some of this knowledge has been around and is available.
What I get these days is more questions about loneliness. And then I'm very concerned about the art of conversation getting lost, because everybody's on their phone, and even in restaurants you can see people being on their phones instead of talking to each other. So some questions have evolved by people being more sexually literate than they were, but we have new problems of loneliness, and not being able to keep up a conversation. Not just sexually speaking, but [now] relationships are not formed—people are losing the ability to make connections with each other. So it's not just the issue of sex, it's the issue of not even having a significant other in their lives."
On what people need to change about their sex lives
"People, especially the millennials, must take time out of their busy schedule and engage in good foreplay and in good sex. I don't want to hear anymore that millennials don't have sex. I haven't a validated study, but that's what people say. I want people to make sure that they take time to be together, to have a relationship, and to have good sex."
On the one question she couldn't answer
"When somebody asked me about bestiality, I said, 'I'm not a veterinarian. Next question' [Laughs.] I use humor to educate."
On the conversations about sex we need to have in the future
"I just want people to make sure that contraception remains legal, abortion to remain legal, that funding for Planned Parenthood is going to be forthcoming. I don't discuss politics, but I'm concerned when I see children being taken from their parents, because that's my story. And I certainly am concerned that abortion must remain legal. Contraception has to be available for anybody who needs it."
On refusing to call herself a feminist in the film
"I always thought [I wasn't], but now I say, 'Yes, I'm a feminist.' I always thought feminist just means burning bras, because I don't want people to burn bras. I was [a feminist] with my life, I showed that I was a single mother, I was always a part-time professional. I certainly believe in equal rights. From now on I say, 'Okay, I'm a feminist.'"
Ask Dr. Ruth is in theaters May 3 and on Hulu June 1.
For more stories like this, including celebrity news, beauty and fashion advice, savvy political commentary, and fascinating features, sign up for the Marie Claire newsletter.
RELATED STORY
Marie Claire email subscribers get intel on fashion and beauty trends, hot-off-the-press celebrity news, and more. Sign up here.
Cady Drell is a writer, editor, researcher and pet enthusiast from Brooklyn.