Who Is Audrina Patridge's Ex-Husband, Corey Bohan?
Don't expect him to make a cameo on The Hills: New Beginnings.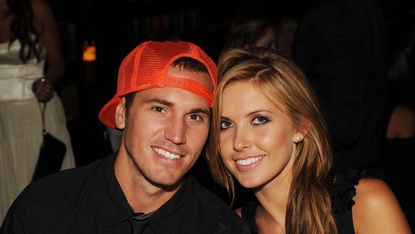 (Image credit: Getty Images)
The excited screams of diehard fans of the MTV hit reality series The Hills could be heard around the world when the trailer for the 2019 reboot dropped late last month. Though short and purposely cryptic, the minute-long teaser for The Hills: New Beginnings provided quick glimpses of the group then and now. Nearly 10 years have passed since the dramatic series finale of the wildly successful Laguna Beach spinoff, and (most of) the gang is back in action and the dealing with new issues in both their personal and professional lives, including Audrina Patridge.
Patridge has experienced her fair share of unscripted real life drama since the show ended back in 2010. The actress and model's love life, in particular, was often fodder for gossip magazines as she dated different celebrities in Hollywood after her time on the reality show; though much of her storyline on The Hills fleshed out her seesaw relationship with resident Bad Boy™ Justin Bobby Brescia, Partridge also memorably dated singer Ryan Cabrera (she's clearly got a thing for guys with ~hair~) and even reportedly had a love connection with the underrated but number one Hollywood Chris IMO, Chris Pine. But her most public relationship—which also happened to be her most tumultuous—was her 10-month marriage to Corey Bohan.
Long before the couple officially tied the knot in 2016, Partridge and Bohan were a serious item: They started dating in 2008, and Bohan even appeared on numerous episodes of The Hills from time to time. Before you reunite with Patridge and friends with June 24 premiere of The Hills: New Beginnings, here's everything you should know about Audrina's ex-husband and their relationship.
He's a successful BMX athlete.
Before he was known as Patridge's leading man, Bohan had a thriving career as a professional BMX rider. The athlete was so talented at motorcross that he had several podium finishes in the X Games—Bohan made X Games history by becoming the first motorcross rider to win the BMX dirt portion of the competition three years in a row. Dubbed the "Wizard of Aus" (he's from Australia) by experts and fans of the sport, Bohan gained the attention of X Games sponsor Red Bull, and the energy drink brand eventually brought him onboard to star in a YouTube series exploring the exhilarating, blood-pumping world of BMX.
He appeared on Patridge's VH1 spinoff, Audrina...
When The Hills ended in 2010, Patridge was offered her own reality show on MTV's sister network VH1. The series, aptly titled Audrina, explored Patridge's life post-The Hills and focused more on her professional endeavors and her family. Throughout the ten-episode show—it was canceled after only one season—Bohan made several appearances. His relationship with Patridge was a major element of Audrina, and viewers watched as the couple tried to maintain their connection in the height of the model's rising stardom
Unfortunately, Patridge and Bohan just couldn't make it work on the show, and in one emotionally grueling episode, the pair called it quits on camera. "It was a long time coming," Patridge told People Magazine at the series premiere. "Enough is enough. You get to a point where you're just ready to move on and you can't take it anymore." On camera, though? Yikes.
..but you definitely won't catch him on The Hills: New Beginnings.
Patridge and Bohan's on-camera split in Audrina wasn't the end of their relationship. The couple later reunited; Patridge gave birth to their daughter Kirra in June 2014, and they tied the knot just months later. However, as tensions swirled in their family home, things went from good to bad to worse, and Patridge filed for divorce from Bohan in September 2017. What followed was a bitter and extremely volatile custody battle after Patridge accused Bohan of domestic violence and even obtained a temporary restraining order against him.
Once the divorce was finalized, and news got out about Patridge making her return to reality television with The Hills: New Beginnings, Bohan even petitioned to keep their daughter Kirra from appearing on the show, adamant that he didn't feel that it was "in Kirra's best interests to appear on reality TV as the effects of being in the public spotlight could be extremely damaging to such a young child." He dropped the petition, so the two-year-old will likely make an appearance. Needless to say, Bohan won't have any screen time on the show, which we're totally okay with—that just means "will they or won't they" flirty exchanges from Patridge and Brescia for us!
The Hills: New Beginnings premieres on MTV on June 24.
For more stories like this, including celebrity news, beauty and fashion advice, savvy political commentary, and fascinating features, sign up for the Marie Claire newsletter.
RELATED STORIES
Celebrity news, beauty, fashion advice, and fascinating features, delivered straight to your inbox!