TV Dinner: Desperate Housewives
It's a block party! Make this simple, recession-friendly recipe for a quick, chic get-together and become the instant envy of your street.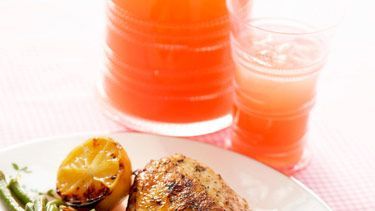 (Image credit: Philip Friedman)
Marie Claire Newsletter
Celebrity news, beauty, fashion advice, and fascinating features, delivered straight to your inbox!
Thank you for signing up to Marie Claire. You will receive a verification email shortly.
There was a problem. Please refresh the page and try again.
Must watch: DESPERATE HOUSEWIVES
Must eat: Suburban comfort
When Sunday night rolls around, home is the hippest place to be, and no one knows that better this sweeps week than the ladies nesting on Wisteria Lane. Can anything top this season's five-year flash-forward? You can bet one of Lynette's bratty kids on it. So invite the neighbors over for a different kind of community watch and, after Running in Heels on Style (8 p.m. ET), tune in to DH (ABC, 9 p.m. ET). Goes great with this finger-licking-good recipe from Semi-Homemade's domestic diva, Sandra Lee.
Lemon-Herb Butter-Basted Chicken
(cook time: 20 minutes; serves 4)
Ingredients:
1 stick butter
1 1/2 tablespoons lemon-herb-chicken sauce mix
2 tablespoons lemon juice
3 1/2 pounds whole chicken, quartered
Garlic salt, to taste
Lemon pepper, to taste
Directions:
1. Set up grill for direct cooking over medium heat. Oil grate when ready to start cooking.
2. In a small pan over medium heat, melt butter. Stir in sauce mix and lemon juice. Cook 1 minute. Remove from heat; set aside.
3. Rinse chicken with cold water and pat dry. Season with garlic salt and lemon pepper, to taste.
4. ON THE GRILL: Grill chicken on preheated, oiled grill for about 6 to 8 minutes per side, or until done, basting every few minutes.
INDOORS: Preheat broiler. Prepare chicken and basting sauce as directed.
Place chicken on foil-lined baking sheet or broiler pan. Broil chicken for about 15 minutes per side, basting with butter sauce every 5 minutes.
Garlicky Green Beans
Ingredients:
1 pound frozen green beans
1 tablespoon water
1 tablespoon butter
1 tablespoon extra-virgin olive oil
6 cloves peeled garlic, thinly sliced
4 strips precooked bacon, chopped
Salt and pepper
Directions:
1. In a microwave-safe bowl, add green beans and 1 tablespoon water. Cover with plastic wrap and cook on high setting 6 to 8 minutes or until crisp-tender.
2. While green beans are cooking, in a large frying pan, heat butter, oil, garlic, and bacon gently over medium heat. NOTE: Do not let garlic burn — a light golden brown is as dark as garlic should get.
3. Drain any liquid from green beans and add to frying pan. Toss to coat beans and season with salt and pepper.
Pink-Lemonade Spritzer
Ingredients:
1/2 cup citrus vodka
4 tablespoons pink-lemonade mix
1 1/2 cups pineapple juice
12 ounces lemon-lime-flavored soda
Pink sanding sugar for garnish
8 cups crushed ice
Directions:
1. In a large pitcher, combine vodka and lemonade mix, stirring well.
2. Add pineapple juice, stirring well. Add soda, stirring well.
3. In a shallow dish, add a small amount of water or lemonade spritzer. In another small shallow dish, add desired amount of sanding sugar. Dip rims of glasses into liquid mixture and then into sanding sugar to garnish, if desired.
4. Divide ice between 6 glasses. Pour lemonade over top.
Serve immediately.
Stay tuned to find out what has Susan eavesdropping over the pruned hedges this month:
What — or who — causes Nicolette Sheridan's character Edie, the hilarious cul-de-sac harlot, to leave the show in a body bag?
Celebrity news, beauty, fashion advice, and fascinating features, delivered straight to your inbox!