Sound On: The Best Albums of July 2019
These records will make the idea of summer ending a little more palatable.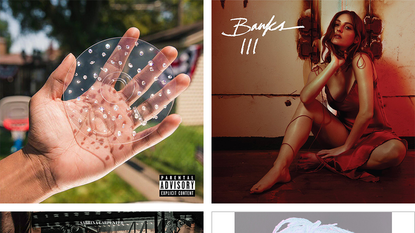 (Image credit: Courtesy)
Chance the Rapper, The Big DaySabrina Carpenter, Singular Act IIBanks, IIIWillow, Willow

Welcome to Sound On, where we'll highlight the albums and songs that you should know about each month—from the hits that landed to the tracks you might have missed. We'll even tell you which moods each album evokes, so you know just when to turn them on to maximize their effects. Happy listening.
July was pretty quiet on the major music release front, but we witnessed several super anticipated albums finally getting their big day, and were blessed with several albums from young artists coming into their own. If July felt a bit like a summer slump, the LPs that came out were enough to keep us busy all the sweltering month long.
Here are the four albums we were super into this month:
Chance the Rapper, The Big Day
Who?
Chance is Chicago's unofficial mayor—a rapper, philanthropist, all-around character whose fanbase is nearly competitive in their adoration of him.
What?
Though it might seem wild considering how important Chance is to music, this is technically his debut album: His brilliant 2013 mixtape Acid Rap was just that, a mixtape, even though it feels like a defining opening statement. The fact that it took this long to get his debut is a testament to the quality of the result: The hip-hop tracks here are at times jubilant, reflective, life-affirming, and relatable. Chance is a treasure, and his picks for guest appearances (En Vogue! Death Cab! CocoRosie!) showcase his curiosity for and ability to bridge a sprawling list of genres.
Best Time to Listen:
Whenever you get a little sad about how summer will end.
Sabrina Carpenter, Singular Act II
Who?
Former tween actress (remember her from Girl Meets World?) Sabrina Carpenter has turned into a bonafide pop star, and her long-awaited Singular Act II shows why.
What?
Carpenter has an ability to mix together the best things about pop music right this moment—retro synths, Janet Jackson–cribbing beats, sassy lyricism, talk-singing that verges on rapping but never gets cringe-y, genius phrase coinage ("I'm still in my bed about it," she says, brilliantly, on "In My Bed"). This is an album chock full of bops, be they bright ("Take You Back"), brooding ("I'm Fakin"), or a hypnotic little kiss-off ("I Can't Stop Me"). Yay pop music!
Best Time to Listen:
When you need some songs to shout-sing with your friends.
Banks, III
Who?
Banks (a.k.a. Jillian Banks) has always been a hypebeast, complete with sticky beats and deeply of-the-moment production flourishes. For III, her own sound has emerged.
What?
Though I can already hear the remixes that will be on permanent repeat at clubs ("Look What You're Doing to Me"), the overall vibe of this record is that Banks seems pissed. "Gimme" and "Till Now" are self-empowerment anthems that don't mask the rage, but whether she's sad or seething, the deep house beats keep the album rocking steadily in a way that isn't distracting.
Best Time to Listen:
I listened to this album at work over and over and felt it helped me stay on task? Do with that information what you will!
Willow, Willow
Who?
Willow Smith, now going by her mononym, went platinum before she hit 10 with "Whip My Hair," and was the youngest artist ever signed to Roc Nation. But in the years since, the daughter of Will and Jada has become a hippie-ish, mysterious force of nature.
What?
Her third full-length is eight tracks of mellow, spacey jams that make you want to sway for its full 22-minute runtime. She name-drops Basquiat and swirls her vocals and even invited her even spacier brother Jaden to join her on the track "U KNOW." It's a necessary stepping stone on the path to Willow's final form.
Best Time to Listen:
When you're lying in the grass looking at the clouds; lying in bed and lucid dreaming.
For more stories like this, including celebrity news, beauty and fashion advice, savvy political commentary, and fascinating features, sign up for the Marie Claire newsletter.
RELATED STORIES
Cady Drell is a writer, editor, researcher and pet enthusiast from Brooklyn.