Kathryn Morgan Returns to the Stage
Seven years after complications from Hashimoto's thyroiditis ended her blossoming career with New York City Ballet, the 30-year-old is back in the spotlight.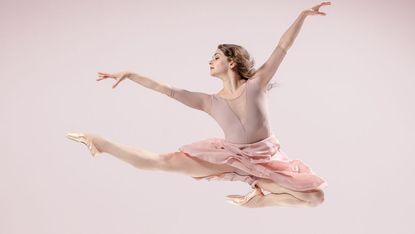 (Image credit: Jonathan Givens, EPS)
Thirteen years ago, Kathryn Morgan was on the fast track to ballet superstardom. She had graduated from one of the most prestigious ballet schools in the world and been given a contract at one of the most prestigious ballet companies in the world, New York City Ballet. At 17, she danced the role of Juliet, one of the most demanding and coveted roles in classical ballet. Reviews in the New York Times praised her "lyrical loveliness" and "romantic presence," and declared her "a natural dancer with a haunting mystique."
Within a few years, she had been promoted out of the corps de ballet and was a soloist; the powers that be, she recalls, told her that if she kept working, it was only a matter of time before she was promoted to the top rank of the company, a principal dancer. It's every little baby ballerina's dream.
And then, it all fell apart.
A few months after her promotion, she began to feel tired all the time. Her muscles began to "disintegrate" in a way that she could feel while she was dancing. "I would go up to pointe and then collapse," she remembers. "Things weren't firing, I couldn't balance, and I could not stay awake half the time. I would need a nap in the middle of the day, which had never happened to me before."

Her hair started falling out. One day, before a performance of Romeo and Juliet, she sat down in front of the hairdresser whose job it was to arrange her hair in the elaborate braids that Juliet wears for the Capulet ballroom scene. He was shocked, she recalled on a ballet podcast earlier this year. "Where's your hair?" she remembers him asking. "I have nothing to braid...half your hair is gone."
And then there was the weight gain. Morgan had just debuted as Aurora in Sleeping Beauty, "which is the hardest role on the planet, and most dancers literally lose five pounds a show," she says. "I was gaining weight, and it made no sense. Ten hours a day, rehearsing this three-act beast of a ballet, and I was putting on weight. And I could not figure out what was going on."
Neither could the people around her. It was awful, she says, "having all the ballet masters eye you up and down and speaking to you...I got spoken to three times in one week about it."
"They were talking to me like, 'Are you aware that you're putting on weight?' and I wanted to go, 'No, I had no idea! Not a clue!'" she said sarcastically in an interview earlier this year. "It was terrifying."
Ballerinas have long been required to maintain a very specific body type. And, although the dance world has recently become more accepting of noticeably muscular women—thanks in no small part to the activism and artistry of Misty Copeland—rail thin is still in. For a ballerina who spends all day in a leotard and tights in front of a wall of mirrors (and in front of her colleagues and bosses), even a few pounds up or down is obvious. Morgan gained 45 pounds in six weeks.
A doctor diagnosed her with hypothyroidism: Her thyroid gland had slowed down and wasn't producing enough of the hormones her body needed to regulate her metabolism. Weight gain, fatigue, muscle weakness, and thinning hair are classic hypothyroidism symptoms. She was put on a high dose of medication ("the dosage that people who do not have a thyroid take") and tried to get back on track.
Two years later, she was still sick and still 45 pounds heavier than normal. It was almost impossible for her to do her job. She'd be cast in a role and have to pull out at the last minute because she was too ill to dance. Or she'd miraculously be well enough to dance, but find she couldn't fit into the costume. It was humiliating and infuriating, and she resorted to drastic measures. "In the last few months I had barely eaten much at all, and my whole metabolism and my whole mindset just got so messed up," she remembers.
Morgan decided to let her contract run out, go home to Mobile, Alabama, and try to get well. But after a year at home, very little had changed, except that she'd now spent a year being miserable.
"Literally my life was ballet," she says. Her entire childhood, and countless hours of her young adulthood, had been sacrificed to the dream of becoming a ballerina. By the time she left New York, she said in a recent video, she "literally hated ballet." She sank into a depression. "I was very depressed for about a year because my identity was as a dancer, not as a person. And when your identity is taken away like that...I felt like a complete failure, like I had nothing left."
It took a total of eight doctors, Morgan estimates, before she found one who would take her seriously. That was partly because, even after gaining so much weight, her body looked healthy. "I was not obese, I didn't even look over a 'normal' weight," she says, "but for a ballet dancer I was huge. But most doctors don't understand the elite athlete level, so they looked at me and they were like, 'What are you talking about? You look fine, you're just a normal girl.'"
And then, they told her what women complaining of diffuse, hard to diagnose but very real symptoms so often hear: You're making this up. "I would have pictures ready on my phone, like 'This is what I usually look like,' and they were like, 'Well, that's too skinny,' or, 'Well, that's unattainable,' and I was like, 'I literally looked like this six months ago!'"
"I'm very small boned and small framed, and they just didn't take me seriously. One doctor even said 'You're full of it; you're never going to get better with this mindset,'" Morgan says.
Finally, a family friend, an internist, agreed to run every test he could think of. When he did, he found an underlying cause of her thyroid dysfunction: an autoimmune condition called Hashimoto's thyroiditis. When someone has Hashimoto's, "the patient's immune system produces antibodies that target and damage thyroid tissue," explains Dr. Amal Shibli-Rahhal, M.D., a professor of endocrinology and metabolism at the University of Iowa medical school. Morgan's immune system was attacking her thyroid, preventing her medication from taking effect.
Though Morgan's illness had seemed to come on suddenly, Dr. Shibli-Rahhal says that the damage Hashimoto's does happens gradually. But "when the damage is mild, the body often compensates for it and the patient may not feel the symptoms until the damage has reached a critical level." No specific triggers for it are known, Dr. Shibli-Rahhal says. It's most often treated with hormone replacement, giving the body back levothyroxine, the main hormone produced by the thyroid.
Hashimoto's is the most common cause of hypothyroidism, and it's dramatically more common in women, but it had taken three years and eight doctors for Morgan to get an accurate diagnosis—from a doctor who also took her stress and depression seriously.
Morgan felt an enormous sense of relief, along with fear that her new doctor was too good to be true. "At some point he's going to turn around and say I'm crazy," she remembers thinking. "Because after a while when you see that many doctors you think, Well, am I making this up? Is my body just over ballet and that's why it blew up like this? Am I crazy?"

She wasn't crazy, but she also wasn't well enough to dance. In 2014, in an effort to take her mind off what she'd lost, and to stay relevant to the ballet world, she started making videos on YouTube. She started with beauty tutorials, showing viewers how to create stage looks for ballets like Giselle, Swan Lake, and Sleeping Beauty, filming from the neck up, because she was self-conscious.
Eventually, she felt comfortable enough to film stretching and barre tips. She started soliciting questions from viewers, which grew into an advice column in Dance Spirit magazine ("Dear Katie: How do I know when I'm ready to go on pointe?" "Dear Katie: How can I practice partnering when there are no boys at my school?"). She got married.
As her audience grew—she now has more than 160,000 subscribers—so did her sense of identity beyond being a dancer. Now, she was a former dancer with wisdom to share, and stories to tell about her days at City Ballet. In one popular series, she provided running commentary for videos of her performances, including Romeo and Juliet ("here comes the death pas de deux, which is so hard for the boy, because you literally can't help… he has to partner dead weight"). She teamed up with a dancewear superstore to start a scholarship for ballet students, and started selling subscription boxes full of leotards, tights, resistance bands, and magnetic bobby pin holders.
Then, her marriage fell apart. It caused her to lose her appetite, she told her fans in a video explaining the rapid change in her appearance: "I could not eat anything for about a month and a half." She estimates she lost 25 pounds in the space of five months, most of it rapidly, in the immediate aftermath of the breakup. "That is not a good way to lose weight," she warned her viewers.
But the rest of the weight came off because, as a way to cope with the heartbreak, she went back into the ballet studio.
When she'd first started making barre tutorials and stretching videos, she'd felt weak and out of shape. Now, armed with a proper diagnosis and treatment, and with her body starting to return to its old size and shape, she felt different.
"Things came back fairly easily," she says. "I was surprised how natural things seemed to be after so many years of struggling." Fast footwork and jumps eluded her, but six years after leaving City Ballet, and eight years since her body changed so dramatically, she was finally dancing again.
Today, she's lost almost all the weight she gained during her illness. Her hair is growing back. She's the healthiest she's been in almost a decade. Her divorce is finalized.
In April of this year, Morgan announced a final triumph: She had called legendary former ballerina Lourdes Lopez, artistic director of Miami City Ballet. Were there any open positions? Lopez invited her to take a few days' worth of company classes as an audition, "which was a great setup because only having one chance can be highly stressful," Morgan says.
Still, she was "a bundle nerves," Morgan remembers. "It had been seven years since I had been in a company class at all! So much time had passed, and I was worried I wouldn't be up to par."
When she got the call saying she'd been accepted, she was overjoyed: "Ecstatic doesn't even begin to cover it." To complete the comeback, Lopez would let her join the company as a soloist, the same rank she'd been at City Ballet, rather than asking her to start from scratch in the corps. "A year ago I thought I would never dance again, and then suddenly I'm being offered a contract with a top five company?" Morgan exclaims. "It was surreal."
At 30 years old—well past middle-aged for a ballerina—having not danced consistently for seven years, which is the longest break she's ever heard of someone taking, she'll be back on stage in Miami this month.
"My body feels great," she says, noting that she's supplementing daily ballet classes, rehearsals, and performances with pilates and cardio a few days a week. "Most ballerinas are beat up by the time they get to 30, but I had so much time off. Injuries have healed, and I have fixed bad habits. I still get the occasional ache and pain depending on what I'm rehearsing, but I feel like I never left."
It is, without question, a Hollywood-esque happy ending, one that comes with built in training montages and close up shots of bleeding, blistered toes.
Yet there are some uncomfortable truths buried in all this triumph. We can never know what might have been if Morgan had received an accurate diagnosis the first time she went to a doctor—or even the second time, or the third. What might her career have looked like if her doctors had listened? If they'd taken her symptoms, and her story of her own body, seriously? But also, in any version of Morgan's unlikely story, it is hard to separate her happy ending from her weight loss. In fact, her happy ending would not have been possible without it.
The body that professional ballet demands is extremely thin—a tiny frame without an ounce of spare flesh to distract the eye or interrupt "the line." There are some practical advantages to lightness, Morgan reminds me: It's easier to lift your leg up high, and easier for your partner to lift you.
Morgan says that companies are more attuned to the dangers of crash dieting and other "drastic" or "stupid" ways of losing weight: "In the '70s and '80s, it was, 'Get thin, we don't care how you do it.'" And she's hopeful that the "skeletal look" is on its way out. But now, in a way, the bar is even higher: You have to be thin and you have to be healthy. Strong is the new skinny…as long as you're still very, very skinny.

When Morgan steps onto the stage in Miami for the first time, she knows that audience members who know her story will be watching her technique, but they'll also be assessing her size. "I know people want me to succeed, but I still feel the pressure," she says, "the pressure to get back to looking like a professional ballerina in a top-five company. As crazy as other bodies are scrutinized, mine's going to be scrutinized twice as much."
"It's an aesthetic art. And I get in trouble for saying that…but I don't make the rules."
For more stories like this, including celebrity news, beauty and fashion advice, savvy political commentary, and fascinating features, sign up for the Marie Claire newsletter.
RELATED STORY
Chloe Angyal is a journalist who lives in Iowa; she is the former Deputy Opinion Editor at HuffPost and a former Senior Editor at Feministing. She has written about politics and popular culture for The New York Times, The Washington Post, The Atlantic, The Guardian, New York magazine, Reuters, and The New Republic. Angyal has a Ph.D. in Arts and Media from the University of New South Wales.