15 Exciting New TV Shows of 2020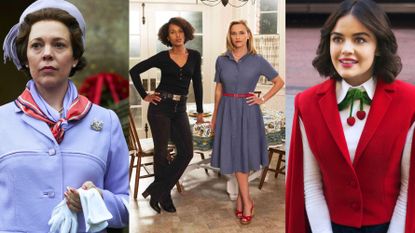 (Image credit: Netflix/Hulu/CW)
Marie Claire Newsletter
Celebrity news, beauty, fashion advice, and fascinating features, delivered straight to your inbox!
Thank you for signing up to Marie Claire. You will receive a verification email shortly.
There was a problem. Please refresh the page and try again.
In 2019, Game of Thrones ended, we got a bonkers second season of Big Little Lies (Meryl Streep's scream—the end), and we were introduced to a new cast of The Crown. So, what does 2020 have in store for us? Well, we know to expect the next seasons of a few highly rated and critically acclaimed shows (Killing Eve!), as well as a handful of promising new ones (Cherish the Day) and, as ever, more reality TV drama (I'm looking at you, The Bachelor). Thus far, these picks are the most hotly anticipated shows of 2020.
Note: Some of these air dates have and may continue to shift, given the scheduling delays that have resulted from the coronavirus pandemic. In some cases (Killing Eve, for one), it means that the shows have become available even earlier—but for many, it might even mean they'll be pushed to 2021. I'll keep them on this list anyways, since we don't have much detail yet—and it'll still be good TV, whenever it comes out. Watch this space, because we'll keep updating with the best and brightest shows we know about.

Air date: January 7, 2020, on Pop TV
Starring: Catherine O'Hara, Eugene O'Neill, Annie Murphy, Dan Levy, Emily Hampshire

Why it's a big deal: This is the final season of the award-winning show, by the creators' choice—ending on season 6, to them, felt like the best way to tell the show story "in its totality." If you follow the show, you'll know that for most of the Schitts (plus fan-fave Stevie Budd), things are looking up personally and professionally. Sweet shenanigans, with a backdrop of tolerance, ensue. And if critics' reactions are any indication, if you love the show, this'll be the happy ending you've always dreamed of.
Air date: February 11, 2020, on OWN
Starring: Alano Miller, Xosha Roquemore, Cicely Tyson, Larry Bates, Loren Lott
Why it's a big deal: I have chills. DuVernay's followup to the devastating, gripping When They See Us is "a day in the life of a couple in love." It's sexy, it's sad, it's everything I want a romantic drama to be. DuVernay has spoken often how much she wants to tell authentic Black stories and move beyond stereotypical depictions, and this looks like just the latest in her incredible, powerful storytelling—plus a damn fine romance all on its own.
Air date: May 1, 2020, on Netflix
Starring: Darren Criss, Patti LuPone, Jake Picking, Jeremy Pope, Samara Weaving
Why it's a big deal: This show already looks and sounds gorgeous, and centers around several actors post-WWII trying to "make it" in Tinseltown. True to form, Ryan Murphy re-envisions a well-known time and imbues it with new life—the characters deal with race, sex, class, and bigotry as they push for progressiveness. If you like Murphy's visual style and sharp storytelling, you'll love this. If you don't happen to love some of the gorier elements of American Horror Story (raises hand sheepishly), great news, because this looks to be SUPREMELY different.
Air date: February 23, 2020, on AMC (and eventually Netflix)
Starring: Bob Odenkirk, Rhea Seehorn, Jonathan Banks, Patrick Fabian, Michael Mando
Why it's a big deal: Widely considered one of the best prequels ever (Breaking Bad who?), Better Call Saul gets better every season. But here's the thing: Even if you never watched the original show or don't have a particular urge to watch something about lawyers and cartels, you should still give this a try. And the reason is simple: Kim Wexler (Seehorn, unbelievably underrated). She's as interesting a female character as we've ever seen on TV: driven, passionate, logical, and fanatically devoted to changing her S.O. (Odenkirk) into the man she knows he can be. No spoilers here, but the season 5 finale has a twist so smart and so devastating that it subverts every single expectation about her. Go watch.
Air date: January 20, 2020, on Comedy Central
Starring: Awkwafina, Lori Tan Chinn, BD Wong
Why it's a big deal: Even if the series isn't perfect, Awkwafina's deserved her own comedy vehicle for a while. She's goofy and sweet and awkward—kind of like the title of this show, TBH—and if you're not familiar with her you'll find yourself in love. The show's a kind, empathetic take on a young person who has potential and worth...but is totally stuck where she is for the moment (so, so relatable, I'd be offended if I wasn't giggling so much). Also, B.D. Wong, whom I've loved since Mulan and who will be my forever crush.
Air date: March 18, 2020, on Hulu
Starring: Reese Witherspoon, Kerry Washington, Rosemarie DeWitt, Joshua Jackson
Why it's a big deal: Billed as 2020's Big Little Lies, this brutal and no-holds barred look at race and class in suburban Ohio is just as twisty and dramatic—with a similar whodunit. Who burned down the Richardson home? Witherspoon and Washington going head to head (the two are pals IRL, FYI) is gonna be epic. The book on which the series is based delivers a whole bunch of crazy; Critical response has indicated that the season's a bit up and down—but that the ending is quite good, and quite different from the source material. Also: Pacey from Dawson's Creek! Love you!
Air date: April 12, 2020, on BBC America and AMC
Starring: Sandra Oh, Jodie Comer, Fiona Shaw, Kim Bodnia, Owen McDonnell
Why it's a big deal: Last season of Killing Eve ended on a doozy of a cliffhanger. The potential of the title might've actually come true, with (spoilers!) Eve shot in the back and Villanelle exiting stage right. An early look at season 3 gives us Eve and Villanelle in a similar dynamic to season 1, which is...initially frustrating and a bit confusing. But the unfolding drama hits some of the best and most terrifying moments we've seen from the show. Ever.
Air date: February 14, 2020, on Hulu
Starring: Zoë Kravitz, David H. Holmes, Jake Lacy, Da'Vine Joy Randolph, Kingsley Ben-Adir
Why it's a big deal: It has been 20(!!) years since the John Cusack movie based on the 1995 Nick Hornby book. Here it gets flipped on its head. Record store owner "Rob" is now embodied by a woman (in this case the ah-MAZE-ing Kravitz), who's still allowed to be as messy, lovelorn, and romantically challenged as the original character. IMO, Kravitz absolutely nails brutal honesty mixed with vulnerability by putting her own stamp on the role. Plus, the supporting cast is pitch perfect.
Air date: November 2020, on Netflix (subject to change)
Starring: Olivia Colman, Tobias Menzies, Helena Bonham Carter, Josh O'Conner, Emma Corrin, Gillian Anderson
Why it's a big deal: This will be the season to watch, even if you're not normally a Crown fan. It'll be the season of Charles and Diana (and perhaps the re-emergence of Camilla). Early pictures look spectacular. It looks like so much precision is being taken over accuracy—the occasional lack of which was a complaint about season 3—and there'll be no need to beef up the drama this time. Real life really was stranger, and sadder, than fiction.
Air date: May 17, 2020, on TNT
Starring: Daveed Diggs, Jennifer Connelly, Sheila Vand, Jaylin Fletcher
Why it's a big deal: If you never saw the original movie with Chris Evans, it's absolutely worth the watch. The gist is: Because efforts to control climate change failed and now 99.99 percent of the world is frozen, the remaining survivors are stuck together on a train that never stops moving in one, long track around the globe. The train is broken into a kind of caste system, with the majority of the passengers in the tail, and the wealthy, privileged ones towards the front. It's bizarre, but believe me—done right, it'll make for some brilliant sci-fi. Also, Hamilton's Daveed Diggs is finally getting the TV vehicle he deserves.
Air date: March 15, 2020, on HBO
Starring: Evan Rachel Wood, Aaron Paul, Jeffrey Wright, Thandie Newton, Ed Harris, Tessa Thompson
Why it's a big deal: Last season was a bit up and down in terms of storylines, but it also had some achingly tender moments (Thandie Newton as Maeve, Zahn McClarnon as Akecheta) and set up a new concept for season 3—robots in the real world. Thus far, the addition of Aaron Paul has brought some much-needed humanity. The show remains a bit uneven, but when it's good, there isn't a more interesting show on TV. Regardless of plot, the acting titans on the show—including Evan Rachel Wood and Jeffrey Wright—are killing it as usual. They do call it the "acting Olympics," after all.
Air date: January 19, 2020, on HBO
Starring: Hugh Laurie, Josh Gad, Sacharissa Claxton, Zach Woods, Suzy Nakamura
Why it's a big deal: Missing Veep? Great news: Armando Iannucci, the creator, is at the helm (pun intended) of this sci-fi satire. A luxury space cruise has a terrible accident, and evvvvverything starts to go wrong. The show pulls in some of the best actors from recently ended shows—Hugh Laurie from Veep, Zach Woods from Silicon Valley—and gives them devastatingly funny dialogue to work with. The whole thing looks side-splitting: Black comedy at its finest.
Air date: January 6, 2020, on ABC
Starring: Peter Weber, Chris Harrison, 30 "lovely" (read: intense) ladies
Why it's a big deal: This season ended up being an almighty mess—the women, the lead (We were all rooting for you, PETER), and the producers' ever-escalating machinations were all messier than we'd seen in a while. But it all built to one of the most watchable finales ever. I realize The Bachelor is especially prone to hyperbole—I'm pretty sure it's written into Chris Harrison's contract that he has to say "most dramatic ever" every season—but this time it lived up to the hype. The show isn't perfect, nor is progressive, but if you missed this season when it aired and you need your reality TV fix, run, don't walk, to this wild experience.
Air date: TBD 2020, on Disney+ (show currently on hold)
Starring: Hilary Duff, Adam Lamberg, Jake Thomas, Hallie Todd, Robert Carradine
Why it's a big deal: I mean. If Disney Channel fans are thrilled by anything in 2020, it's this. The little peeks at the costuming and set have been met with intense excitement—like, really, really intense. There's pressure to do justice to the fanbase, but my hope is that enough time has passed for the subject matter to feel new. We know the character will be living in New York as an interior designer's assistant, and that sounds like a good start. Of course, the recent news that original creator Terri Minsky quit and the show has stalled is devastating. But judging by fan interest, Disney+ will work to make sure this show finds its way. Frankly, I'm going to watch it whenever it comes out, so I'm still hopeful.
Air date: February 6, 2020, on the CW
Starring: Lucy Hale, Ashleigh Murray, Julia Chan, Lucien Laviscount, Zane Holtz
Why it's a big deal: Like Lizzie, this looks to be light and fluffy (and who doesn't love light and fluffy right now?). This one's a spinoff of Riverdale, but unlike the original, there's sweet banter and romantic drama aplenty as friends attempt to "make it" in the big city. The spinoff will include original, much-loved Riverdale cast member Ashleigh Murray. I've been a fan of Lucy Hale since Pretty Little Liars and this seems like the perfect vehicle for her. Even though it's technically based off a comic book, it's nice to see something that's not just a remake. And it embraces a diversity of characters, too.

For more stories like this, including celebrity news, beauty and fashion advice, savvy political commentary, and fascinating features, sign up for the Marie Claire newsletter.
RELATED STORIES
Celebrity news, beauty, fashion advice, and fascinating features, delivered straight to your inbox!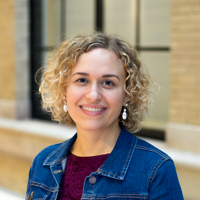 Katherine's a Boston-based contributor at Marie Claire who covers fashion, culture, and lifestyle—from "Clueless" to Everlane to news about Lizzo. She's been a freelancer for 11 years and has had roles with Cosmopolitan and Bustle, with bylines in Parents, Seventeen, and elsewhere. It's "I go to dinner," not "Her huge ego," but she responds to both.