Netflix Shows About Being Black In America to Add to Your Queue
Consider them required viewing.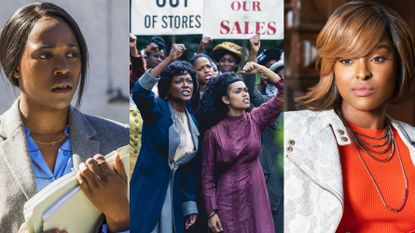 (Image credit: Netflix)
Even if you've donated, protested, and signed petitions, there's always more you can do to be a better ally (opens in new tab) to the BIPOC (Black, Indigenous and People of Color) community. It's on each of us to do the work (opens in new tab) and educate ourselves about the past and present of race relations in America. (opens in new tab) And if you happen to be looking for the shows on Netflix that can help you with that, we've rounded up some of the most compelling, thoughtful, and informative shows on race and racism in the United States. All you need is a Netflix password (or a friend's) to engage deeply with these Black stories.
They've Gotta Have Us
Filmmaker Simon Frederick brings together well-known voices in cinema, including John Singleton, John Boyega, Whoopi Goldberg, Barry Jenkins, and Jesse Williams, for this series about Black cinema. The in-depth interviews cover critical topics, like the history of white directors telling Black stories, and delve into the cycle of filmmakers having to convince studios that projects by and featuring people of color are good for business.
WATCH NOW (opens in new tab)
The Innocence Files
If you don't know what The Innocence Project (opens in new tab) does, let me fill you in: It's an organization that works to overturn the wrongly convicted, and aims to reform the criminal justice system to prevent future injustices. This series covers eight different cases, and not all subjects are Black, but the project makes sure to note that more than half of the imprisoned people in the U.S. who were eventually exonerated by DNA evidence have been Black. Another reminder of how the justice system isn't what it claims to be.
WATCH NOW (opens in new tab)
Who Killed Malcolm X?
Five decades after Malcolm X's assassination in 1965, historian and activist Abdur-Rahman Muhammad began his investigation into the death of the civil rights leader. Mujahid Abdul Halim (also known as Talmadge Hayer and Thomas Hagan), Muhammad Abdul Aziz (also known as Norman 3X Butler), and Khalil Islam (also known as Thomas 15X Johnson), were convicted of Malcolm X's murder in 1966 and sentenced to life in prison. Hayer admitted his part in the killing, but said the two others had no involvement in the crime. Both of them were soon later released from jail, but the question remained: Who killed Malcolm X? Rahman Muhammad, with the help of the Innocence Project, is going to find out.
WATCH NOW (opens in new tab)
Trial by Media
The six-episode documentary looks at famous trials and the role the media played in the verdicts. While I recommend watching all of the episodes, it's 41 Shots I most often think about. This episode is about the murder of Guinean immigrant Amadou Diallo by NYPD officers in 1999; Diallo was shot 41 times while trying to enter his home. He was unarmed. The officers involved were subsequently acquitted.
WATCH NOW (opens in new tab)
Orange Is The New Black
What started as a show about a white New York woman heading to jail for a crime she assisted with ten years ago slowly evolved into a seven-season, critically acclaimed show about many inmates from different backgrounds. The witty and sometimes heartbreaking dramedy addressed police brutality, mass incarceration, the persecution of black transgender women, the #SayHerName movement, and more.
WATCH NOW (opens in new tab)
Self Made: Inspired by the Life of Madam C.J. Walker
If you haven't tried Madam C.J. Walker's hair products (opens in new tab) yet, it's never too late to join the party. In this limited series from Netflix, learn more about the first female self-made millionaire, Madam C.J. Walker. The inspiring true story details how she rose from poverty to build one of the biggest beauty empires of her time.
WATCH NOW (opens in new tab)
Seven Seconds
This 10-episode series starring Regina King (opens in new tab), Clare-Hope Ashitey, and Beau Knapp explores race in America and how the justice system isn't equal for all. The story is about a hit-and-run of an African-American teenager by a white Jersey City cop (Knapp) and its cover-up by a mostly white police force. It's a frustrating and heartbreaking watch, which makes it an even more necessary one.
WATCH NOW (opens in new tab)
Dear White People
If you loved the 2014 movie of the same name as much as I did, this show is required viewing. Picking up where the first movie leaves us off, the Netflix show continues to follow the story of a group of Black students at a prominently white Ivy League college. Don't think the show is all parties and late-night cram sessions. Dear White People digs deeper, tackling topics from blackface to sexual assault.
WATCH NOW (opens in new tab)
When They See Us
Ava DuVernay (opens in new tab) brings us a four-part limited series about the Exonerated Five, who you might remember by the name Central Park Five. If the name doesn't ring a bell: In 1989, five Black male suspects were falsely accused and prosecuted following the rape and assault of a woman in Central Park. This beautifully acted show re-enacts the case from the perspective of the innocent Five and their families.
WATCH NOW (opens in new tab)
Black Lives Matter
Bianca Rodriguez is the Fashion & Luxury Commerce Manager at Hearst Magazines, covering fashion, beauty, and more for Cosmopolitan, Elle, Esquire, Harper's BAZAAR, and Town & Country. She likes lounging about with a good book and thinks a closet without platform sneakers is a travesty.