BLACKPINK's Jennie, Rosé, Jisoo, and Lisa: What to Know
Their new Light Up the Sky documentary reveals all.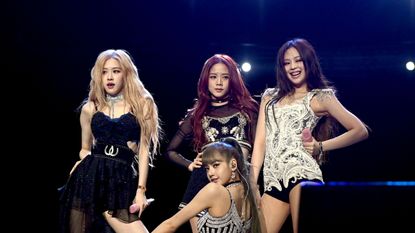 (Image credit: Scott Dudelson)
Big news, BLINKs: BLACKPINK's "Light Up the Sky" documentary is officially out—you can watch it on Netflix here— and there's plenty to dissect. The 79-minute film gives fans intimate access into the lives of the four members, Jennie, Rosé, Jisoo, and Lisa, and provides the full journey of how each girl became a K-pop star.
"We shot [the documentary] in the fall of last year and February of this year," says Caroline Suh, director of Light Up the Sky. "The fans love them so much, so I want them to see the members in a more casual, direct way. I hope [Light Up the Sky] humanizes them and shows each of them as a three-dimensional person beyond just their image."
The documentary features a ton of backstory, from BLACKPINK members' baby photos (they were all as adorable as you'd expect) to their audition tapes for YG Entertainment. BLINKs will see Rosé shed some tears as she talks about leaving home to become a trainee at 16 years old, plus you'll get a glimpse into the true personality of the elusive Jennie. By the end of the documentary, you'll see why the four ladies are powerhouse performers and why they simply belong together as a group. Ahead, the backstory, plus some other need-to-know tidbits, of each BLACKPINK member.
Jisoo
Known as the unnie (big sister) of the group, 25-year-old Jisoo was born in Sanbon, Gunpo city in the Gyeonggi-do province in South Korea. She lived with her parents, sister, brother, and grandparents.
"I'm living a very different life than the one I thought I'd be living," Jisoo says in Light Up the Sky. "I used to want to be a writer or a painter, although I couldn't paint very well. I joined the drama club when I was in 11th grade. They were saying I should try auditioning because I needed the experience. My first audition was at YG [Entertainment]. I didn't know much at all about YG before I arrived there the first day. It felt like something far removed from me. I never thought I'd actually be doing it for real."
Jisoo passed the audition and trained for five years alongside the other BLACKPINK members, taking three to four dance lessons a day in addition to vocal lessons from two to three teachers. She is now the lead vocalist of the group and co-wrote Lovesick Girls from the group's first-ever album, The Album. "She does have that professional poker face," says producer and songwriter Teddy Park. "I've know Jisoo for, let's say, a good six years. I've seen her cry, once. She's super smart. A lot of people might think she's book smart, but I would say she's street smart."
In addition to her work as a BLACKPINK member, Jisoo has acting creds under her belt. She has made cameo appearances in shows such as The Producers and Arthdal Chronicles and will play the lead in the upcoming Korean drama Snowdrop. The singer is also a certified fashionista, landing campaigns with the likes of Dior and Cartier. In fact, Jisoo was Dior's muse and modeled for the fall/winter 2020 collection. Fun facts: Jisoo is trilingual and speaks Korean, Chinese, Japanese, and has a white Maltese dog named Dalgom.
Jennie
The 24-year-old star was born in Korea and raised in Seoul until she was ten; she then moved to Australia and New Zealand with her mom. In the documentary, Jennie recalls her mom asking her if she'd like to live in New Zealand.
"From 10 to 15, I was in New Zealand by myself. I never really got to spend so much time in the house with my mom until recently," Jennie says. "When I turned 15, I was deciding whether I should move to America. I went there, I checked the school out. Everything was kind of decided, like 80 percent, and I came back to New Zealand to pack my stuff up. That's when I realized I don't want to go to America and do another study there by myself. I actually want to become a singer. I don't know where it came from."
Jennie had an audition with YG when she was only 14 years old and got in, then spent six years training. Now as one of the main rappers of BLACKPINK, Jennie is arguably one of the most popular members and was the first in the group to release her own song in 2018, appropriately titled SOLO with over 540 million views on YouTube. (It also became the most viewed music video by a female Korean solo artist of all time within its first 24 hours of release.)
Though she is often portrayed as fierce and confident on stage, her behind-the-scenes personality is the opposite. Those close to her, from producer Park to Jennie's pilates instructor, Jessie Yeo, have described her as shy. "I am super shy," Jennie says in Light Up the Sky. "I was one of those people where I can't even order something on the phone. Like, I hated that. Took me a while to get this far."
In the documentary, Yeo says, "At first it was hard getting to know her, but once we became close, I could tell that she's very loyal, very sweet, and a lovely friend. I see her every day, so I'm used to her and she's like my little sister. But when I see her on TV, I'm like 'Ah, Jennie is a star," but she's really down to earth." Meanwhile Park echoed these sentiments, saying, "Jennie is super clear. Her opinions, her emotions. She's a perfectionist."
Outside of the music industry, Jennie is a muse for both fashion and beauty labels such as Chanel (she often wears the label in BLACKPINK's music videos, while Jisoo wears Dior) and Amore Pacific. Earlier this year, she collaborated with Gentle Monster on a sunglasses collection. As for pets, Jennie has two dogs: Kai and Kuma, who often make appearances in the BLACKPINK Diaries.
Rosé
Rosé, whose given name is Park Chaeyoung or Roseanne Park, was born in New Zealand and moved to Australia when she was eight years old. In Light Up the Sky, Rosé, pronounced as roh-say, reveals that it was her dad who recognized her love for music and urged her to pursue a path in it.
"He's like yeah...You're gonna have to, you know, try do something about it, otherwise you're going to be 25 and you're gonna regret that you didn't try anything," Rosé says in Light Up the Sky. "I was 16. I went, auditioned, and then they called me and they were like 'can you fly to Korea within two months?' And then my whole life changed. In Australia, I dropped out of school. I had never even imagined myself living apart from my family. I hadn't even slept more than two weeks out of home."
When Rosé arrived to the YG dorms where she would begin training (she trained for four years), she recalls being placed in the same room as Jennie, Jisoo, and Lisa. Lisa saw that Rosé had brought her guitar from Australia and asked her to play something. "It was us four. I don't even know why, but it was us four. We covered songs 'til morning. All of us, we were singing. Somebody was harmonizing. I think Jisoo was harmonizing. It was so funny. Can you believe it?" says Rosé.
The 23-year-old artist is the main vocalist of BLACKPINK, which aligns with Rosé's strengths; she actively makes time in her busy schedule to practice writing and singing her own songs while playing guitar and piano.
"I have a really hard time falling asleep. I have a lot of thoughts running through my head. Singing is kind of like stress relief and everything just kind of makes sense when I'm doing this," says Rosé. "Sometimes, I actually have missed my trainee days. Because, back then, we were surrounded by music all the time. But these days we've got a lot of work, so I actually have to make time for this. That's why it's always at night, when I'm supposed to be sleeping."
Like the other BLACKPINK members, Rosé has landed many endorsement deals, like starring as the global face for Saint Laurent's fall/winter 2020 campaign. She and Jisoo were also selected to rep the South Korean cosmetics brand Kiss Me. Rosé's latest project, however, will be the most exciting to BLINKs, especially those who love her voice, as she is scheduled to release her own songs following BLACKPINK's The Album.

Lisa
Lisa, the most followed BLACKPINK member on Instagram, is known as the upbeat and spunky one in the group. Lisa, who alternates between speaking Thai and Korean in Light Up the Sky, was born Pranpriya Manoban in the Buriram Province of Thailand before moving to Bangkok when she was three. In the documentary, the 23-year-old star recalls that she was always dancing and singing as a child, so her mom signed her up for lessons in kindergarten. The gifted dancer then started participating in competitions at a young age, leading her to eventually audition for YG in 2010. Out of 4,000 applicants there, she was the only person to make it.
"After the audition ended, I waited for the call. I was waiting and waiting. I waited for two months! And then they called me," Lisa says. "I was a mama's girl. So when I had to go to Korea without mom, I felt that I had to take care of myself now. I was 14, such a kid. I didn't speak any Korean. I only knew how to say 'hello,' so it really was a new start. Fortunately, there was Jennie. She was the only one who could speak English along the trainees. I spoke English with her and if something were to happen, I would talk to her."
Lisa officially joined YG as a trainee in 2011 and trained for five years. During that time, Lisa designed the choreography for every dance during practices. "At the end of every month, our boss and all the producers would come, and we'd perform a solo song, a group song, and a group choreography," says Rosé.
"For that, we'd have to plan everything ourselves, but we each had a role," Lisa adds. "If someone was in charge of vocals, we'd give them that role, but I always took on the role of the dancer. So I'd always design the choreography. Every month! Literally every month for five years."
Currently, Lisa is the main rapper and also the lead dancer of BLACKPINK. She was the first non-ethnically Korean to debut under YG. Like the rest of her fellow BLACKPINK members, Lisa has landed many television appearances on Korean variety shows and endorsement deals from brands. She served as Moonshot's brand ambassador in 2018; in 2019, she became the muse for Hedi Slimane of Celine. In 2020, Lisa was crowned the newest brand ambassador of Bulgari and participated in the Serpenti and B.zero1 campaigns.
A few more fun facts about Lisa: She loves vintage clothes and will pop into vintage shops wherever she travels. She has a lifestyle YouTube channel called Lilifilm Official. On her birthday this year, Lisa released a limited-edition photo book through YG, titled 0327, which featured self-shot photos taken with a film camera. (The book, naturally, sold out immediately.) She is super close with Rosé, as they're both the same age and have similar tastes. "Since we both came from another country, we relied on each other when we were having a hard time. We become like two peas in a pod," says Lisa. "We were like genuine twins."
Rosé adds, "We have so many days where we walk out, and we're wearing the same thing. And during our days off, we'd always be together. [Lisa] started getting an Australian accent."
RELATED STORIES
Marina Liao is the former fashion news editor at MarieClaire.com, where she covered celebrity style (from Meghan Markle to Katie Holmes), fashion trends, and shopping advice, plus conducted original interviews with industry insiders. She's also had many opportunities to write content in other areas such as beauty, food, tech, and even home. Her previous fashion stints include POPSUGAR and Cosmopolitan.