The 26 Best Love Songs of 2021 (So Far)
"I still burn for you." —Avril Lavigne and also Daphne Bridgerton.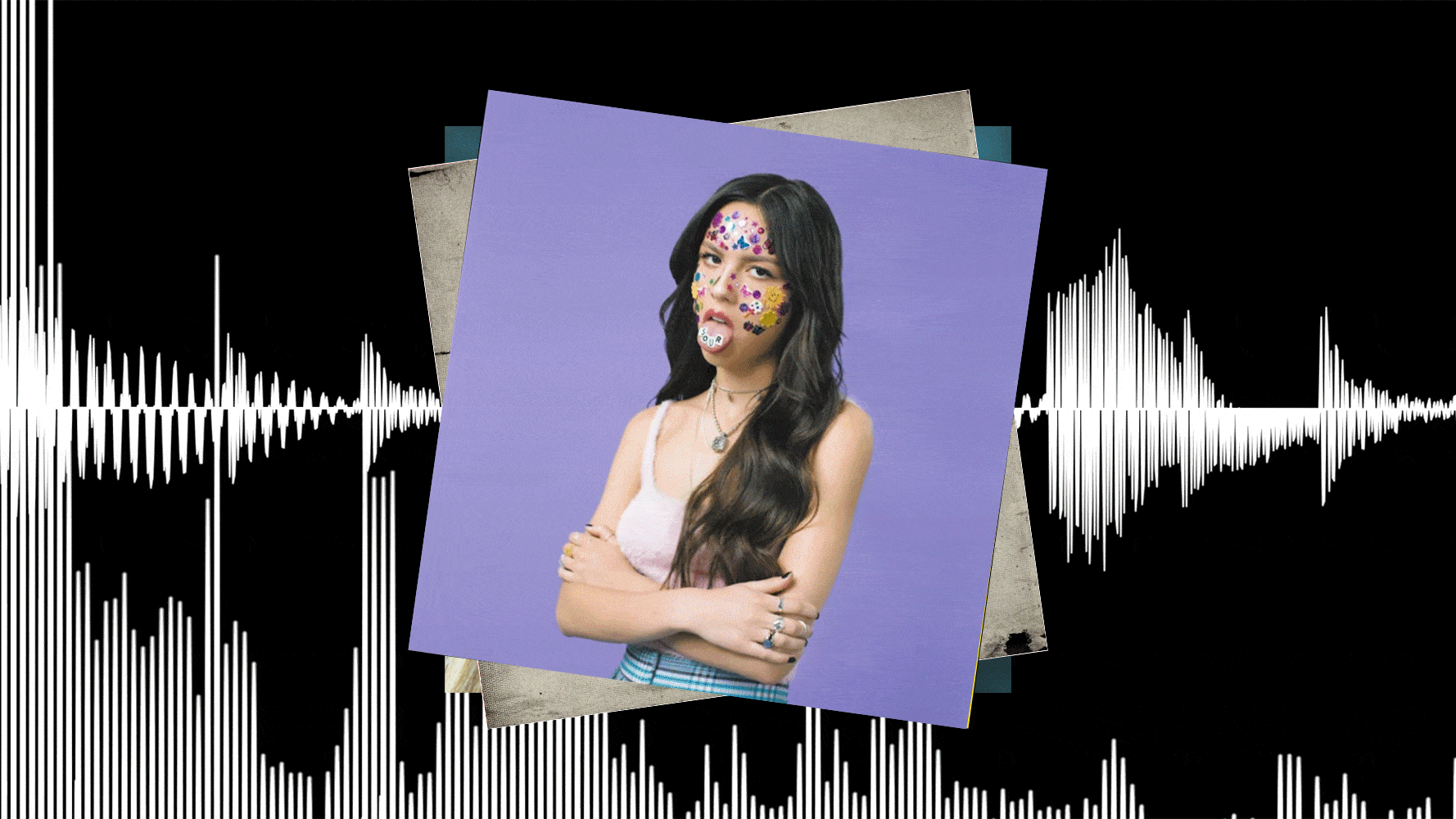 (Image credit: Design by Morgan McMullen)
Olivia Rodrigo's Sour gave us a preview of what was in store for 2021, which was all of us completely in our feels. It's fitting we would begin the year this way after living in the hellscape that was 2020, but alas we can still look forward to better days—and new music—ahead. Here, our running list of the best new love songs of 2021, from Lil Yachty's "Love Music" to Kacey Musgraves's "Justified," to help fill the void of any affection you're missing IRL. Bookmark this tab for updates throughout the year.
"Easy On Me" - Adele
After five very long years, Adele dropped new music! The first single, "Easy On Me," from her upcoming album, 30, is everything we could have wanted and more. The album is about divorce, and the single is a plea for those around her to go easy on her as she navigates her new life. "Go easy on mе, baby / I was still a child / Didn't get the chance to feel thе world around me / Had no time to choose what I chose to do / So go easy on me."
---
"Ya'aburnee" - Halsey
Like much of Halsey's music, "Ya'aburnee" hits different. The word, which means "you bury me" in Arabic, represents the hope that a loved one will die before them so they don't have to live without them. Halsey conveys this beautifully in their lyrics. "Letting all my insecurity / Devour me with certainty / That love is just a currency / So take my pockets, take me home / Take my life, and take my soul / Wrap me in a wedding ring / You know I swear I'd give you anything."
---
"Let Somebody Go" - Coldplay x Selena Gomez
Coldplay and Selena Gomez teamed up to release "Let Somebody Go" about—you guessed it—letting somebody go that lives on Coldplay's latest album, Music of the Spheres. The lyrics are just as lovely as Gomez and Chris Martin's vocals, which you can listen to above or watch their performance on James Corden's The Late Late Show here.
---
"MONTERO (Call Me By Your Name) - Lil Nas X
While more about lust than love, "MONTERO (Call Me By Your Name)" is a certified bop, especially if you're listening to it while you're enjoying being single. As for the name of the song itself, it's a nod to the 2017 film, Call Me By Your Name. "That was one of the first gay films that I had watched, and I thought the theme was so dope of calling somebody by your own name," Lil Nas X told Billboard. "The way everything is shot, the way the dialogue goes on, the way the background sounds are used, everything about it is so artsy."
---
"Love Music" - Lil Yachty
When you think of Lil Yachty's music, "love songs" don't exactly come to mind. Yet the 24-year-old rapper continues to surprise us with the versatility of his sound in his latest, "Love Music"—an upbeat single reminiscing on the sweet moments of a previous relationship. "All I, all I ever heard was good things / Good things about you and your ways / All I ever do is think of you / Think of you and me holding hands."
---
"IMY2" - Drake ft. Kid Cudi
Coming in hot nine months late, Drake's Certified Lover Boy is complete with a feature from Kid Cudi. It includes Cudi's signature themes of life and love and, of course, an excellent Instagram caption: "You told me I was a phase / Okay, fine, I miss you too."

---
"Shouldn't Matter but It Does" - John Mayer
John Mayer's album, Sob Rock, is just that as he taps into memories of lost loves and what could have been all of these years later. "I shouldn't be angry / I shouldn't hold on / I shouldn't leave messages in every little song / It could have been always. / It could have been me / We could have been busy naming baby number three."
---
"Justified" - Kacey Musgraves
Kacey Musgraves gave us a preview of the vibe we could expect on star-crossed with "Justified," which is essentially about validating her feelings while she moves on from her relationship.
---
"Bad Habits" - Ed Sheeran
Not me crying dancing in the club my room to Ed Sheeran's "Bad Habits!" The single is part of his upcoming fifth studio album, = (pronounced "equals"), set for release on October 29.
---
"good 4 u" - Olivia Rodrigo
Raise your hand if you've replayed this song 100 times LIKE A DAMN SOCIOPATH!! Sure, this one is all over Tik Tok, but you're hearing it everywhere and anywhere for two reasons: 1) Olivia Rodrigo and Daniel Nigro are master lyricists and 2) It's just that good.
---
"Mr. Perfectly Fine" - Taylor Swift
It's the summer of broken hearts! The time has come to release all of our teenage angst in the club—first to "good 4 u" then to Taylor Swift's "Mr. Perfectly Fine" from Fearless (Taylor's Version).
---
"Kiss Me More" - Doja Cat ft. SZA
Doja Cat's album, Planet Her, includes this bop "Kiss Me More" about the unpredictability and excitement (read: lots of making out!) of a new romantic interest, featuring the one and only SZA.
---
"Leave the Door Open" - Silk Sonic
Bruno Mars and Anderson .Paak's Grammys performance of "Leave the Door Open" was nothing short of a spiritual experience, and the song remains an internet fave.
---
"Freak in You" - PARTYNEXTDOOR
When PARTYNEXTDOOR dropped COLOURS, an eight-song package of his two EPs "Colours" (2014) and "Colours 2" (2017) in January, we were reminded of the sultry goodness that is "Freak in You." So, yes, it makes this 2021 list.
---
"Beautiful Mistakes" - Maroon 5 & Megan Thee Stallion
It's 2021, and we have the Maroon 5 + Megan Thee Stallion collab we didn't know we needed in "Beautiful Mistakes," a love song about regrets and letting go.
---
"Death Do Us Part" - Nick Jonas
Nick Jonas's Spaceman is a departure from the bops we're used to, but nonetheless includes some love songs, like "Death Do Us Part," that will get you in your capital-F Feels. "You could put me in a coffin / I'm always gonna find your love / You know there ain't no stoppin' / Even when I'm high above."
---
"CINDERELLA, Pt. 1" - CHIKA
It's difficult to choose between "CINDERELLA, Pt. 1" (CHIKA's signature bars are all over this) and "CINDERELLA, Pt. 2" (a slower continuation of pt. 1) on CHIKA's EP, "ONCE UPON A TIME," but maybe that's the point.
---
"Feels" - WATTS ft. Khalid
Khalid joined WATTS for a new version of the rising singer-songwriter's 2018 single, "Feels," creating a peaceful, calm vibe only Khalid could successfully achieve with otherwise angsty lyrics about fighting feelings.
---
"On It" - Jazmine Sullivan ft. Ari Lennox
Jazmine Sullivan and Ari Lennox absolutely did that in "On It." Between this and "Girl Like Me," it will be hard not to find a song that gets you in the mood on Sullivan's new album, Heaux Tales.
---
"Anyone" - Justin Bieber
A change of pace from his recent drop, "Lonely," "Anyone" is Justin Bieber's heartfelt note to his wife, Hailey Bieber, which simultaneously claims his love for her and his fear of losing her. "Forever's not enough time to / Love you the way that I want / 'Cause every morning I find you / I fear the day that I don't."
---
"Messed Up" - Asiahn
Singer-songwriter Asiahn dropped "The Interlude," a.k.a. the five-track EP we do not deserve. "All the songs on The Interlude started from organic, 'bomb jam sessions,' she says. To which we say, hell yes.
---
"Right Where You Left Me" - Taylor Swift
While Taylor Swift released evermore in 2020, she released the deluxe album in 2021 with two additional singles: "Right Where You Left Me" and "It's Time to Go." As Swift notes, "Right Where You Left Me" is "a song about a girl who stayed forever in the exact spot where her heart was broken, completely frozen in time." It feels like we're all frozen in time these days, which makes this one pretty relatable.
"She Said" - dvsn
"And I know you hate the person I've become / But I'd give it all / I'd give it all, I'd give it all for you." On January 15, dvsn dropped Amusing Her Feelings, the four-song continuation of the R&B duo's 2020 album, A Muse in Her Feelings. Between "She Said" and the mashup of Kings of Leon's "Use Somebody" and "Sex on Fire," dvsn always promises to put us in our feels.
"De Una Vez" - Selena Gomez
Selena Gomez has officially entered the Latin music scene. "This is the beginning of something I've wanted to explore for so long," she announced on Instagram the night of the release. The song is about healing after heartache, and ultimately an ode to her heritage. You can read the Spanish to English translation of the lyrics here.
"When You're Home" - Tyler Shaw
Canadian singer-songwriter Tyler Shaw's "When You're Home" is the type of love song we could all use these days as we redefine what it means to feel safe and secure at home.
"Flames" - Mod Sun ft. Avril Lavigne
"I still burn for you." —Avril Lavigne and also Daphne Bridgerton
RELATED STORY