The 'Bling Empire' Cast's Instagram Feeds Are Even Wilder Than the Show
Some photos are worth a thousand words, but these IG posts are worth millions.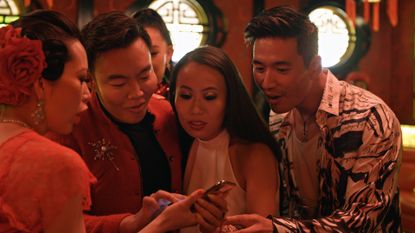 (Image credit: Netflix)
If you still have yet to dive into the mesmerizingly extravagant world of Bling Empire, consider this your sign to click play. Netflix's newest reality series follows a group of ridiculously wealthy Asian-Americans in Los Angeles, earning it plenty of comparisons to a combination of Crazy Rich Asians and the Real Housewives franchise, but with even more money, more family drama, and more over-the-top personalities.
All of that, of course, makes for an impeccable bingeing experience—and with the whole world feeling like we're still stuck in March 2020, there's no better way to spice up your life than by getting way too invested in the lives of a group of flashy multimillionaires. There's Anna Shay, daughter of billionaires, who doesn't blink an eye at commissioning a private jet just for a quick trip to Paris for high-end caviar; Christine Chiu, co-owner of a Beverly Hills plastic surgery clinic, who dresses her toddler son in head-to-toe Gucci for Thanksgiving dinner; and Kane Lim, another child of billionaires, whose designer shoe closet is bigger than some studio apartments.
Fortunately for those who can't get enough of the reality stars' lives, Bling Empire is just the beginning. There are even more jaw-dropping moments of extreme indulgence to be found on the cast's Instagram feeds, all of which can be found below.
Anna Shay
Shay isn't especially active on Instagram, so the photos she does share usually commemorate only the most special of occasions, from hangouts with close friends to diamond fitting sessions. Same.
Christine Chiu
Chiu's feed is a testament to her undying twin loves: haute couture and her young son, Baby G. You can also follow her plastic surgeon husband Gabriel here.
Kane Lim
How many designer shoes are too many designer shoes? The limit does not exist, according to Lim and his IG feed, which regularly highlights his very expensive taste in footwear, loungewear, formalwear—all the wears, really.
Kevin Kreider
Lim's best friend may be the most normal (read: least insanely rich) member of the Bling Empire cast, but his feed is no less entertaining. It doesn't hurt that he seems to be allergic to wearing shirts.
Cherie Chan
Chan may be just as down-to-earth as Kreider, but as an heiress with a net worth estimated to be somewhere in the hundreds of millions, she's definitely no everyman—and her feed encapsulates the fairytale life she's created for her two kids.
Guy Tang
Tang has made a name for himself as a hairstylist to the stars, active YouTuber, and, most recently, musician, and his eclectic Instagram account perfectly represents his extremely busy and exciting life.
Kim Lee
Another multihyphenate, Lee is a DJ and pianist who's no stranger to the world of reality TV after appearing on The Amazing Race Vietnam and Vietnam's Got Talent, and hosting MTV Asia's Yo! MTV Raps. You'll need to follow her on IG to even attempt to keep up with her whirlwind life.
Kelly Mi Li
Li's wealthy ex-husband is currently in jail on fraud charges, but, if her Instagram feed has anything to say about it, the entrepreneur, influencer, and film producer seems to be thriving on her own. (You can follow her love interest on the show, former Power Ranger Andrew Gray, here.)
Jamie Xie
Though she may be the youngest cast member on Bling Empire, Xie can certainly stir up drama with the best of them. The billionaire heiress' IG account is a perfect representation of her Gen Z cool-girl vibe—complete with several casual Vogue appearances. Relatable!

Celebrity news, beauty, fashion advice, and fascinating features, delivered straight to your inbox!
Andrea Park is a Chicago-based writer and reporter with a near-encyclopedic knowledge of the extended Kardashian-Jenner kingdom, early 2000s rom-coms and celebrity book club selections. She graduated from the Columbia School of Journalism in 2017 and has also written for W, Brides, Glamour, Women's Health, People and more.