'Manifest' Season 4: Everything We Know
The once-canceled NBC show has returned for a final chapter (or two) on Netflix.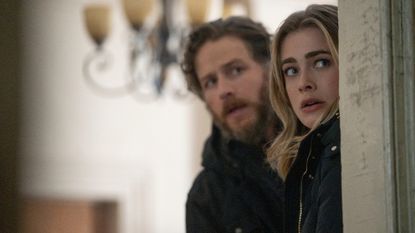 (Image credit: Netflix)
It's official: On November 4, 2022, Manifest returned to Netflix for the first installment of its final season. The announcement that the show had been renewed for a fourth season was made at 8.28 a.m. on August 28, 2021—a nod to the pivotal Flight 828 in the series, a plane that returns with its passengers five years after taking off from Jamaica. One year later, on August 28, 2022, the first trailer for season four—which will drop in two batches, with ten episodes apiece—dropped. Almost all of the cast, including leads Josh Dallas and Melissa Roxburgh, returned for the show's final chapter (well, two).
The August 2021 renewal of Manifest marked a stunning about-face by Netflix, which initially declined to renew the series, as did the show's creator NBC—but both were forced to reconsider after the summer 2021 addition of Manifest seasons one and two to Netflix shattered U.S. streaming records. Later, season 3 of Manifest was also added to the platform.
"There is something very meta about the show's death and rebirth, given that that's the story of the series itself," creator Jeff Rake said in an interview with Entertainment Weekly. He's referring to the show's titular "manifest" of characters, all of whom were presumed dead for years before their plane touched down in New York City. The show follows a brother and sister duo—Dallas and Roxburgh—as they seek to pick up the pieces and find out exactly what happened to them.
Per Hollywood Reporter, 25 million Netflix accounts in the U.S. and Canada watched the show in its first month on Netflix. Even after Manifest dropped out of the No.1 spot, it continued to dominate Netflix's charts: In August of 2021, Nielson confirmed that Manifest had broken its streaming-ratings records with more than a billion views a week for six straight weeks. And by September, Manifest was the third show in Netflix history to sit in its Top 10 for 100 days—ever.
Speaking to Deadline, Netflix's Head of Drama Jinny Howe admitted, "It might be a show that you wouldn't have normally expected from Netflix drama, but for us, it just feels like a best-in-class, hybrid, character driven-procedural show."
Here are the first posters for season 4:
'Manifest' Season 4 Release Date
The first ten episodes of Season 4 of Manifest were released on November 4, 2022. Rake told Entertainment Weekly that he considers the two 10-episode drops different seasons. "I just decided, for my purposes, that I was going to treat the story as if we had been gifted two 10-episode seasons," he said.
It's not yet clear when when Manifest season 4, part 2 will return.
What Could Happen in 'Manifest' Season 4?
Here's Netflix's official description of the season: "Two years after the brutal murder of Grace turned their lives upside down, the Stone family is in shambles as a devastated Ben continues to mourn his wife and search for his kidnapped daughter, Eden. Consumed by his grief, Ben has stepped down from his role as co-captain of the lifeboat, leaving Michaela to captain it alone, a near impossible feat with the passengers' every move now being monitored by a government registry. As the Death Date draws closer and the passengers grow desperate for a path to survival, a mysterious passenger arrives with a package for Cal that changes everything they know about Flight 828 and will prove to be the key to unlocking the secret of the Callings in this compelling, mind-bending, and deeply emotional journey."
About that time jump: Rake revealed to Tudum that there will be flashbacks aplenty. "Two years is a lot of time to skip over in a serialized television show. And, of course, we don't want the audience to miss out on anything, so we utilize a flashback storytelling device—not only in Episode 1, but in all 10."
He also noted: "It's going to become increasingly clear to the passengers that the callings are somehow divinely sourced and this is not just about them...his is either a gift or a burden—an opportunity to wake up the world and realize that it is all connected. And that we all need to be better if we want to keep living in this world."
Josh Dallas, who plays Ben, shared some tidbits in an interview with Netflix Life. "Sometimes I think—and of course, I haven't gotten to the end—that [Ben] could be the agent of the apocalypse, the downfall of all of this because of the way he is so tenacious...The first part of the season is not going to be easy." He also wrote about Ben on Twitter: "To be honest… he's not in a great place," and tweeted an on-set photo of a funeral, with the caption: "Brace yourselves."
When TV Line's Matt Webb Mitovich asked the cast who was most surprised by where their character ended up in the series finale, he reports, "J.R. Ramirez's arm shot up fastest and highest." J.R. Ramirez plays plays Jared. "Long's was not far behind." Long plays Zeke.
The Cast of 'Manifest' Season 4
The entire cast of Manifest were no longer contractually bound to the show after June 2021, according to Deadline's Nellie Andreeva. This led to some "ugly, ugly conversations that happened behind closed doors," Rake said in an interview with Entertainment Weekly. "There were hard-fought negotiations and that's always tough. It's business. There were a lot of tough ones where people play chicken. Who's going to cave first? So, of course, that would come up: 'Do you absolutely need that person?' 'Could the story go on without that character?' 'Could you recast that role?' Truthfully, the answer was no."
Almost all of the cast signed on in September following the renewal—except for, of course, Athena Karkanis, who played Grace and whose character was murdered at the end of season 3, and Jack Messina, who played young Cal and was replaced by older Cal. (Though it's worth noting that Messina has popped up in behind-the-scenes filming shots.) Also promoted to series regular was Daryl Edwards, who plays Vance; Garrett Wareing, who plays TJ, is also returning.
The remaining cast received "sizable pay increases" for the fourth season, according to Deadline's Andreeva. The budget for each episode of the final season has also been considerably increased, according to What's On Netflix—from $1 million to $4 or $5 million.
According to What's on Netflix, we'll get a few new characters in the fourth season—but minor ones. We'll meet Kyle Boyd, who was a passenger on Flight 828 alongside the key characters we know and love; Henry Kim, another Flight 828 passenger who was detailed in Singapore after the plane landed; and two more characters named Tela and June, whose backstories we know less about. We'll also meet a couple of smaller characters, reportedly named Captain Kevin Fahey and Detective Price. Season 4 will also reportedly feature a duo called "the Eden twins," according to a tweet shared by the Renew Manifest account, though little is known about their roles.
And Ginnifer Goodwin—the Once Upon a Time star who's married to Josh Dallas in real life—might make an appearance, too. Goodwin posted a cryptic selfie from a "plane" labeled Montego Airways (as in, the plane), with the caption: "@joshdallas is taking me on a trip somewhen."
Trailer for 'Manifest' Season 4
On August 28, 2022—a major day for Manifest fans—the first trailer for season 4 was released:
And on September 24, Netflix released a more extensive trailer.
"828 wasn't an accident," Michaela tells Ben in the trailer. "We're supposed to save the passengers together." She tells the flight's pilot: "You didn't fly into the storm. It flew into us...It chose us." Ben is also heard talking about "a direct link to divine consciousness."
Before the full-length trailer, Netflix had quietly released a sneak peek of season 4:
On November 1, Netflix debuted the first seven minutes of the season (you can watch it exclusively on Tudum).
Netflix also released a handful of first-look photos:
'Manifest' Season 4 Spoilers
Within days of Manifest season 4 hitting Netflix, it rose to become one of the streamer's most-watched series. The first installment of season four was a blockbuster chapter for the series, featuring the death of a beloved character (no spoilers!), the unveiling of the Omega Sapphire, and more jaw-dropping Callings than ever before. Not to mention, the ending of Season 4, Part 1 set up a huge final season for a show that had already extended itself further in Season 4, Part 1 than ever before, with two characters having absorbed godlike powers and an enormous showdown on the horizon.
Marie Claire email subscribers get intel on fashion and beauty trends, hot-off-the-press celebrity news, and more. Sign up here.