'Manifest' Season 4: Everything We Know
It's official: The once-canceled show is returning for a final chapter (or two).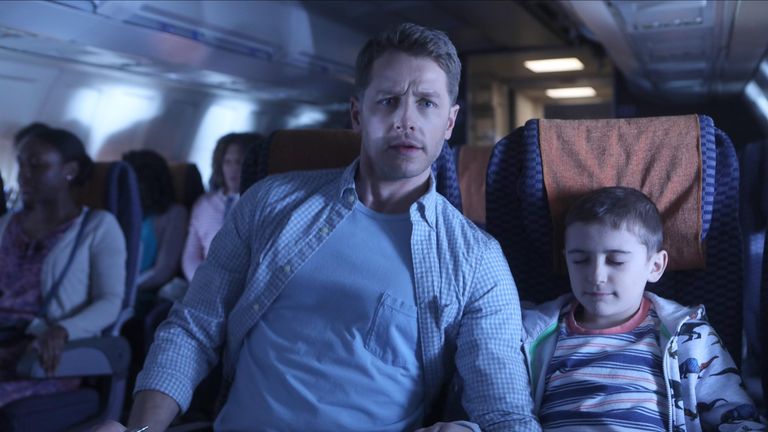 (Image credit: Alamy)
It's official: Manifest is coming back for a fourth season on Netflix. The announcement was made on 8.28 a.m. on 8/28/2021—a nod to the pivotal Flight 828 in the series, a plane that returns with its passengers five years after taking off from Jamaica. Almost all of the cast, including leads Josh Dallas and Melissa Roxburgh, will return for the show's final chapter (or two). The renewal of Manifest marked a stunning about-face by Netflix, which initially declined to renew the series, as did the show's creator NBC—but both were forced to reconsider after the addition of Manifest to Netflix shattered U.S. streaming records.
"There is something very meta about the show's death and rebirth, given that that's the story of the series itself," creator Jeff Rake said in an interview with Entertainment Weekly. He's referring to the show's titular "manifest" of characters, all of whom were presumed dead for years before their plane touched down in New York City. The show follows a brother and sister duo—Dallas and Roxburgh—as they seek to pick up the pieces and find out exactly what happened to them.
Netflix's decision to renew Manifest came two months after the streamer picked up the first and second seasons of the NBC show. Per Hollywood Reporter, 25 million accounts in the U.S. and Canada watched the show in its first month on Netflix. Even after Manifest dropped out of the No.1 spot, it continued to dominate Netflix's charts: In August, Nielson confirmed that Manifest had broken its streaming-ratings records with more than a billion views a week for six straight weeks. And by September, Manifest was the third show in Netflix history to sit in its Top 10 for one hundred days—ever.
When might Manifest season 4 come out?
Netflix Life estimates that we won't see a fourth season of Manifest until the spring of 2022, at the very earliest. But even that's an optimistic timeline: The August renewal came out of the blue, so the next chapter of Manifest needed to be developed from scratch—written, filmed, go through post-production, and so on.
By mid-November 2021, however, Manifest was officially filming in New York City. "It's only day one and you can already feel the Level of Appreciation this group has for the Magical Ride that is Manifest!" wrote J.R. Raminez, who plays Jared Vazquez, on Instagram. Jeff Rake also confirmed on November 18 that the new season had begun filming, and wrote on Twitter on Christmas Day: "Merry Christmas, Manifesters! Your gift is in the works!" alongside a photo of the set.
Ginnifer Goodwin, the Once Upon a Time star who also happens to be star Josh Dallas' wife, let slip that filming is expected to wrap up at the end of this year. "I'm ready for my husband to come home from NYC. He'll wrap the series in late 2022, and we are craving a vacation," she said. Note that Goodwin said "series" rather than "season"—suggesting that all of the "parts" of the fourth series will film throughout 2022.
TV Line shared an image of the first script of the fourth season:
But remember when Rake mentioned a "batch" of new episodes, rather than a full season? There's a reason for his language there: The 20 episodes the show has been renewed for likely won't all air in one go. So if, say, Manifest releases eight episodes in its next "batch" and 12 in the following "batch"—likely to be framed as Season Four, Part One and Season Four, Part Two, Lucifer-style—that first "batch," or "part one," could come out as soon as mid-2022.
What will happen in Manifest season 4?
Um, a lot. Creator Rake will have to squeeze his three planned seasons' worth of plot into those 20 episodes to reach a fitting conclusion. In his EW interview, he said: "The endgame won't change at all...I am absolutely confident that 20 episodes gives me enough time to tell the entirety of the story as I always intended to."
Josh Dallas, who plays Ben, shared on Twitter: "Things are gonna be a little….different," alongside a photo of his new beard. Which makes sense: His character has just undergone a...huge loss, to say the least. (No! Spoilers!) A fan wrote: "Love the beard, but my heart is breaking for Ben," and Dallas wrote back: "To be honest… he's not in a great place."
Netflix Life speculates that there might be be a time jump in season four so that the characters' "death date"—five and a half years after they boarded their flight—lines up with real time. That theory makes sense, given how we left things with a certain pivotal male character in season three.
Who's in the cast for Manifest season 4?
According to Deadline's Andreeva, the cast were no longer contractually bound to the show after June 2021. Thankfully, most of the cast signed on in September following the renewal—except for the character who died at the end of season three, and the character who...unexpectedly aged (no spoilers!), will return. Promoted to series regular is Daryl Edwards, who plays Vance.
Meanwhile, said character who unexpectedly aged is being replaced by the older actor who was featured at the end of season three. It's a shame, because the two actors who aren't returning were pivotal to the first three seasons of Manifest and its success thus far—and according to Andreeva, the remaining cast is set to receive "sizable pay increases" for the fourth season.
According to What's on Netflix, we'll get a few new characters in the fourth season—but minor ones. We'll meet Kyle Boyd, who was a passenger on Flight 828 alongside the key characters we know and love, and two more characters named Tela and June.
What happened after Manifest was canceled?
By the time Manifest began making waves in the summer of 2021, both NBC and Netflix had declined to renew the series. But the show and its rabid fanbase kept going, racking up millions of minutes viewed on Netflix every week. "Before we even had a chance to lift a finger to figure out if we need a PR campaign to help save us, the fans rose up and created this campaign and spread the word—which was incredibly rewarding and heartening," Rake told The Hollywood Reporter.
"Do you hear me, people of Netflix or Hulu or literally any powers that be? MAKE IT HAPPEN," wrote Lauren Yapalater at BuzzFeed. "Why would Netflix pass up saving what is a show with clearly a massively engaged fanbase?" asked Forbes' Paul Tassi. More than 100,000 people signed a petition to bring Manifest back. Celebrities including Kourtney Kardashian and Demi Lovato shared that they'd become avid viewers of the show since it hit Netflix. Even Stephen King got involved, tweeting: "#SaveManifest."
But perhaps the loudest voice came from Netflix's Top 10, its list of top-streamed content, where Manifest reigned in the top spots for months even after being canceled. "What scored Manifest a critical fourth and final season were those top-secret numbers created by viewers bingeing the show's first two seasons," revealed the Hollywood Reporter.
Per Matthew Belloni's "What I'm Hearing" newsletter, Netflix decided to pursue the show aggressively and ultimately beat out NBC. Reports TV Line, using intel from Belloni: "The streaming giant thus stepped up with a 20-episode order (to be split into at least two "parts" a la Lucifer Season 5) and a beefier budget (from $4 million to $5 million per episode), as well as raises for the cast."
Rake explained to THR: "It soon became clear there was just a more compelling case to be made moving the show over to Netflix and starting and ending with the legions of new fans that had emerged in the Netflix universe."
Jenny is the Director of Content Strategy at Marie Claire. Originally from London, she moved to New York in 2012 to attend the Columbia Graduate School of Journalism and never left. Prior to Marie Claire, she spent five years at Bustle building out its news and politics coverage. She loves, in order: her dog, goldfish crackers, and arguing about why umbrellas are fundamentally useless.