'Manifest' Season 4 Part 2: Every Detail We Know
The final chapter hit Netflix on June 2, 2023.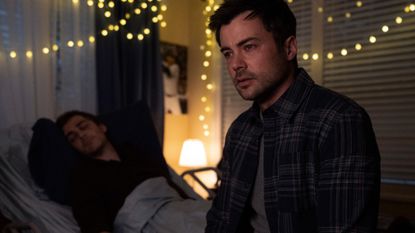 (Image credit: Netflix)
In the end, the two-year wait for Manifest season 4, part 1, was worth it. The first installment of the series' final season—and its first season exclusive to Netflix—gave fans everything they were looking for: intrigue, sentimentality, and answers about Flight 828 (well, some answers). But with Netflix and creator Jeff Rake leaving viewers on one hell of a cliffhanger with the ending of part 1—much like Rake did with Manifest season 3—fans who cycled quickly through the first installment quickly demanded to know: When would Manifest season 4, part 2 be released—and what could they expect about the show's final-ever episodes?
On April 7, 2023, Netflix finally set a release date for Manifest's last chapter: June 2, 2023. Both April 7 and June 2 are fateful days in the series' lore: April 7 is the day Flight 828 left Jamaica, and June 2 is, of course, the "Death Date." (Technically, the "Death Date" is not June 2, 2023—it's June 2, 2024, as each character has mentioned approximately one million times—but June 2024 is more than 18 months away from the release of part one, so Netflix likely decided that was too long to wait.)
'Manifest' Season 4 Part 2 Teaser Trailer
Along with the release date announcement, Netflix released a teaser for the final episodes. "The world's ending, and we know when," Ben is seen saying to a crowd. Meanwhile, Michaela says, "Our story's ending in a way we may not even realize."
On May 18, it dropped the full-length trailer for the last part, featuring none other than Zeke:
The second part of season 4—which will end the series, meaning there will never be a Manifest season 5—is ten episodes long, the same as Part 1.
Plot of 'Manifest' Season 4, Part 2
Spoilers for Manifest season 4, part 1. The season ended with the death of Zeke, Michaela's beloved husband, who had been spiraling as things got darker and he continued to feel, well, everything. Zeke sacrificed himself to save Cal—whose cancer had returned and had rapidly gotten more ill in the latter half of the season—because Cal is the only person who can save everyone from the "Death Date." Both Cal and Angelina have channeled the Omega Sapphire (or, in Angelina's case, literally absorbed it into her skin), and the season ends with the Stone family aware that the "Death Day" is not just their date of death, but the death of everyone in the world—so, you know, there's some stuff at stake here.
Here's Netflix's summary of part 2: "In the aftermath of Angelina unleashing a devastating volcanic fissure, the passengers face severe scrutiny in a world fueled by 828er hate, no longer free to solve their own Callings without constant supervision by the unscrupulous 828 Registry. A mysterious accident delivers ominous warnings on a biblical scale that will further jeopardize the livelihood of all the passengers.
"As Michaela grieves the loss of her beloved husband Zeke, she must team up with her old flame Jared to find new methods to investigate Callings. Meanwhile, Ben and Saanvi attempt to collaborate with the Registry authorities, which only leads to dire results for the passengers. Miraculously, a mythological event reactivates Cal's sapphire-laden dragon scar, offering a glimmer of hope for the 828ers to survive the rapidly approaching Death Date. But Angelina's nefarious sapphire powers continue to wreak havoc, leading to a struggle between good and evil down to their very last day in this most terrifying, suspenseful and joyous chapter of the Manifest story."
We know that we'll be seeing more of one character in particular: Eagan, who you'll remember as the guy who kidnapped Vance's son. When asked by Tudum who would surprise fans the most in the final part, Rake named Eagan, saying, "The guy has layers after all."
Episodes Titles
Per Collider, the episode titles for Part 2 are:
Episode 411: "Final Descent"
Episode 412: "Bug Out"
Episode 413: "Ghost Plane"
Episode 414: "Fata Morgana"
Episode 415: "Throttle"
Episode 416: "Furball"
Episode 417: "Threshold"
Episode 418: "Lift/Drag"
Episode 419: "Formation"
Episode 420: "Final Boarding"
What the Cast and Crew Have Said
In an interview with TV Guide, creator Jeff Rake teased of the final part: "It's up to Ben, Mick, and perhaps mostly Cal to defeat Angelina as we make our way into the final block. The problem is that Angelina becomes increasingly powerful." He also suggested that the final part will be the "most urgent" of all, saying to Entertainment Weekly: "Even the most rational among us would start to lose it as you get closer and closer to a potential doomsday...That makes things quite more urgent, makes people a little bit more out of their mind." And to Tudum, he said: "It's even worse than you [know], but I'm not going to give away how or why...The first calling in the final batch changes everything."
He also teased the series finale, noting to EW: "That finale that's coming up, [episode] 420, that's hands down the most ambitious episode we have ever shot ... The series is going to end as it began. That is to say with Ben and Michaela leading the passengers, hopefully, to their survival."
Melissa Roxburgh, who plays Michaela, told TV Line, "I feel good about [the ending]. I think everything was supposed to end the way it was. Even if people are upset with certain things, it's like, that's life. Things don't always work out the way we thought they'd work out, but sometimes they're better. I think they really did a good job of showing that. Some of it's not what we expected, but some of it's better."
Daryl Edwards, who plays Vance, teased to Netflix Life: "I was completely surprised. We did a table read and our director and showrunner pointed out something that I had missed and I was more shocked. I think you all are going to be rocked by the ending."
Though season 4 will be the final season of the series, Josh Dallas told Hollywood Reporter: "I think there's major sequel or spinoff potential here. Maybe we go into the future and see Eden [his character's daughter] at 21 or so as she's navigating the world, or we follow the younger passengers. Maybe we go back to 2013 and deep dive into the investigation with [NSA director] Vance."
What the Critics Have Said
No spoilers here, but critical reception to Manifest's final chapter has been mixed, with some reviewers praising the rapid pace of the episodes and others arguing that the speed and storylines feel unreasonable. "As someone who has both loved and been completely obsessed with this story since the pilot episode of Manifest premiered on NBC in 2018, I am wholly pleased with the story's conclusion," wrote Collider's Jay Snow. Paste Magazine's Kathryn Porter said in her review, "The speed at which some major plot points happen is ridiculous to the point of disbelief, and it feels like there are 3 short seasons all shoved into this final run," adding of the finale: "It's predictable, and the parts of it that aren't predictable feel like they are supposed to be meaningful and ultimately fail to be."
Decider's Nicole Gallucci, meanwhile, noted, "In true Manifest fashion, a number of final-hour storylines are so outrageous they can only be described as laughable. But through every new twist and ridiculous turn the series stays true to its original vision and compelling enough to keep you craving a conclusion."
The Ending of 'Manifest' Season 4, Episode 2
Spoilers ahead for the ending of Manifest. Either you saw it coming, or you didn't—the ending of Manifest took us all the way back to 2013, when Flight 828 was supposed to land (and, of course, didn't, instead heading into a five-year alternate universe). After a turbulent journey (pun intended) back on Flight 828, during which Ben and Michaela shout down a Death Eater-type figure, several people turn to ash, and the plane flies directly into The Glow, the group lands—in Jamaica, Queens, 11 years earlier, just as Flight 828 initially intended. Grace and Zeke are alive, Ben and Mick's parents are in good health, everyone who died in the alternate universe is brought back to life (except for the people who turned to ash), Cal and Olive remain children, and everyone lives happily ever after.
"I've always had a broad idea about what the ending was going to be, but it wasn't until I was riffing long and hard with my excellent staff of writers that it all came together," Rake told Netflix. There have been a bunch of fans who have identified some of the key pieces of the ending and I always try to stay away from even liking those tweets because I'm so nervous about people landing it." He added: ""We bend over backwards to try to make clear that everything you've watched happened. This is real. We're not trying to mess with people's minds. It's all real. This all happened."