Who Is Manny Jacinto, a.k.a. Yao in 'Nine Perfect Strangers'?
The Good Place fans will recognize the actor in the mysterious new show.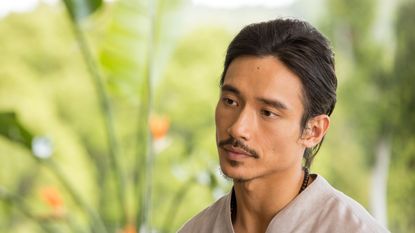 (Image credit: Hulu/Vince Valitutti)
Is Tranquillum House the good place or the bad place? Just ask Manny Jacinto, one of the stars of the new Hulu limited series Nine Perfect Strangers, who has left behind his Jacksonville-obsessed character, Jason Mendoza from The Good Place, for a mysterious wellness retreat run by Nicole Kidman's Masha Dmitrichenko. While his Nine Perfect Strangers character, Yao, couldn't be more different than the lovable doofus he played on the NBC sitcom one thing hasn't changed: Jacinto is still a scene-stealer and poised to be one of Hollywood's biggest talents.
Here's everything we know about the actor.
Who does Manny Jacinto play in Nine Perfect Strangers?
Jacinto stars as Yao, one of the employees at Tranquillum House. He's incredibly dedicated to the wellness retreat and particularly to Masha herself, showing unwavering loyalty to her questionable decisions. In the show's first episode, we learn Yao was previously a paramedic who treated Masha following her shooting and Masha credits Yao for bringing her back to life. Yao also dates his fellow Tranquillum attendant, Delilah (Tiffany Boone), though her increasing skepticism of Masha's techniques creates distance between the couple.
Speaking with Men's Health, he explained the tricky spot his character is in and why it felt relatable. "It's like what we all kind of deal with sometimes, with career [and] relationships," he said. "Where do we draw the line? What do we pursue? What do we push for more? I think it can be a very common theme amongst a lot of people."
Where is Manny Jacinto from?
The 34-year-old was born in the Philippines and raised in Canada. Fun facts: He studied engineering in college and dabbled in hip-hop dance before becoming an actor.
What else has Manny Jacinto starred in?

Jacinto had several small TV parts starting in 2012—including appearances in Once Upon a Time, Bates Motel, and The Good Doctor—before his breakthrough role as in The Good Place, which ran from 2016 to 2020. You can also catch him in the limited horror series Brand New Cherry Flavor, which dropped on Netflix on August 13. In 2018, news broke that Jacinto was tapped to play the pilot Fritz in the upcoming Top Gun sequel, Top Gun: Maverick.
Who is Manny Jacinto engaged to?
The actor revealed in November 2019 that he had proposed to fellow Canadian actor and longtime girlfriend, Dianne Doan. He explained during a panel that it was actually his Good Place character that inspired his elaborate proposal that included taking Doan to five (!) locations that were meaningful to their relationship before getting down on one knee.
"I was toying when to pop the question for a long time," he said at a 2019 Vulture event, per People. "I looked at the Janet/Jason relationship, and there's a sentence that Jason says to Chidi about relationships and it hit me pretty hard. I thought it was a sign that I needed to do it, and a week later I popped the question."
He continued: "I took her to places that really meant a lot to us: where I first met her, where I first saw her, where we had our first date, and where we had our first dance class. I had these canvas things written down with a message saying why the places were important to us. At every location I had her close her eyes, I'd hold up the canvas, and she would open her eyes...I took her through five different places, and at the last place I had our families waiting and I proposed."
The two also share a sweet puppy named Henrietta.

RELATED STORIES
Celebrity news, beauty, fashion advice, and fascinating features, delivered straight to your inbox!