Would You Reveal Your Baby's Sex in a Cake?
A trendy new treat at baby showers is sparking an interesting debate.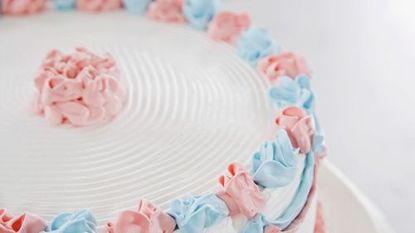 (Image credit: Jupiterimages/FoodPix)
Marie Claire Newsletter
Celebrity news, beauty, fashion advice, and fascinating features, delivered straight to your inbox!
Thank you for signing up to Marie Claire. You will receive a verification email shortly.
There was a problem. Please refresh the page and try again.
Any excuse for a party, right? But does revealing the sex of your baby count? Apparently so. It's the new trend in babyland, and it works like this:
The parents-to-be ask their doctor to write the baby's gender on a slip of paper and seal it in an envelope. Then they drop off the envelope at a bakery and ask the baker to whip up a pink or blue cake, depending on the gender. The icing is white, so no one knows the secret — not even the parents — until the cake is cut.
The ritual appears to have taken off after Josh Duggar — one of the infamous kids on the show 19 Kids and Counting — cut a cake on the Today show with his pregnant wife, revealing pink innards. Aww.
Of course, the Big Reveal doesn't have to come in the form of cake. Some couples are popping pink or blue gumballs into cupcakes. Others are upping the ante, asking guests to wear a pink or blue shirt. Chelsea Groves of College Station, Texas, had a friend make blue "cakeballs" — little round cakes that look like doughnut holes — for her party. In Atlanta, Sheryl Bluestein went the layer-cake route, with a layer of pink frosting inside. "My mother-in-law kept a piece — I think she's trying to preserve it," she says.
But the parties are causing quite a brouhaha on the baby blogs. At issue: Are the hosts being obnoxious, presuming everyone cares as much about their baby's gender as they do? Or just having a little fun, sharing their news with pals over a slice of cake? "The debate definitely gets heated," says Rebecca Gruber, an editor at LilSugar.com. Actually, we have a question of our own: If you go to the gender party, can you skip the shower?
What do you think of the baby gender cake trend?

online surveys
Celebrity news, beauty, fashion advice, and fascinating features, delivered straight to your inbox!
Abigail Pesta is an award-winning investigative journalist who writes for major publications around the world. She is the author of The Girls: An All-American Town, a Predatory Doctor, and the Untold Story of the Gymnasts Who Brought Him Down.