So This Happened Last Night: 33 Gay and Straight Couples Marry at the Grammys (Swoon!)
Can you say...BEST WEDDING EVER?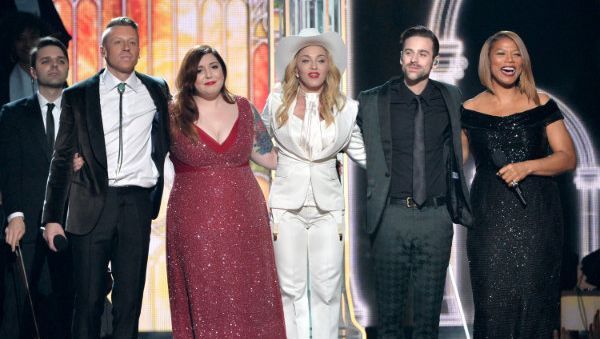 (Image credit: Courtesy of Getty)
Not one for weddings, I have always thought the best wedding would be 15 minutes at city hall in jean cut-offs and a crop top (dressing up is a hassle, feel me?), but then again, I've never been married at the Grammys with an intro from Macklemore, an officiation by Queen Latifah, and serenaded by the other queen — MADONNA! That's just what happened last night — 33 gay and straight couples exchanged vows right there in the Grammy isles, according to the Daily Mail UK (opens in new tab). In support of same sex marriage, Macklemore performed his Grammy-nominated song "Same Love," while Queen Latifah officiated the wedding (she had to obtain a license (opens in new tab)!), and Madonna closed the ceremony with a rendition of "Open Your Heart."
According to (opens in new tab)The New York Times (opens in new tab), Ken Ehrlich, the longtime producer of the Grammys, thought that having the couples onstage "could be viewed as more exploitive," so he placed them in the isles, noting that "I don't want them to feel as though they'e on parade."
We're happy that same-sex marriage is being recognized alongside straight marriages on the Grammy platform, especially to the tune of a song that can be enjoyed by everyone.
Related Stories:

We Can't Wait for the Oscars 2014! (opens in new tab)


Female Hosts DOMINATE Award Show Season (opens in new tab)


The Best and Worst Red Carpet Moments of 2013 (opens in new tab)