Girls Season 3, Episode 7 Recap: Girls, But Not Girlfriends
On the collective female friendship in Girls.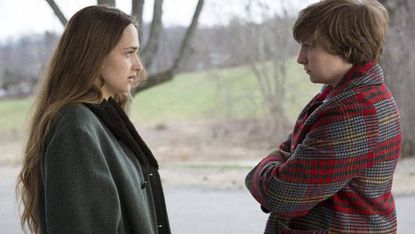 (Image credit: HBO/Jessica Miglio)
Marie Claire Newsletter
Celebrity news, beauty, fashion advice, and fascinating features, delivered straight to your inbox!
Thank you for signing up to Marie Claire. You will receive a verification email shortly.
There was a problem. Please refresh the page and try again.
SPOILER ALERT! Do not read on if you have not yet seen season 3, episode 7 of Girls titled "Beach House."
"The Reckoning" would have been just as fitting for this episode as "Beach House." The titular beach house, set deliberately in the non-Hamptons of Long Island's Northfork, is a loaner from one of Marnie's family friends, where Marnie has planned a seaside weekend for the girls to regroup and repair their shared friendship. But the Girlsgirls are not a clique.
Probably because of their self-centered attitudes, they have always seemed like four separate people brought together by manufactured plots to speak hilarious, insightful dialogue for our entertainment. We aren't here for their mutual amicability, or saccharine sentimentality. Unlike, say, the women of Sex and the City, the girls (women?) of Girls don't get together for celebratory cosmos, or call one another for a good cry when shit goes south with Dude #478.
Shosh and Jessa are cousins, a forced relationship that only superficially connects Shosh to the four-person circle, just because Jessa is close with Hannah. Shosh is often portrayed as an interloper. Hannah and Jessa are experiencing midtwenties friend-drift, which, by the time you're 30 or so, means you have phone conversations a few times a year and have come to terms with growing apart. Jessa and Marnie historically dislike each other. And Marnie has screwed both Shosh's and Hannah's ex-boyfriends.
Just as we think they are ridiculous, none of them seem to like each other, really. So the whole "let's all get back to happy old us" when "happy old us" never existed is a bit of a head-scratcher.
So what are they?
Let's start with what they are not:
A clique. See: Mean Girls, Clueless.
A coterie. See: Sex and the City, Bridesmaids.
A mafia. See: Heathers, Jawbreakers, Mean Girls.
A circle. See: Friends, and, uh, Circle of Friends.
They don't have the one-on-one potential to be Romy and Michelle, or (fortunately) the teenaged mawkishness to be a sisterhood of traveling ironic culottes from Beacon's Closet.
So what's left?
How about disparate things moving through the universe with varying degrees of interconnectedness, sometimes isolated from other parts of the universe. They're a galaxy. Or rather, in a galaxy.
The problem is that Hannah acts like they are a solar system in which Hannah is the sun—the world revolves around her, after all. But the idea that Marnie would invite all of them on a mini-vacation so they can do facials and manicures goes against everything we know about each and toto of them.
Because they're all acting so despicable, they get into an epic fight and say all the mean things we have been thinking (and writing) about them for the past six episodes. When the not-so-magical beach weekend is over, it's unclear what states their never-strong bonds are in.
We should have known that this season's character grotesqueries were not a fluke—that Marnie's perky arrogance, Jessa's wan self-regard, Shosh's mania and Hannah's narcissism were loaded with intent, that there would be a payoff. Because how can four people act like such— pardon me—a**holes, without consequence? (Okay, Shosh doesn't deserve that title.) Maybe this was the bottle episode [http://www.newyorker.com/online/blogs/culture/2013/02/that-sex-scene-on-last-nights-girls.html]. Or maybe the beach house and all the girly-girling was just the situational vacuum we needed to vent, and next week, we can all get back to happy old us.
Celebrity news, beauty, fashion advice, and fascinating features, delivered straight to your inbox!