Editors handpick every product that we feature. We may earn commission from the links on this page.
53 Vintage Porn Movies That Are Totally Iconic
Don't worry—2069: A Sex Odyssey made the list.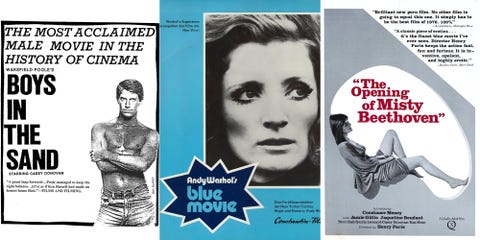 Wakefield Poole + Konstantine + Quality X
There are many categories of porn movies (choose your own adventure, everyone!), but there's just something special about vintage movies from pornography's Golden Age. Also known as "porno chic" (a.k.a best nickname ever), this period in porn history began in 1969 with the release of Andy Warhol's Blue Movie and continued through roughly 1984. By the mid-'80s, seeing porn in theaters had become less popular, thanks to the rising popularity of VHS players. At this point, the porn industry turned away from striving to be art of any kind and started its journey to its current state: short, increasingly hardcore clips on Pornhub. But, back in the Golden Age, art was most definitely the goal. These films had higher budgets, higher production values, and intricate (honestly, sometimes a bit zany) plots.
Maybe it's the hair, maybe it's the grainy film, maybe it's the good acting, or maybe it's the fact that the plots are often completely and totally deranged. Whatever the x factor (or, should we say, "xxx factor"), vintage porn is a sometimes wonderful and often weird world, and these are the wildest and most iconic movies from the genre.
This content is created and maintained by a third party, and imported onto this page to help users provide their email addresses. You may be able to find more information about this and similar content at piano.io