53 Vintage Porn Movies That Are Totally Iconic
Don't worry—2069: A Sex Odyssey made the list.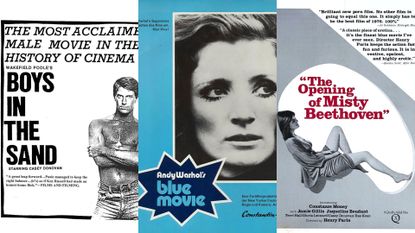 (Image credit: Wakefield Poole + Konstantine + Quality X)
There are many categories of porn movies (choose your own adventure, everyone!), but there's just something special about vintage movies from pornography's Golden Age. Also known as "porno chic" (a.k.a best nickname ever), this period in porn history began in 1969 with the release of Andy Warhol's Blue Movie and continued through roughly 1984. By the mid-'80s, seeing porn in theaters had become less popular, thanks to the rising popularity of VHS players. At this point, the porn industry turned away from striving to be art of any kind and started its journey to its current state: short, increasingly hardcore clips on Pornhub. But, back in the Golden Age, art was most definitely the goal. These films had higher budgets, higher production values, and intricate (honestly, sometimes a bit zany) plots.
Maybe it's the hair, maybe it's the grainy film, maybe it's the good acting, or maybe it's the fact that the plots are often completely and totally deranged. Whatever the x factor (or, should we say, "xxx factor"), vintage porn is a sometimes wonderful and often weird world, and these are the wildest and most iconic movies from the genre.
1. 'Score' (1974 film)
'Score' is a 1974 porn cult classic that joins the niche likes of 'Deep Throat' and 'Behind the Green Door.' Directed by Radley Metzger, it's a "groovy" mixed doubles romp that has a shabby chic element, classic to the '70s. The film was originally based on an off-Broadway stage play that ran for 23 performances at the Martinique Theatre from October 28 through November 15, 1971 and featured Sylvester Stallone in a brief role (as telephone repairman Mike).
2. 'I Am Curious (Yellow)' (1967)
This Swedish erotic film is definitely among the more niche on this list—but it's no less of a must-watch. The indie erotic film is directed by Vilgot Sjöman and stars Sjöman and Lena Nyman. It's a coming-of-age story about finding your sexuality, jealousy, betrayal, and drama. While it is extremely sexy—it is also beautifully acted and written. If you like a little beauty with your porn, this one is for you.
3. '9 Lives of a Wet Pussy' (1976)
Released in 1976, this pornographic film was actually the first movie directed by controversial filmmaker Abel Ferrara—albeit under a pseudonym ("Nicholas George"). As for the plot, it focuses on Pauline, a wealthy, married New York heiress who sets out on a sexual adventure made up of encounters with several different people (aka the plot of 98 percent of porn from the '70s).
4. 'Aphrodesia's Diary' (1983)
This 1983 film is part of the Golden Age of Porn and tells the story of a woman named Adrianne, who reminisces about some of her greatest sexual exploits while reading her diary in a hotel room.
5. 'Through the Looking Glass' (1976)
'Through the Looking Glass' has been called "A Serious Breakthrough for the Artistic Treatment of Explicit Sex." The plot takes a rich socialite who finds herself in an unknown world where basically anything goes. Yes, that means there is a lot of sex and it goes from there. The film is directed by Jonas Middleton and stars Catharine Burgess, Jamie Gillis, and Laura Nicholson.
6. 'Querelle' (1982)
'Querelle' is Rainer Werner Fassbinder's final film. While it is thought of as his most personal, it is also his most criticized due to its, um, content, and the moody Tom-of-Finland-inspired set design. The movie is originally based on Jean Genet's novel. While very sexy, it is also quite intimate and sad. Now, don't get us wrong, there are lots of fantastic scenes of homosexual sex, all behind the backdrop of a '80s romantic background. It feels a bit like a dream, but with lots of sex and plenty of ejaculating.
7. 'Angel of H.E.A.T.' (1983)
This 1983 soft-core sex comedy stars porn legend Marilyn Chambers and combined sci-fi action and sexy time.
8. 'Love Toy' (1968)
This 1968 sexploitation film was directed by Doris Wishman (although she was credited as Louis Silverman for the film). In the movie, a man named Marcus loses everything he owns to a man named Alex in a very high-stakes game of Gin Rummy. Alex offers to forgive the debt—for a night with Marcus' teenage daughter. The film gets increasingly weird before its final twist ending.
9. 'The Bite' (1966)
This 1966 Japanese pink film is about a gigolo who rich, older women pay to seduce young girls—while they watch the encounters from behind a two-way mirror. Eventually, the young man has enough and tries to break free, but that's easier said than done.
The film isn't readily available for purchase, but it's easy to watch online.
10. 'Bat Pussy' (1970s)
Bat Pussy is thought to have been made during the early 1970s (although the exact time of its release and production isn't totally clear). The movie is a parody of the old Batman TV show and is quite possibly the first example of pornographic parody ever. That distinction makes up for its less-flattering reputation as one of the worst porno movies ever made. Still, it's worth a watch.
11. 'Adam & Yves' (1974)
This 1974, X-rated film was geared toward gay male audiences and followed a French man named Yves and his pursuit of a an American, Adam in Paris. The movie was also notable for technically including the final screen appearance of film legend Greta Garbo, although the footage used in the film was unauthorized.
12. '24 Hours of Explicit Sex' (1985)
This 1985 sexploitation B-film from Brazilian director José Mojica Marins follows three men who bet on who can have sex with the most women in a 24-hour period. As you do.
The film isn't readily available for purchase, but it's easy to watch online.
13. 'Black Throat' (1985)
This 1985 interracial pornographic movie was directed by Gregory Dark, who was one-half of the Dark Brothers team. The film has a controversial past. Traci Lords originally had the starring credit in the film, but investigators later discovered that she was underage during filming and her scenes were, of course, immediately removed from the film.
14. 'Banned Book: Flesh Futon' (1975)
This 1975 Japanese pornographic film is part of Nikkatsu's Roman porno series and was based on a 17th-century Chinese erotic novel by Li Yu. The movie follows Mio, a struggling writer whose book, Flesh Futon, becomes a best-seller. With his success, Mio starts getting into the nightlife scene, only to find his luck change for the worse in every was imaginable.
The film isn't readily available for purchase, but it's easy to watch online.
15. 'Come and Blow the Horn' (1978)
This Swedish porno from 1978 has a delightfully whimsical premise: A group of friends gather for a celebration on a small islet and find an ancient, magical viking horn that makes everyone who hears its sound incredibly, well, horny.
The film isn't readily available for purchase, but it's easy to watch online.
16. 'Barbara Broadcast' (1977)
This movie's tagline—"a film in four courses"—perfectly sums up the delightfully quirky nature of films from the Golden Age of Porn. The titular Barbara Broadcast is a world-famous, best-selling author and the movie follows her as she's interviewed by a journalist for a piece about her impressive career. The interview goes down at an upscale restaurant in Manhattan and the menu includes amazing gourmet food and sexy activities.
17. 'Inside Jennifer Welles' (1977)
This allegedly autobiographical pornographic film is based on the life of real-life, famous porn actress Jennifer Welles (who also stars in the film and received a directing credit on the project).
18. 'Memories Within Miss Aggie' (1974)
In this movie, the titular Miss Aggie tells the stories of her sexual past to her lover and the memories play out on screen for our viewing pleasure.
19. 'The Cheerleaders' (1973)
The plot of The Cheerleaders almost feels like a modern teen raunchy comedy. It's literally about a group of cheerleaders who have sex with the members of opposing football teams to tire the players out before games and make sure their own team wins. The movie spawned several sequels.
20. 'Candy Stripers' (1978)
This '70s porno comedy is about the sexcapades candy stripers volunteering at a hospital have with the hospital's patients and staff. A going-away party for one volunteer on her last day on the job even turns into an orgy. Classic.
21. 'Kansas City Trucking Co.' (1976)
Kansas City Trucking Co. is the first film in Joe Gage's gay porn "Working Man Trilogy." It's a road movie and a porn movie—everything you could want.
22. 'Centurians of Rome' (1981)
Centurians of Rome is one of the most expensive gay porn films of all time. It follows the lives of two Romans—Demetrius and Octavius—who are sold into slavery for not paying their taxes during Emperor Caligula's reign. And it's sexier than it sounds like a movie with that basic plot could be.
23. 'Nothing to Hide' (1981)
Nothing to Hide is lauded as having something most porn infamously lacks: good acting and a good story.
24. 'Scoundrels' (1982)
Scoundrels has the distinction of being the first film ever to win the AVN Best Picture Award. The movie, about a philandering psychiatrist, is also said to contain Ron Jeremy's best porn performance ever. So there's that.
25. 'Roommates' (1981)
Roommates has been called the first mainstream porn film from a female perspective, which makes it worth a watch in and of itself, right?
26. 'Mona the Virgin Nymph' (1970)
If the Madonna-Whore Complex was a movie, it would literally be this. Mona is a sexual woman, but she's promised her mother that she'll stay a virgin until marriage. Which means that if you're very into watching oral, you're in for a treat.
The film isn't readily available for purchase, but it's easy to watch online.
27. 'A Dirty Western' (1975)
We're not saying this movie paved the way for Westworld, but it is set in a Western town where people can't seem to stop doing it. It's also one of the few Western pornos made.
The film isn't readily available for purchase, but it's easy to watch online.
28. 'Debbie Does Dallas' (1978)
Debbie Does Dallas is the classic story of a small town girl who dreams of making it as a professional cheerleader. When her parents won't foot the bill to send her to Dallas for an audition, Debbie and her cheerleader friends start a sex service to pay for the trip. As you do.
29. Insatiable (1980)
This movie follows Sandra Chase, a wealthy model who has an insatiable sexual appetite. The film is notable for having almost no plot—it's basically just sex scene after sex scene loosely strung together.
30. 'A Night at the Adonis' (1978)
This Jack Wrangler film is considered part of the Golden Age of gay pornography. The movie is very plot-driven, and follow's Wrangler's night at the Adonis Theatre—which was a well-known theater in Times Square where sexual activity took place.
31. 'Café Flesh' (1982)
Years before The Hunger Games made dystopian fiction the hottest thing around, Café Flesh arrived to eroticize the genre. Set after a nuclear apocalypse, the movie takes place in a world where 99 percent of the population are "sex Negatives" who become violently ill if they try to have sex. But watching doesn't make them ill—so the remaining 1 percent perform sex acts at, you guessed it, Café Flesh.
32. 'Taboo' (1980)
Taboo launched a series that includes 23 films to date. The film was criticized for an "unrealistic" portrayal of incest, but Kay Parker received wide praise for her performance.
The film isn't readily available for purchase, but it's easy to watch online.
33. 'Taboo II' (1982)
In the second installment in the Taboo franchise, a sister has to fend off the sexual advances of her brother, who is also seducing their mother.
34. 'Alice in Wonderland: an X-Rated Musical Comedy' (1976)
That's right, a musical comedy. So if you enjoy your porn with random bouts of song, this is your jam. Obviously, the Humpty Dumpty segments write themselves, but fun/horrifying fact: Tweedledee and Tweedledum engage in incestuous sex. ¯\_(ツ)_/¯
35. 'Andy Warhol's Blue Movie' (1969)
Also known as Fuck (way to get right to the point, Andy Warhol), this classic film is less "porn" and more "erotic film"—and is considered one of the most important works in the Golden Age of Porn. Interestingly, Blue Movie was advertised as, "a film about the Vietnam War and what we can do about it."
The film isn't readily available for purchase, but it's easy to watch online.
36. 'Boys in the Sand' (1971)
Another Golden Age classic, Boys in the Sand is an important work of gay pornography, and is said to be the first gay film to achieve critical relevancy. It takes place at a Fire Island beach resort, and stars highly prolific and iconic porn actor Casey Donovan.
37. '2069: A Sex Odyssey' (1974)
Mostly on this list due to its hilarious name (hahah, 2069) and even more hilarious concept, 2069: A Sex Odyssey is about women from Venus who are looking to have sex with (and extract sperm samples from) a bunch of men to preserve their kind. Alien sex, guys. Help.
38. 'Flesh Gordon' (1974)
This movie falls under the "sexploitation" category of porn films (meaning max nudity and a low budget), and is obviously based on Flash Gordon. The plot (or..."plot") takes place on Planet Porno, the bad guy is named Emperor Wang the Perverted, and there are nefarious "sex rays" at work making everyone obsessed with doing it.
39. 'Behind the Green Door' (1972)
Another important film in the Golden Age of Porn, Behind the Green Door was a huge success, earning $1 million despite a relatively small budget. The movie (about a woman's time at a sex club) was appreciated for its artsy vibes. In other words: Porn, but make it fashion.
40. 'Behind the Green Door: The Sequel' (1986)
In 1986, Behind the Green Door got a sequel starring Missy Manners. In response to the AIDS crisis, the film focused on safe sex, with all sexual contact featuring the use of condoms, dental dams and medical exam gloves.
41. 'Naked Came the Stranger' (1975)
As you can see in the poster, this film was a favorite of critics. If we can consider 1975-era Playboy to be "the critics." The plot is pretty thin, though, and is essentially about a woman who has sex all over New York City—including on a bus.
42. 'Nude on the Moon' (1961)
Okay, so Nude on the Mood isn't technically a porn film (people don't have tons of crazy sex in it), but it is straight-up about a nudist colony on the moon, so it definitely qualifies as vintage erotica.
43. 'The Opening of Misty Beethoven' (1976)
This is probably the single most iconic movie from The Golden Age of Porn, and is an absolute classic. The film is based on Pygmalion, was filmed all over the world (including in Paris and Rome), and is about a sexologist on a mission to give a woman an epic sexual makeover. Also, it co-stars Casey Donovan, who you'll remember from Boys in the Sand.
44. 'The Private Afternoons of Pamela Mann' (1974)
If you like your porn with a side of voyeurism, this movie is for you. The acting is decent, and it basically follows a woman (Pamela Mann) whose husband hires a private detective to follow and film her sexual encounters. The movie has a major twist at the end, which (years later spoiler alert!!!) is that Mann and her husband actually hired the detective together and the hookups were staged.
45. 'Sex Family Robinson' (1968)
In case it's not obvious, this is the porn version of Swiss Family Robinson, which is so hilarious we had to include it. Guys, it's a wildlife adventure.
The film isn't readily available for purchase, but it's easy to watch online.
46. 'The Tale of Tiffany Lust' (1979)
Filmed in New York City, this film is about a "housewife" who spices up her life by checking out a show where people have sex in front of a live audience. More importantly, can we please talk about how chic this poster is?
The film isn't readily available for purchase, but it's easy to watch online.
47. 'The Devil in Miss Jones' (1973)
Another *total* classic (look at all those review—from Variety, Newsweek, and New York Magazine, no less!), The Devil in Miss Jones isn't just a good porn movie—it's a good movie-movie. Plot-wise, TDIMJ is insane: A woman kills herself, gets stuck in limbo, and agrees to return to earth and have a ton of sex if she can get a place in Hell. When she eventually arrives, she discovers that Hell is being trapped in a room with someone who refuses to have sex with her. Plot twist!
48. 'Maraschino Cherry' (1978)
Yet another classic from the Golden Age of Porn, this witty 1978 film follows (you guessed it) Maraschino Cherry. Cherry owns a high-class escort service in New York City and spends the film teaching her younger sister about the business. During the course of this chat, Cherry and her sister share erotic highlights from their escort days.
49. 'Deep Throat' (1972)
This might be the most famous pornographic film of all time, thanks to Richard Nixon and the Watergate scandal (the Washington Post used "Deep Throat" as the code name for its anonymous source on the scandal). The 1972 movie, starring the legendary Linda Lovelace, is about a woman who struggles to orgasm and eventually learns that her clitoris is located in her throat (sure), which prompts her to embark on an oral sex odyssey.
50. 'Caligula' (1979)
This 1979 film is controversial even as pornography goes. The movie, which has the distinction of being the only one ever produced by men's magazine Penthouse, faced controversy over its scenes of violence and inclusion of unsimulated sex between extras.
51. 'Caligula... The Untold Story' (1982)
If you love sex-filled Caligula tales, then you can keep the party going with 1982's Caligula... The Untold Story, a historical exploitation film that is, for the record, not a sequel to the popular 1979 pornographic film, Caligula.
52. 'Resurrection of Eve' (1973)
This 1973 film from the creative team of Behind the Green Door (also on this list), made history by targeting gay male audiences and including man-on-man oral sex scenes.
53. 'Spirit of Seventy Six' (1976)
In celebration of America's actual bicentennial in 1976, the pornography community gifted us with Spirit of Seventy Six, a tongue-in-cheek look at the sex lives of America's Founding Fathers. Yup.
The film isn't readily available for purchase, but it's easy to watch online.
Mehera Bonner is a celebrity and entertainment news writer who enjoys Bravo and Antiques Roadshow with equal enthusiasm. She was previously entertainment editor at Marie Claire and has covered pop culture for over a decade.