The 30 Best Comedy Movies of 2018
It feels good to laugh.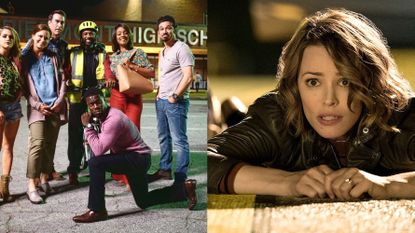 (Image credit: Universal Pictures/Warner Brothers)
Though 2018 was a chaotic year full of some of the most harrowing news cycles many of us have ever encountered, there was a bright spot in all the craziness: This year also offered some of the best comedies in recent memory. From the surreal and unexpected (Sorry to Bother You) to the foul-mouthed and searching (Can You Ever Forgive Me?; A Futile and Stupid Gesture) to the just plain fun (Game Night, Isle of Dogs), these hilarious movies were some of the only things capable of taking your mind off the real news—even for just a few hours.
'Can You Ever Forgive Me?'
Starring: Melissa McCarthy, Richard E. Grant, Ben Falcone
About: Based on the true story of Lee Israel, a celebrity biographer who's short on dough until she begins forging the letters of famous people. This movie will make you cry as McCarthy disappears into the role of a societal outcast, but she's also extremely funny—albeit in a way that's unlike anything you've seen her do before.
'A Futile and Stupid Gesture'
Starring: Will Forte, David Wain, Joel McHale, Domhnall Gleeson, Martin Mull.
About: A zany, problematic (in, arguably, a self-aware way), fictionalized account of Doug Kenney, founder of famed comedy publication National Lampoon. Chock-full of stars and hijinks.

'Juliet, Naked'
Starring: Ethan Hawke, Rose Byrne, Chris O'Dowd
About: A woman in an LTR with a man-boy obsessed with the elusive rocker Tucker Crowe flips their world upside down when she meets the musician in question. It's one of the year's many excellent additions to the rom-com canon. Long live the rom-com!
'Sorry to Bother You'
Starring: Lakeith Stanfield, Tessa Thompson, Armie Hammer
About: One man's attempts to be more responsible by getting a job at a telemarketing firm ends up rocketing him to riches—and mayhem. It's a surreal romp through a late-capitalist wasteland.
'Book Club'
Starring: Candice Bergen, Diane Keaton, Jane Fonda, Mary Steenburgen
About: A group of grande dames get frisky when their book club reads Fifty Shades of Grey. Honestly, it's a star-packed and super horny comedy in the Nancy Meyers mold that will take you to your happy place.
'Isle of Dogs'
Starring: Bill Murray, Jeff Goldblum, Bryan Cranston. Scarlett Johansson, Edward Norton, Tilda Swinton, Greta Gerwig, Frances McDormand, Harvey Keitel
About: Wes Anderson's latest offering—and his second claymation feature—is set in the fictional Japanese town of Megasaki, which has just decreed that all dogs are to be sent to a island to avoid an outbreak of Dog Flu. One boy flies to the island to search for his own dog, Spot, and unravels an entire government conspiracy in the process. Come for the stunning visuals, stay for the hilarious talking dogs voiced by Anderson regulars like Bill Murray and Edward Norton.
'BlacKkKlansmen'
Starring: Adam Driver, John David Washington, Topher Grace
About: A Black rookie cop in early 1970s Colorado Springs decides to start an undercover sting operation to infiltrate the Ku Klux Klan. One of Spike Lee's most riveting—and hilarious—films in years.
'Game Night'
Starring: Jason Bateman, Rachel McAdams, Kyle Chandler, Jesse Plemons, and Jeffrey Wright
About: A group of friends meet up for your average game night, only to find that one of them has planned an intense murder mystery. So when an actual crime takes place, they don't realize it's not staged. Cue hijinks!
'Blockers'
Starring: Leslie Mann, Ike Barinholtz, John Cena, and Kathryn Newton
About: A group of three very protective parents learn that each of their daughters plans to lose her virginity on prom night—so they do everything in their power (aside from, presumably, not letting the girls go to prom) to stop it from happening.
'Super Troopers 2'
Starring: Jay Chandrasekhar, Paul Soter, Steve Lemme, Erik Stolhanske, and Kevin Heffernan
About: The troopers take on a border dispute with Canada of all places. The five, um, we'll go with "wacky," guys are sent to set up a patrol station at the spot in question.
'I Feel Pretty'
Starring: Amy Schumer, Michelle Williams, Emily Ratajkowski, Rory Scovel, Aidy Bryant, Busy Philipps, Tom Hopper, Naomi Campbell, and Lauren Hutton
About: A woman with low self-esteem hits her head and wakes up feeling very confident in her body and appearance. The premise is a bit problematic, but the cast—especially Michelle Williams—does a stellar job, so, wash.
'Overboard'
Starring: Eugenio Derbez, Anna Faris, Eva Longoria, John Hannah, and Swoosie Kurtz
About: This gender-swapped remake of the 1987 Goldie Hawn classic follows a rich, snobby guy who loses his memories after falling overboard. Working class mom Kate (Faris) tricks him into thinking they're married to teach him a lesson.
'Life of the Party'
Starring: Melissa McCarthy, Molly Gordon, Gillian Jacobs, Maya Rudolph, Julie Bowen, Matt Walsh, Debby Ryan, Adria Arjona, Jessie Ennis, Stephen Root, and Jacki Weaver
About: A divorcée searches for meaning in her life and ends up returning to college at the same time as her teenage daughter. Awkward mom hilarity ensues.
'Deadpool 2'
Starring: Ryan Reynolds, Morena Baccarin, T.J. Miller, Leslie Uggams, Brianna Hildebrand, Stefan Kapičić, Zazie Beetz, Josh Brolin, and Jack Kesy
About: It doesn't even matter what the plot is, Deadpool 2 is going to be one of the funniest movies of the year, bar none. Just watch this Bob Ross-inspired trailer.
'Action Point'
Starring: Johnny Knoxville and Chris Pontius
About: The owner of a very low-budget, very dangerous theme park takes things ovr the top when a real amusement park opens up next door.
'Ocean's 8'
Starring: Sandra Bullock, Cate Blanchett, Anne Hathaway, Mindy Kaling, Sarah Paulson, Awkwafin, Rihanna, and Helena Bonham Carter
About: Ocean's 8 really does have everything—action, a compelling story, and lots of humor. The all-female entry to the Ocean's Eleven franchise sends its team to the Met Gala to steal a very expensive necklace, and that premise alone leaves lots of opportunity for comedy.
'Incredibles 2'
Starring: Holly Hunter, Craig T. Nelson, Sarah Vowell, Huck Milner, and Samuel L. Jackson
About: In this sequel to the Pixar classic, Helen (Elastigirl) takes the lead, leaving Bob (Mr. Incredible) home to take care of the kids. Oh, and the family still doesn't realize what Jack-Jack's power is, so there's that.
'Mamma Mia! Here We Go Again'
Starring: Christine Baranski, Pierce Brosnan, Dominic Cooper, Colin Firth, Andy Garcia, Lily James, Amanda Seyfried, Stellan Skarsgård, Julie Walters, Cher, and Meryl Streep
About: Sophie finds herself pregnant and very unsure of her ability to be a mother. To comfort her, Donna's best friends tell Sophie the story of her birth (Donna has passed away at this point). A flick with lots of flashbacks, songs, laughs, and Cher. CHER!
'The Spy Who Dumped Me'
Starring: Mila Kunis, Kate McKinnon, Sam Heughan, Justin Theroux, and Gillian Anderson
About: Mila Kunia and Kate McKinnon team up in a spy-themed action comedy. Need we even say more?
'Crazy Rich Asians'
Starring: Constance Wu, Henry Golding, Gemma Chan, Awkwafina, and Michelle Yeoh
About: American-born Rachel Chu (Wu) discovers that her boyfriend comes from extreme wealth when she goes with him to Singapore for his best friend's wedding. The movie is based on the hilarious book of the same name, and, blessed be the Lord, it did not disappoint.
'The Happytime Murders'
Starring: Melissa McCarthy, Bill Barretta, Maya Rudolph, Joel McHale, and Elizabeth Banks
About: Imagine Who Framed Roger Rabbit with puppets and a lot of profanity. The movie takes place in a world where puppets are real, but considered second class citizens. A puppet private eye and human detective team up solve the mystery of a serial killer targeting the cast of a kids' TV show. Melissa McCarthy is killing it this year!
'Night School'
Starring: Kevin Hart, Tiffany Haddish, Taran Killam, Rob Riggle, Ben Schwartz, and Yvonne Orji
About: This Kevin Hart movie is about a group of adults forced to attend night school in an attempt to get their GEDs. Honestly, here for anything with Tiffany Haddish.
'Ralph Breaks the Internet: Wreck-It Ralph 2'
Starring: John C. Reilly, Sarah Silverman, Jack McBrayer, Jane Lynch, and Taraji P. Henson
About: Ralph and Vanellope have to travel into the internet to find a spare part to fix an arcade game. You know what that means? Ralph gets to take on memes and GIFs. YES.
'Half Magic'
Starring: Heather Graham, Angela Kinsey, Stephanie Beatriz
About: In Graham's writing and directorial debut, three woman navigate through the casual misogyny they must endure in their sexual and professional lives while finding their own self-empowerment.
'Uncle Drew'
Starring: Kyrie Irving, Lil Rel Howery, Tiffany Haddish
About: Yes, an NBA comedy based on a character that got started in a PepsiMAX commercial can be hilarious—and Uncle Drew gets it perfectly right. A young team owner and Uncle Drew (Kyrie Irving) round up Drew's basketball squad from back in the day to prove that even the old guys can win the big game.
'Dumplin''
Starring: Danielle Macdonald, Jennifer Aniston, Odeya Rush, Dove Cameron
About: Macdonald stars as the plus-size teenage daughter of a former beauty queen, who signs up for her mother's beauty pageant as a form of protest that winds up revolutionizing their tiny Texas town and the pageant itself. It's emotionally moving, charming, and resonant, and the Dolly Parton soundtrack just enhances the experience.
'Blindspotting'
Starring: Daveed Diggs, Rafael Casal, Janina Gavankar, Jasmine Cephas Jones, Ethan Embry, Tisha Campbell-Martin
About: On the last three days of his parole, Collin (Diggs) witnesses a police shooting that threatens to ruin a lifelong friendship. It's heavy...and hilarious at the same time. This one will stick with you long after it's over.

'Paddington 2'
Starring: Ben Whishaw, Hugh Grant, Sally Hawkins, Hugh Bonneville
About: Ah, the rare occasion when the sequel is just as good as the original. The first Paddington won our hearts in early 2015, and it should come as no shock that the second is just as funny and precious as the original. The film catches up with Paddington settling down in his London neighborhood, but after he's wrongfully accused of a theft, he must defend himself from trouble! It's sweet, it's calming, and we've written a lot about how this movie should sweep awards season.
'The Favourite'
Starring: Emma Stone, Olivia Colman, Rachel Weisz
About: The hype about this film is real: The story of Queen Anne (Colman) and the two women (Weisz and Stone) vying for her attention is one of the funniest films of the year, plus it shines a light to the nebulous and tricky landscape that can be relationships between women. Relatable!
'The Oath'
Starring: Ike Barinholtz, Tiffany Haddish, John Cho
About: This satire uses a loyalty pledge to the president as a device to comment on the kind of political divide that splits up families. Both Barinholtz and Haddish have made other appearances on this list, so it's no surprise that the pair together created comedy gold.
Celebrity news, beauty, fashion advice, and fascinating features, delivered straight to your inbox!
Cady Drell is a writer, editor, researcher and pet enthusiast from Brooklyn.