A Definitive Ranking of Meghan Markle's Movies
One day you're filming 'Horrible Bosses,' the next you're marrying Prince Harry.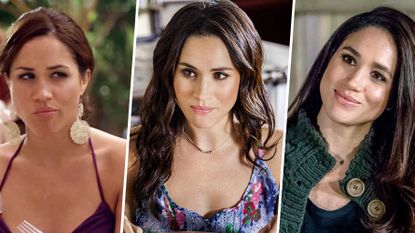 (Image credit: Imaginating Pictures / Hallmark )
Marie Claire Newsletter
Celebrity news, beauty, fashion advice, and fascinating features, delivered straight to your inbox!
Thank you for signing up to Marie Claire. You will receive a verification email shortly.
There was a problem. Please refresh the page and try again.
Everyone's busy congratulating Meryl Streep for her millionth Oscar nomination—and rightly so—but let's not forget that she's not the only one with a distinguished showbiz career. Two words: Meghan Markle.
Shortly after her engagement to Prince Harry was announced, the future duchess confirmed that she would be "transitioning out of" her acting career to focus on charitable projects. It's a noble shift, sure, but also something of a blow to Suits fans and anyone who loves the Hallmark Channel (which is obviously everyone). And what's the point of having a SAG membership if you can't even play yourself in the Lifetime TV movie about your relationship?
Much has been made of Meghan leaving Suits (her character Rachel Zane is expected to depart by the end of Season 7), but her royal retirement also means she's turning her back on a film career that's run the gamut from quickie cameo to rom-com leading lady. It's a mixed bag, which is why we've compiled this completely subjective ranking of her film work from worst to best, based on our personal levels of enjoyment. Let the Meghan Markle movie marathons commence.
Note: Meghan's IMDB page includes 2010's Get Him to the Greek in the uncredited role of Tatiana. We've left the comedy off this list because her appearance is so obscure that it's impossible to find and, thus, judge. One thing we do know: Despite reports to the contrary, she's not the dancer who kisses Russell Brand in a London party scene.
1. 'Anti-Social' (2015)
Meghan Plays: Kirsten, an American model who falls for a cute British boy caught up in his big brother's criminal dealings.
Love Interest: Former Disney Channel star Gregg Sulkin plays Dee, who is essentially the street artist equivalent of the gorilla in Sing.
Best Line: "You've had to climb a mountain to get away from this crap and to see life for what it can be. You inspire me."
Notable Costar: Grime artist Skepta pops up as a rival gang member.
The Verdict: If you like Snatch…you should probably watch Snatch. A 14% Rotten Tomatoes score doesn't lie, and Meghan has little to do beyond pose and smile.
2. 'Horrible Bosses' (2011)
Meghan Plays: Jamie, a FedEx employee who is just trying to do her job without getting sexually harassed, okay?
Love Interest: Does Jason Sudeikis' character hitting on her ("You're way too cute to be just a FedEx girl") count? Mmm, no.
Best Line: "I'm just a FedEx girl."
Notable Costar: Well you've got Jennifer Aniston, Jamie Foxx, Jason Bateman, Colin Farrell, and (hmm) Kevin Spacey, but Meghan only shares her one scene with Sudeikis.
The Verdict: In terms of box-office bank, it's Meghan's most successful film. In terms of thankless roles, it's a doozy.
3. 'A Lot like Love' (2005)
Meghan Plays: Natalie, a chatty airplane passenger with mid-'00s layers.
Love Interest: Just some friendly banter with fellow passenger Jeeter, played by Kal Penn.
Best Line: "No, I'm from L.A.," with an honorable mention to "Hi."
Notable Costar: Ashton Kutcher, who happens to be real-life pals with Meghan's future cousin-in-law Princess Beatrice.
The Verdict: In hindsight, Meghan's big-screen debut deserved more than 30 seconds of screen time in a middling rom-com, but we've all got to start somewhere.
4. 'Random Encounters' (2013)
Meghan Plays: Mindy, the confident and sexy best friend to a woman who's trying to track down her dream man after a missed connection.
Love Interest: Mindy's a Samantha Jones type with no shortage of suitors.
Best Line: While "Don't wear the princess outfit, I know you want to," feels oddly prescient, it's gotta be "Half-off Brazilians on Tuesday. Half-off: take it all off."
Notable Costar: Male lead Michael Rady played Greek heartthrob Kostas in the Sisterhood of the Traveling Pants films. Never forget.
Verdict: It's a cute—if imperfect—rom-com, and Meghan shows range as the sassy, sex-positive wingwoman.
5. 'Remember Me' (2010)
Meghan Plays: Megan (the dropped 'h' makes all the difference), a New York City bartender who is way too busy to talk to Robert Pattinson and his sleazy friend Aidan (Tate Ellington).
Love Interest: "Love interest" is pushing it, but Aidan clearly has the hots for Megan. And because he's the kind of guy who makes "slut jokes" and suggests sleeping with a woman to get revenge on her dad, we're proud of her for shutting him down.
Best Line: "Do. Not. Speak." Tragically, this is also her only line. She's literally on screen for just a few seconds.
Notable Costar: RPatz, obviously.
Verdict: Come for the blink-and-you'll-miss-it cameo, stay for the angsty romantic drama.
6. 'When Sparks Fly' (2014)
Meghan Plays: Amy Peterson, a Chicago journalist who returns to her quaint hometown for a scintillating front-page feature on her parents' fireworks business (really)—and to be maid of honor for the best friend who is marrying her ex-boyfriend. What could possibly go wrong?
Love Interest: Amy's dating Phil (Lochlyn Munro), a rich, refined guy who likes to order for her—but there's also unfinished business with her nice but unremarkable (and engaged) ex Hank (Christopher Jacot).
Best Line: It's a toss-up between "Now I feel like singing the Star-Spangled Banner" and "I love Jack Johnson."
Notable Costar: Riverdale fans will recognize Lochlyn Munro as Betty's dad Hal Cooper.
Verdict: With all due respect, this movie really belongs to Kristina Pesic's Sammie, the taste-compromised Bridezilla best friend who insists on throwing a Fourth of July-themed wedding. We should all aspire to be this level of extra. Alas, the Queen probably won't go for that kind of thing given that whole pesky American Revolution issue.
7. 'Dysfunctional Friends' (2012)
Meghan Plays: Terry, a no-nonsense photographer who shoots a male underwear model and is then never seen nor heard of again.
Love Interest: She's pretty much the only character without a love interest in this Big Chill-esque dramedy.
Best Line: "This is not porn. This is for the Sunday paper. So this situation you got going on, that's gotta get tucked in."
Notable Costar: Clueless-bestie-turned-conservative-pundit Stacey Dash. Yay?
Verdict: This has the "friends reuniting and getting real" appeal of a Malcolm D. Lee film, though it lacks some of the sparkle. Still, it's an entertaining watch, and it's nice to see Meghan make the most of her short screen time by flashing some attitude.
8. 'Dater's Handbook' (2016)
Meghan Plays: Cass, a sporty, dog-loving marketing executive who's into REO Speedwagon and men who are bad for her. Will following a dating guru's advice find her everlasting love?
Love Interest: There's Peter (Matt Hamilton), the noncommittal bro boyfriend who gets kicked to the curb, followed by a love triangle between the cute and carefree Robert (Kristoffer Polaha) and yet another rich and refined dude who likes to order for her (Jonathan Scarfe's uptight George).
Best Line (after a hike with her dog): "5k? That must be 35k in dog. Hahahaha."
Notable Costar: You know it's slim pickings when the most recognizable face belongs to Willie Aames from Charles in Charge. He and his real-life wife, Winnie Hung (fun fact: she also pops up in When Sparks Fly), play newscasters.
Verdict: We're just sorry there (sniff) won't be a sequel.
Celebrity news, beauty, fashion advice, and fascinating features, delivered straight to your inbox!