The Best Dakota Johnson Movies: A Definitive Ranking
She's more than just Fifty Shades.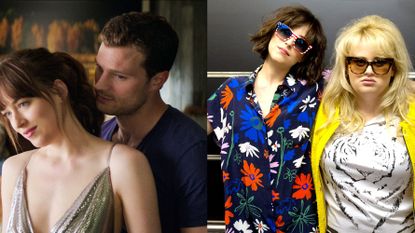 (Image credit: Universal Pictures/Warner Bros.)
Dakota Johnson is definitely best known for her sexy-shy performance as Anastasia Steele in the Fifty Shades trilogy, but the actress—and Hollywood royal (her dad is Don Johnson, her mom is Melanie Griffith, and her grandma is Tippi Hendron)—has done so much more than that. Here's a ranking of her best movies of all time (yes, including the Fifty Shades movies).
14. 'Chloe & Theo'
I'm just going to leave two things here. First, the IMDb description of the plot:
"Theo, an Inuit from the Arctic, travels to New York City to warn world leaders about the catastrophic impact of global warming on the planet. Upon arrival he meets a homeless girl named Chloe, who has an unusual vigor for life, is mildly delusional, and completely obsessed by Bruce Lee. Together, they will save the world."
And second, a link to its 0 percent score on Rotten Tomatoes (opens in new tab).
13. 'Goats'
This Nick Jonas-led movie about pledging a fraternity was meh and Johnson was relegated to the bland teen love interest role. Pass.
12. 'Date and Switch'
Guys vowing to lose their virginity by arbitrary dates is a trope in teen sex comedies. In this one, though, one of the teen boys is gay which makes the movie at least a little more inclusive. Johnson plays the supportive ex-girlfriend of recently-out Matty.
11. 'Beastly'
Remember Beastly? It's cool if you don't. It was a modern-day retelling of Beauty and the Beast with a shallow "prince" (read: attractive, rich white man) magically scarred into ugliness by a witch (played by Mary-Kate Olsen in one of her few solo roles). Johnson didn't play the Belle character (that role went to Vanessa Hudgens). She played Sloan, a pretty, popular girl who liked the prince/beast before he was uglified.
10. 'Cymbeline'
A modern update of Shakespeare's Cymbeline (the plot's a bit convoluted but know that it has a lot of love, revenge, and deception) with Johnson in a fairly prominent role and everything. Get it, girl.
9. 'Fifty Shades Darker'
When Fifty Shades tried to be a thriller and it didn't go great.
8. 'The Five-Year Engagement'
Johnson played Jason Segel's rebound fling in this rom-com, which is like, fine.
7. 'How to Be Single'
Pros: Rebel Wilson. Concept that's vaguely Sex and the City-esque.
Cons: Predictable. Too much like a traditional rom-com for a movie that appears to be trying to reinvent or subvert rom-coms.
6. 'The Social Network'
Johnson's official screen debut was a small role in Crazy in Alabama in 1999, alongside her mom. Then, Dakota took a break from acting to finish her education and came back with a small part in David Fincher's origin story of Facebook. She plays the Stanford student who sleeps with Sean Parker (played by Justin Timberlake). It's a small part, but a big movie.
5. '21 Jump Street'
You might remember Johnson in her small-but-awesome role as Fugazy in 21 Jump Street. She's described as one of those "Miley Cyrus-lookin' motherf*ckers" by Ice Cube's Captain Dickson.
4. 'Fifty Shades Freed'
Honestly, this one gets high marks just for its brilliantly cheesy tagline, "Don't miss the climax."
3. 'Black Mass'
Johnson got an actual, honest-to-goodness prominent role in this film based on the life of American mobster James "Whitey" Bulger. She plays his common law wife Lindsey Cyr. Free spin-off idea: Common law mafia wives.
2. 'A Bigger Splash'
This indie darling is the second installment in Luca Guadagnino's "Desire" trilogy, landing smack in between 2009's I Am Love and 2017's Oscar-nominated Call Me by Your Name. Definitely worth adding to your personal to-watch list, regardless of your Dakota Johnson fandom level.
1. 'Fifty Shades of Grey'
Is this the best movie that Dakota Johnson has ever been in? No, it's objectively not. But it is required viewing if you consider yourself a fan of her work and it's the movie that made her a household name, so we're giving it the No. 1 spot.
Kayleigh Roberts is a freelance writer and editor with more than 10 years of professional experience. Her byline has appeared in Marie Claire, Cosmopolitan, ELLE, Harper's Bazaar, The Atlantic, Allure, Entertainment Weekly, MTV, Bustle, Refinery29, Girls' Life Magazine, Just Jared, and Tiger Beat, among other publications. She's a graduate of the Medill School of Journalism at Northwestern University.