9 of the Best Romantic Comedies of 2019 (So Far)
This year, the rom-com genre gets surreal.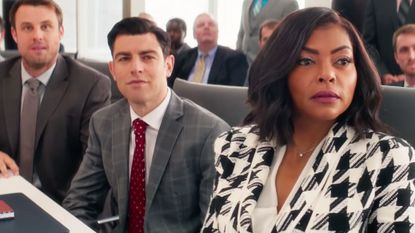 (Image credit: Paramount)
If 2018 saw the resurgence of the romantic comedy, then 2019 looks to be the year the genre really spreads out. Though not all of this year's flicks have been announced yet (we'll update as more roll out), the rom-coms we know about have some common threads: Magical realism, the importance of female friendship, and way more diversity than rom-coms had during their last, mid-90s heyday. And honestly? We can't wait.
What Men Want
Release Date: February 8
Starring: Taraji P. Henson, Max Greenfield, Wendy McLendon-Covey, Kellan Lutz, Tracy Morgan
We'll go and see anything that stars Taraji P. Henson, no questions asked, but we're particularly excited to see her in this gender-swapped reboot of the somewhat problematic 2000 film What Women Want. Henson stars as a wheeler and dealer at a male-dominated sports agency who keeps getting passed up for promotions—until a magic potion allows her to hear the thoughts of any man she encounters. Will she use her power for good or evil? Mmm, probably both.
Isn't It Romantic
Release Date: February 14
Starring: Rebel Wilson, Liam Hemsworth, Priyanka Chopra, Adam Devine
Though star Rebel Wilson started a bit of controversy by proclaiming that her role in this film was the first time a plus-sized woman starred in a rom-com (to which critics replied, "Um, ever heard of Queen Latifah?"), this movie about a realist who mysteriously finds herself living all the classic rom-com tropes looks hilarious and heartwarming.
Someone Great
Release Date: April 19
Starring: Gina Rodriguez, Brittany Snow, DeWanda Wise, Lakeith Stanfield, Rosario Dawson
A Netflix rom-com starring Jane the Virgin alumna Gina Rodriguez, this film centers on a woman who goes through really bad breakup and decides to shake it off by partying in NYC with her best friends. We're stoked for this cast, too: Alongside our perennial fave Gina are Brittany Snow, DeWanda Wise (who you might remember from the She's Gotta Have It remake on Netflix), Lakeith Stanfield, and Rosario Dawson.
Booksmart
Release Date: May 24
Starring: Beanie Feldstein, Kaitlyn Dever, Billie Lourd, Jessica Williams
Two over-achieving best friends realize on their last day of high school that all the slackers they spent the last four years with also ended up getting into top schools—meaning that our heroes spent a bunch of time not having fun for the same outcome. They decide to make up for lost time on their last night of school. It's one of the funniest movies of the year, and truly the future we want to live in. And while sparks fly (often hilariously), it's mostly a love story about friendship.
Always Be My Maybe
Release Date: May 29
Starring: Ali Wong, Keanu Reeves, Randall Park, Daniel Dae-Kim
Nahnatchka Khan—creator of the supremely underrated, tragically short-lived TV show Don't Trust the B---- In Apartment 23—is the mastermind behind this Netflix rom-com about two childhood sweethearts (Ali Wong and Randall Park) who have a fight that separates them for 15 years, until they happen to run into one another in San Francisco as adults. Also involved are Keanu Reeves (in an outrageous cameo) and Daniel Dae-Kim.
Long Shot
Release Date: June 29
Starring: Seth Rogen, Charlize Theron, Andy Serkis, Alexander Skarsgard
Seth Rogen is a man in a relationship with a woman far more physically attractive than he is—stop me if you've heard this one before—when he plays Fred Flarsky, a hapless journalist on a quest to reunite with his childhood crush, who is now a power politician played by Charlize Theron. The only hiccup? She's now one of the most powerful women on earth, well on her way to becoming President of the United States.
Where'd You Go, Bernadette?
Release Date: August 16
Starring: Cate Blanchett, Kristen Wiig, Judy Greer, Laurence Fishburne, Billy Crudup
Richard Linklater directs this adaptation of the excellent Maria Semple book of the same name. Our queen Cate Blanchett stars as the titular Bernadette, a woman who seemingly has it all—a brilliant daughter, a supportive husband, a great career—but who ends up mysteriously disappearing right before a vacation to Antarctica, leaving her family to figure out where she went. Hence the title. It's more of just a com, or maybe a dram-com, than a rom-com, but there are definite lovey moments between Bernadette, her husband, her kid, and her friends. Hey, who said all romance has to be the Eros kind?
Plus One
Release Date: April 28
Starring: Maya Erskine, Jack Quaid
Two best friends from college decide to be one another's perpetual wedding dates, while she—reeling from a breakup—also offers to be the wingwoman for him. It's a pretty straightforward plot made absolutely magical by Erskine and Quaid, who are so charming that you will literally hold your breath finding out whether they realize they're MFEO.
Last Christmas
Release Date: November 8
Starring: Emilia Clarke, Emma Thompson, Henry Golding
This holiday rom-com is about a woman who, after surviving a life-threatening illness, still can't really get her life together and is a middling employee at a Christmas shop. That is, until she meets a quirky and insanely hot man who believes in her.
Celebrity news, beauty, fashion advice, and fascinating features, delivered straight to your inbox!
Cady Drell is a writer, editor, researcher and pet enthusiast from Brooklyn.