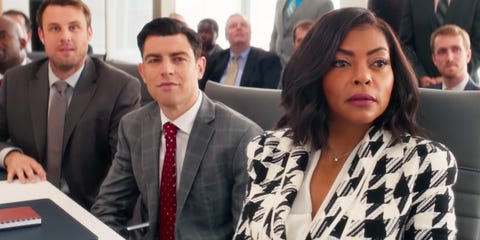 If 2018 saw the resurgence of the romantic comedy, then 2019 looks to be the year the genre really spreads out. Though not all of this year's flicks have been announced yet (we'll update as more roll out), the rom-coms we know about have some common threads: Magical realism, the importance of female friendship, and way more diversity than rom-coms had during their last, mid-90s heyday. And honestly? We can't wait.
Here are 9 romantic comedies coming out in 2019 that Marie Claire editors can't wait to watch.
Release Date: May 24
Starring: Beanie Feldstein, Kaitlyn Dever, Billie Lourd, Lisa Kudrow, Jason Sudeikis
In Olivia Wilde's (pictured left) directorial debut, two best friends (Beanie Feldstein and Kaitlyn Dever, pictured right) who always overachieved spend their last night of high school trying to cram as much fun as they possibly can into a single night. Don't they know that partying is for college? Though this movie is mostly about best friendship, we predict sparks will fly.

Release Date: June 29
Starring: Seth Rogen, Charlize Theron, Andy Serkis, Alexander Skarsgard
Seth Rogen is a man in a relationship with a woman far more physically attractive than he is—stop me if you've heard this one before—when he plays Fred Flarsky, a hapless journalist on a quest to reunite with his childhood crush, played by Charlize Theron. The only hiccup? She's now one of the most powerful women on earth, well on her way to becoming President of the United States.

Release Date: TBA 2019
Starring: Gina Rodriguez, Brittany Snow, DeWanda Wise, Lakeith Stanfield, Rosario Dawson
A Netflix rom-com starring Jane the Virgin alumna Gina Rodriguez, this film centers on a woman who goes through really bad breakup and decides to shake it off by partying in NYC with her best friends. We're stoked for this cast, too: Alongside our perennial fave Gina are Brittany Snow, DeWanda Wise (who you might remember from the She's Gotta Have It remake on Netflix), Lakeith Stanfield, and Rosario Dawson.
Release Date: TBA 2019
Starring: Ali Wong, Keanu Reeves, Randall Park, Daniel Dae-Kim
Nahnatchka Khan—creator of the supremely underrated, tragically short-lived TV show Don't Trust the B---- In Apartment 23—is the mastermind behind this rom-com about two childhood sweethearts who have a fight that separates them for 15 years, until they happen to run into one another in San Francisco as adults. Oh yeah, and the insanely brilliant Ali Wong (pictured) stars so you know it's going to be hilarious (and will possibly feature a little bit of comedic body horror, knowing her). Also involved are Keanu Reeves, Randall Park, and Daniel Dae-Kim.