The Best Netflix Movies That Came Out in 2019
The streaming service's rom-com revival continues, with some big-budget fare thrown in.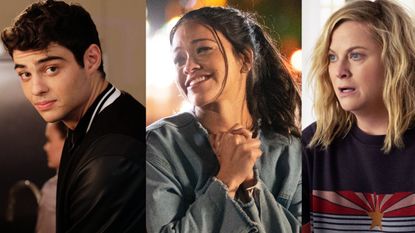 (Image credit: Netflix)
Ah, Netflix. The more the political climate descends into chaos, the more the streaming giant provides a safe, warm space to retreat from it. While the site's acquisitions have always been impressive, 2019 was another year of some excellent original films, too. And now that Netflix has raised its prices, you should make sure you get the most out of your subscription. In 2018, Netflix ushered in a major romantic comedy revival, breathing new life into the genre with films like To All the Boys I've Loved Before and Set It Up, and 2019 continued that tradition. Also on the roster have been some star-studded genre movies, like the Scorsese-directed mob flick The Irishman, and the Jake Gyllenhaal–starring, hard-to-pin-down thriller Velvet Buzzsaw. Here are the 25 best movies that appeared on the streaming giant in 2019.
'Close'
Premiere: January 18
This badass thriller stars Noomi Rapace as a militia-woman assigned to protect a spoiled heiress. When danger strikes, the two must learn to trust each other in order to survive.
WATCH IT (opens in new tab)
'Fyre: The Greatest Party That Never Happened'
Premiere: January 18
It might be wrong to say, but was there ever a more satisfying disaster to watch than the demise of Fyre Festival, the mega-exclusive music festival that left a bunch of VIPs stranded on an island ill-equipped to host them? Don't answer that, but do watch the Netflix documentary about the incredible shitshow that ended up getting its founder thrown in jail (not to be confused with the Hulu documentary featuring said founder). Where was this movie during the Summer of Scam?! Perfect programming.
WATCH IT (opens in new tab)
'Polar'
Premiere: January 25
If you loved Mads Mikkelsen's cold brutality and chiseled good looks as serial killer Dr. Lecter in the television series Hannibal, then Polar is your gift from the Netflix gods. Hoping to leave the assassin life behind for staid retirement in the Montana woods, Mikkelsen must make one last stand against a crew of cocky young killers sent by his greedy boss. Vanessa Hudgens plays his mysterious neighbor across the lake. There's lots of bloody, cartoon violence and some Mikkelsen nudity (excuse me while I fan myself).
WATCH IT (opens in new tab)
'Velvet Buzzsaw'
Premiere: February 1
Jake Gyllenhaal, John Malkovich, Natalia Dyer (from Stranger Things!) and a bunch of other talented people populate this bizarre thriller about the hype of the art world, and a mysterious painter's posthumous works that come to haunt it. It's all about greed and hype and Netflix calls it Cerebral.
WATCH IT (opens in new tab)
'High Flying Bird'
Premiere: January 27
The story of an NBA agent who hatches a daring plan to upend the entire industry in order to save him and his rookie client's careers. It stars Zazie Beetz and Andre Holland, and is directed by Steven Soderbergh.
WATCH IT (opens in new tab)
'Triple Frontier'
Premiere: March 15
Everyone you've ever imaginary dated is in this movie: Oscar Isaac, Charlie Hunnam, Ben Affleck, Garrett Hedlund, and Pedro Pascal star as a former military dudes who decide to go rogue when the opportunity to rob a dangerous cartel presents itself. Is it kind of a lot? You bet. Is it full of cuties? Oh yes.
WATCH IT (opens in new tab)
'Unicorn Store'
Premiere: April 5
Brie Larson directs and stars in this story of a woman in a sort of suspended adolescence who nevertheless gets rewarded for her inability to conform when a mysterious stranger (Samuel L. Jackson) sends her a note offering her a real live unicorn. It's as colorful and whimsical as that sounds, and isn't Brie the best in all things?
WATCH IT (opens in new tab)
'The Perfect Date'
Premiere: April 12
Noah Centineo stars as a loser-y high school senior (um, sure) who gets paid to take a rich guy's cousin on a date and ends up starting a business. He's like a sexless escort, providing women with whatever they want in a perfect date (like, four hours of talking and he's just allowed to say, "There's no other way to see it.") Is this Noah Centineo fantasy fulfillment wrapped in rom-com trappings? Oh my goodness yes.
WATCH IT (opens in new tab)
'Homecoming: A Film by Beyoncé'
Premiere: April 17
Not yet convinced that Beyoncé is a higher life form? Watch this documentary of the mega-star prepping for and performing at the 2018 Coachella Valley Music and Art Festival and you'll bow down like the rest of us mere mortals. However, what comes into clear focus in this concert film is that her success and appeal are not only a result of catchy songs and production value. The icon has drive, talent and vision. Queen Bey forever!
WATCH IT (opens in new tab)
'Someone Great'
Premiere: April 19
Three best friends (Gina Rodriguez, DeWanda Wise, Brittany Snow) who live in New York face the unthinkable: One of them is moving to the West Coast. Also, her boyfriend (Lakeith Stanfield) didn't want to move with her so she's going through a breakup. If that sounds like the makings of an extremely fun, bittersweet girls' night rager—yes, yes it is.
WATCH IT (opens in new tab)
'Wine Country'
Premiere: May 10
All your fave SNL alumnae—Amy Poehler, Tina Fey, Rachel Dratch, Maya Rudolph, Ana Gasteyer—play friends on a wine country weekend for one of their 50th birthdays. Surprise! Things go from zero to chaos very quickly.
WATCH IT (opens in new tab)
'See You Yesterday'
Premiere: May 17
Spike Lee produced what, on the surface, looks like a light YA tale of two uber-smart black teens (Eden Duncan-Smith and Danté Crichlow) on summer break who build backpack-sized time machines (there's even a Back to the Future moment at the beginning of the film). Stay with the movie a little longer and it's a statement on police brutality and the cycle of death in the black community that not even the greatest minds can break. The upside: A soulful soundtrack and scenes of crowded stoops and steamy sidewalks will make you feel as if you're watching the world go by from a lawn chair in Brooklyn.
WATCH IT (opens in new tab)
'Always Be My Maybe'
Premiere: May 31
Nanatchka Khan, creator of Don't Trust the B---- in Apartment 23, returns with this Netflix rom-com about two childhood sweethearts who have a falling out and then run into each other years later in San Francisco. Best of all? It stars (and was co-written by) Ali Wong, brilliant comedian of Baby Cobra fame.
WATCH IT (opens in new tab)
'Murder Mystery'
Premiere: June 14
Adam Sandler and Jennifer Aniston star as a married couple from New York who get caught up in a murder investigation aboard a billionaire's yacht while on the trip that's supposed to make up for their underwhelming honeymoon.
WATCH IT (opens in new tab)
'The Great Hack'
Premiere: July 24
This documentary digs deep into the Facebook/Cambridge Analytica scandal and is required viewing for anyone who never fully understood what the scandal was really about.

WATCH IT (opens in new tab)
'Between Two Ferns: The Movie'
Premiere: September 20
Fans of Zach Galifianakis's quirky spin on a cable-access (do 20-somethings even know what that is?) talk show will be treated to a movie-length production brought to you from the Funny Or Die folks behind the hit YouTube videos of the same name—now with a storyline and maybe more cowbell since Will Ferrell also stars in the comedy.
WATCH IT (opens in new tab)
'In the Tall Grass'
Premiere: October 4
Patrick Wilson stars in this film adaptation of a Stephen King novella about a couple who hears a child crying for help in a cornfield and goes to rescue him—only to realize they may be trapped...with something sinister lurking in the field too. I'll be watching with the lights on.
WATCH IT (opens in new tab)
'Eli'
Premiere: October 18
Lili Taylor, Kelly Reilly, and youngster Charlie Shotwell are all in this horror flick about a little boy who is receiving treatment for his autoimmune disorder and finds out that his house is no longer safe. Sounds creepy.
WATCH IT (opens in new tab)
'Tell Me Who I Am'
Premiere: October 18
This harrowing documentary tells the complicated story of twin brothers Alex and Marcus Lewis. When the men were 18, Alex was involved in a terrible motorcycle accident and subsequently lost his memory. Marcus stepped in to tell Alex the story of his past and share the story of their childhood. Years later, however, Alex learned that the history Marcus had told him about was almost entirely fiction. In the documentary, the brothers confront their complicated relationship and dark past.
WATCH IT (opens in new tab)
'The Laundromat'
Premiere: October 18
Meryl Streep has officially joined the Netflix original game. The Laundromat is a biographical dramedy based on the Panama Papers scandal and, in addition to Streep, also stars other A-listers like Gary Oldman, Antonio Banderas, Jeffrey Wright, David Schwimmer, Matthias Schoenaerts, James Cromwell, and Sharon Stone.
WATCH IT (opens in new tab)
'The King'
Premiere: November 1
Timothée Chalamet, a legend we stan, stars alongside Robert Pattinson and Joel Edgerton (who wrote the screenplay) and is based on Shakespeare's Henriad—plays about King Henry. Fun fact: This is the role for which Timmy got a bowl cut (opens in new tab).
WATCH IT (opens in new tab)
'The Irishman'
Premiere: November 27
Whoa, Martin Scorsese directed a Netflix movie with a (reportedly) $200 million budget? 2019 truly is a time of wonders. Care to guess whether it's a mafia movie that stars Robert DeNiro, Joe Pesci, Al Pacino, Harvey Keitel, and Bobby Cannavale? OMG how did you know?
WATCH IT (opens in new tab)
'A Christmas Prince 3: The Royal Baby'
Premiere: December 5
The Christmas Prince trilogy continues this year, and continues to perfectly mirror Prince Harry and Meghan Markle's love story with The Royal Baby.
WATCH IT (opens in new tab)
'Marriage Story'
Premiere: December 6
Hoping to repeat the success of last year's Oscar-winning Roma, Noah Baumbach's gut-wrenching portrayal of a nasty divorce made the rounds at film festivals prior to its fall 2019 release in theaters and on Netflix. Scarlett Johansson and Adam Driver play an actress and playwright, respectively, fighting for custody of their young child. Like Baumbach's The Squid and the Whale, inspiration for Marriage Story draws upon the director's own family drama. After screening the movie, a colleague of mine declared it to be "this generation's Kramer vs. Kramer." Cue the waterworks.
WATCH IT (opens in new tab)
'The Two Popes'
Premiere: December 20
Based on Anthony McCarten's 2017 play The Pope, this drama stars Anthony Hopkins as Pope Benedict XVI and Jonathan Pryce as Cardinal Jorge Mario Bergoglio, aka the future Pope Francis.
WATCH IT (opens in new tab)
Joyce Bautista Ferrari is the managing editor at Marie Claire, where she bosses people around and loves to write about movies, food and design.