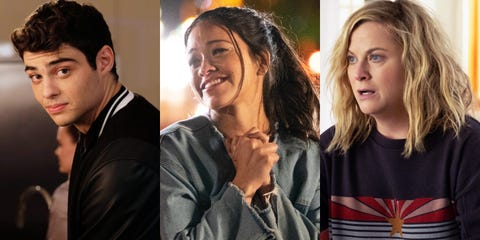 Ah, Netflix. The more the political climate descends into chaos, the more the streaming giant provides a safe, warm space to retreat from it. While the site's acquisitions have always been impressive, 2019 looks to be yet another year of some excellent original films, too. And now that Netflix is raising its prices, you should make sure you get the most out of your subscription.
Last year, Netflix ushered in a major romantic comedy revival, breathing new life into the genre with films like To All the Boys I've Loved Before and Set It Up, and this year looks to continue the tradition. Also on the roster are some star-studded genre movies, like the Scorsese-directed mob flick The Irishman, and the Jake Gyllenhaal–starring, hard-to-pin-down thriller Velvet Buzzsaw.
Point is, there's a lot to look forward to in 2019, at least where binge-watching movies is concerned. We'll update as more information from the notoriously hush-hush company is revealed, but as of right now, here are the 15 best movies that will appear on the streaming giant in 2019.
Premiere: TBD 2019
Timothée Chalamet, a legend we stan, stars alongside Robert Pattinson and Joel Edgerton (who wrote the screenplay) and is based on Shakespeare's Henriad—plays about King Henry. Fun fact: This is the role for which Timmy got a bowl cut.
Premiere: TBD 2019
Patrick Wilson stars in this film adaptation of a Stephen King novella about a couple who hears a child crying for help in a cornfield and goes to rescue him—only to realize they may be trapped...with something sinister lurking in the field too. I'll be watching with the lights on.

Airing: TBD 2019
Lili Taylor, Kelly Reilly, and youngster Charlie Shotwell are all in this horror flick about a little boy who is receiving treatment for his autoimmune disorder and finds out that his house is no longer safe. Sounds creepy.

'The Last Thing He Wanted'
Airing: TBD 2019
Dee Rees, the mastermind behind last year's lauded Netflix period drama Mudbound, returns to the streaming service with The Last Thing He Wanted, a political thriller based on the 1996 Joan Didion novel about a journalist-turned-arms dealer. Anne Hathaway, Ben Affleck, Rosie Perez, and Willem Dafoe star.