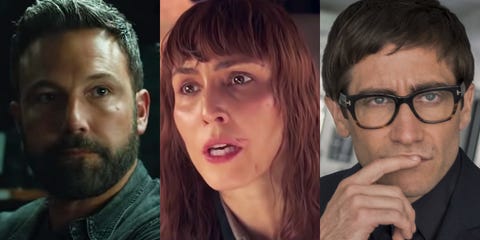 Ah, Netflix. The more the political climate descends into chaos, the more the streaming giant provides a safe, warm space to retreat from it. While the site's acquisitions have always been impressive, 2019 looks to be yet another year of some excellent original films.
Last year, Netflix ushered in a major romantic comedy revival, breathing new life into the genre with films like To All the Boys I've Loved Before and Set It Up, and this year's Always Be My Maybe looks to continue the tradition. Also on the roster are some star-studded genre movies, like the Scorsese-directed mob flick The Irishman, and the Jake Gyllenhaal–starring, hard-to-pin-down Velvet Buzzsaw.
Point is, there's a lot to look forward to in 2019, at least where binge-watching movies is concerned. We'll update as more information from the notoriously hush-hush company is revealed, but as of right now, here are the 11 best Netflix movies coming out in 2019.
Airing: February 8
Zazie Beetz, Kyle MacLachlan, André Holland, and Zachary Quinto star in this sports drama directed by Steven Soderbergh. Not much is known about it yet, other than it's about "a sports agent [who] pitches a rookie basketball client on an intriguing and controversial business opportunity during a lockout," according to IMDB.

Airing: TBD 2019
Nanatchka Khan, creator of Don't Trust the B---- in Apartment 23, returns with this Netflix rom-com about two childhood sweethearts who have a falling out and then run into each other years later in San Francisco. Best of all? It stars (and was co-written by) Ali Wong, brilliant comedian of Baby Cobra fame.

Airing: TBD 2019
Patrick Wilson stars in this film adaptation of a Stephen King novella about a couple who hears a child crying for help in a cornfield and goes to rescue him—only to realize they may be trapped...with something sinister lurking in the field too. I'll be watching with the lights on.

Airing: TBD 2019
Whoa, Martin Scorsese is directing a Netflix movie with a (reportedly) $200 million budget? Twenty-nineteen truly is a time of wonders. Care to guess whether it's a mafia movie that stars Robert DeNiro, Joe Pesci, Al Pacino, Harvey Keitel, and Bobby Cannavale? OMG how did you know?

Airing: TBD 2019
Lili Taylor, Kelly Reilly, and youngster Charlie Shotwell are all in this horror flick about a little boy who is receiving treatment for his autoimmune disorder and finds out that his house is no longer safe. Sounds creepy.

'The Last Thing He Wanted'
Airing: TBD 2019
Dee Rees, the mastermind behind last year's lauded Netflix period drama Mudbound, returns to the streaming service with The Last Thing He Wanted, a political thriller based on the 1996 Joan Didion novel about a journalist-turned-arms dealer. Anne Hathaway, Ben Affleck, Rosie Perez, and Willem Dafoe star.