The 15 Podcasts by Women That Need to Be on Your Playlist
Hands up if you're tired of listening to men speak.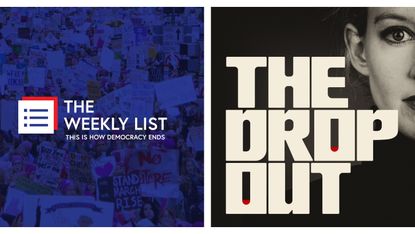 (Image credit: Amy Siskind ¦ Elizabeth Holmes)
Who here is tired of listening to men speak? From their making decisions about our bodies to silencing our stories, enough is enough. If you're in desperate need a few more female voices in your life, check out some of these podcasts hosted by women. Just hearing their stories, engaging in their conversations and interacting with their content can make the world feel a lot less male-centric. These kickass ladies will give you just the therapy you need—whether that's a good laugh, your next true crime binge, or some real-talk relationship advice.
1. 'Call Your Girlfriend'
BFFs Ann Friedman and Aminatou Sow host the all-too-relateable podcast Call Your Girlfriend. Every Friday, these two long distance besties open their phone line up to the world to discuss everything from abortion rights to Instagram anxiety.
2. 'The Weekly List'
Former Wall Street executive Amy Siskind lends her sharp and critical mind to The Weekly List, a podcast examining the "new normal of American politics" under the Trump administration. Each week Siskind dissects a news event so divergent from society's pre-established standards and sheds light on just how detrimental it could be.
3. 'Where Should We Begin?'
Esther Perel, renowned psychotherapist, talks couples through some of their biggest hardships. From issues of infidelity and financial stability to loss and sexlessness, Perel enlists empathy and understanding from both the couples and her listeners. If you and your partner are in a communication rut, give Where Should We Begin? a try.
4. 'Terrible, Thanks for Asking'
Producer and host Nora McInerny takes "how are you?"— a mundane and polite greeting and turns it into a humorous outlet for addressing the real struggles we all face. You'll laugh, you'll cry and eventually realize it's okay to feel terrible sometimes.
5. 'Jesus and Jollof'
Yvonne Orji (Insecure) and Luvvie Ajayi ("I'm Judging You") are laugh-til-you-cry hilarious in their podcast, Jesus and Jollof. With a hint of sarcasm, an occasional accent and a whole lot of humor, the two talk candidly about everything, from their Nigerian parent's tough love to their unexpected rise to fame.
6. 'Dr. Death'
Fair warning: if you're already afraid of the doctor's office, this isn't what you should be listening to. Host Laura Beil's Dr. Death tells the intense, true crime story of Christopher Duntsch, a Texas surgeon convicted of malpractice after injuring 31 of his patients during surgery, killing two during operations. You'll never look at a white coat the same way.
7. 'Asking for a Friend'
Want to hack life like an Instagram pro? Conrad wants her listeners to know it's not all filters and avocado toast. It's hard and messy, and it's time to get real. Asking for Friend is as much about the trials of motherhood and finding time for a skincare routine as it is about snapping the perfect IG post.
8. 'The Dropout'
Elizabeth Holmes was poised to be the next Steve Job, black turtleneck and all. Until she wasn't. ABC's Rebecca Jarvis narrates the shockingly true story of Holmes, a Stanford dropout who convinced America's wealthiest men to invest in her sham of a medical blood testing company, Theranos.
9. 'A Taste of the Past'
Calling all history buffs and food junkies, this podcast hosted by Linda Pelaccio was made for you. Pelaccio, a culinary historian, interviews chefs, authors and scholars while exploring the intersection of food and it's complex history—tracing the roots of African grains, Chinese street food and everything in between.
10. 'Invisibilia'
Alix Spiegel and Hanna Rosin, hosts of Invisibilia, answer the question, "why?" a lot. Their widely popularized NPR podcast centers around the unexplainable and invisible explanations for human behavior. This one will really make you think.
11. 'On Being'
Hosted by Krista Trippett, a National Humanities Medal honoree, On Being explores the bigger pictures of life. With an open mind and poignant questions, Trippett tackles what grounds us all, whether that's religion, spirituality, science or healing.
12. 'Afford Anything'
Ready to make some Cardi B level money moves? Listen to Paula Pant's Afford Anything. Pant, a self starter and expert in saving, owned eight homes by the time she was 34 years old. Her podcast answers some of the toughest questions surrounding financial security by focusing on the sacrifices and trade-offs it takes to become an expert saver.
13. 'Unladylike'
Four-letter words are for everyone: one of many rule breaking lessons you'll learn from Unladylike. Host Christen Conger and Caroline Ervin are bucking tradition, dismantling the patriarchy and doing whatever the hell they want instead. Who's with them?
14. 'Anna Faris is Unqualified'
Anna Faris is lending her completely unfiltered advice to you. The House Bunny actress is in her second season of podcasting and is known for bringing on amazing celebrity guests, like your favorite fence-jumping Bachelor, Colton Underwood, in a recent episode.
15. 'Criminal'
You can never have too many true crime podcasts. This one is hosted by award-winning journalist Phoebe Judge and tells "the stories of people who've done wrong, been wronged, or gotten caught somewhere in the middle."
Celebrity news, beauty, fashion advice, and fascinating features, delivered straight to your inbox!
Alexis Jones is an assistant editor at Women's Health where she writes across several verticals on WomensHealthmag.com, including life, health, sex and love, relationships and fitness, while also contributing to the print magazine. She has a master's degree in journalism from Syracuse University, lives in Brooklyn, and proudly detests avocados.