The Best Christmas Movies of 2019
Snuggle up with hot cocoa, slippers, and one of these films.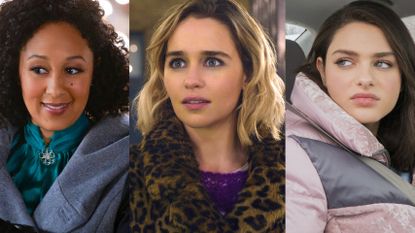 (Image credit: Hallmark/Universal/Netflix)
The Christmas movie industry is a behemoth. Come October, you'll be faced with approximately one million and one holiday movies (opens in new tab) to pick from, with several of those being brand-new holiday movies, whether you're looking to catch your Christmas films in theaters, on Netflix, on Hulu, on Amazon Prime, Lifetime, Hallmark...you get the gist. It's overwhelming! So we've done the hard work for you: These are the 15 best new Christmas movies of 2019, no matter what you're in the mood for.
1. 'Last Christmas'
Where: Theaters
Starring: Emilia Clarke, Henry Golding, and Emma Thompson
When Kate (Clarke) gets a job at a department store as Santa's elf, she meets Tom (Golding). It's the perfect warm-and-fuzzy rom-com to take your mom (and your grandmother!) to on Christmas Eve. Did we mention Henry Golding is in it?
2. 'Black Christmas'
Where: Theaters
Starring: Imogen Poots, Cary Elwes, Brittany O'Grady, and Aleyse Shannon
In this thrilling adaptation of a '70s slasher movie, a group of women are stalked by a stranger during their Christmas break. Bonus: This film was entirely written and directed by women.
3. 'Noelle'
Where: Disney+
Starring: Anna Kendrick, Bill Hader, and Shirley MacLaine
In this sweet holiday comedy, Santa's daughter Noelle (Kendrick) has to take over her father's business when her brother Nick (Hader) goes missing. One to watch snuggled up with the whole family.
4. 'Radio Christmas'
Where: Lifetime
Starring: Keshia Knight Pulliam
When her radio station gets shut down for holiday repairs, Philadelphia DJ Kara (Pulliam) is forced to broadcast her show from a town called Bethlehem. While there, she plans to uncover the identity of the town's Secret Santa.
5. 'Let It Snow'
Where: Netflix
Starring: Shameik Moore and Kiernan Shipka
Based on the YA novel by John Green, a group of small-town teenagers is brought together in the midst of a snowstorm. Shipka, as ever, is fantastic.
6. 'The Knight Before Christmas'
Where: Netflix
Starring: Vanessa Hudgens
The newly crowned queen of Christmas, Vanessa Hudgens, stars in this sweet story about a medieval English knight who time-travels to present day. There, he falls in love with a high school science teacher.
7. 'A Christmas Miracle'
Where: Hallmark
Starring: Tamera Mowry and Brooks Darnell
Tamera Mowry stars as Emma, a writer whose cover story idea stolen by her magazine boss. With the help of a handsome staff photographer, she goes on the hunt for a Christmas miracle.
8. 'A Very Vintage Christmas'
Where: Lifetime
Starring: Tia Mowry
Tamera Mowry's twin sister Tia, who you'll remember from sitcom Sister, Sister,stars in this story about a woman named Dodie who owns a vintage antique shop. When she finds a box full of little trinkets, she makes it her mission to find its rightful owner.
9. 'A Christmas Duet'
Where: Hallmark
Starring: Rome Flynn and Chaley Rose
This one is for fans of Christmas music and How to Get Away With Murder's Rome Flynn. In this film, former music partners reignite their love during the planning of a Christmas festival.
10. 'Christmas at Dollywood'
Where: Hallmark
Starring: Dolly Parton, Danica McKellar, and Niall Matter
Yes, Dolly Parton is in it! Parton comes to the rescue when a woman (McKellar) sets out to create the perfect show for the 20th anniversary of the Smoky Mountain Christmas Festival.
11. 'Holiday Rush'
Where: Netflix
Starring: Romany Malco, La La Anthony, Deon Cole
When a radio DJ is suddenly fired before the holidays, he takes his four children and moves in with his aunt for Christmas. Hijinks ensue.
12. ''Merry Happy Whatever
Where: Netflix
Starring: Ashley Tisdale, Dennis Quaid, and Bridgit Mendler
Though not a movie, this Netflix eight-episode series is perfect for the holiday season. Starring Ashley Tisdale of High School Musical, this film follows a father who must balance all the demands of Christmas while also dealing with his daughter, who's home for the holidays with her boyfriend.
13. 'Holiday in the Wild'
Where: Netflix
Starring: Kristin Davis and Rob Lowe
Kristin Davis, who you'll of course remember from Sex and the City (how has this woman not aged a day?!), travels to Africa alone after an ugly breakup. While there, she meets an elephant conservationist (Lowe). Perfect for anyone who loves love. Or elephants.
14. 'A Christmas Love Story'
Where: Hallmark
Starring: Kristin Chenoweth and Scott Wolf
In her Hallmark Channel debut, Chenoweth plays a choir director who's in charge of writing a song for the Christmas Eve show. She gets distracted and meets a widowed father (Scott Wolf), and sparks fly...
15. 'Write Before Christmas'
Where: Hallmark
Starring: Chad Michael Murray and Torrey DeVitto
In this Love Actually-inspired film, Jessica (DeVitto) decides to send Christmas cards to five people who have greatly influenced her life. Enter One Tree Hill's Chad Michael Murray.
---
For more celebrity news, beauty and fashion advice, savvy political commentary, and fascinating features, sign up for the Marie Claire newsletter (subscribe here (opens in new tab)).
Juliana Ukiomogbe is a freelance writer who covers culture, wellness, books, and movies. When she's not writing, you can find her reading, watching The Fresh Prince of Bel-Air, or attempting to knit.